World's Greatest Small Group Experiences View Basket
To order this holiday brochure for FREE delivery to your home or computer, click the GET THIS FREE button.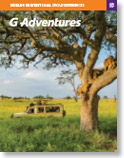 This brochure is no longer available on this website.
Small-Group Travel Done Differently (and right)
South-East Asia | India | China | Japan | Africa | Europe | USA | Canada | Central & South America | Australia & New Zealand | Expedition Cruises
G Adventures small-group tours connect travellers to the world's greatest destinations in a way they simply couldn't achieve on their own. Each journey has been designed to deliver must-do highlights, spontaneous situations, personal freedom, and under-the-radar encounters with local people. G Adventures believes that if you're not seeing the world as it truly is, you're not truly seeing it.
Adventurers come in all ages, origins and income levels. G Adventures' groups are diverse, which is one of the things that makes them so special. The one thing all G Adventures travellers have in common, though, is that they hate being herded around like tourists. Have a look at what makes the G Adventures experience different from the rest.
Diverse Transport
How you get around largely depends on your choice of Travel Style and Service Level. For Classic tours, G Adventures uses everything from private vans to commuter trains to camels and tuk-tuks. Comfort trips often feature nicer rides, planes and air-conditioned buses.
Character-Rich Accommodations
G Adventures picks accommodations that reflect the character of the places you visit whenever possible. Depending on the location and your trip's Service Level, this could mean a handpicked downtown hotel one night, a unique homestay the next, and camping under the stars the night after that.
Regional Cuisine
G Adventures includes some meals in the price of your trip and leaves others wide open for you to discover the local fare on your own in deference to taste and budget (and your CEO is fully equipped with loads of ideas if you're stuck). Meals include anything from home-cooked feasts, dinners at renowned restaurants and whatever looks good at the market stall.
Small Groups
G Adventures' groups average about 12 travellers per departure (maximum size is 16), often a mix of solo travellers, friends travelling together and couples, all of varying ages and from all over the world. You'll find just about every type of person in your group. Come prepared to make some new best friends.
Skilled CEOs
Each trip comes with an expert CEO (Chief Experience Officer) responsible for enriching your journey, offering local insights, pursuing great experiences as they happen and adding a unique personal perspective to the adventure. To your CEO, making your trip the best it can be is all that matters.
Freedom & Independence
Curious to explore that interesting market down the road or want to grab a table at that cozy café you just passed? Yeah, G Adventures can do that. G Adventures includes the must-see highlights on most every trip, freeing up the rest of your time for freeform adventuring.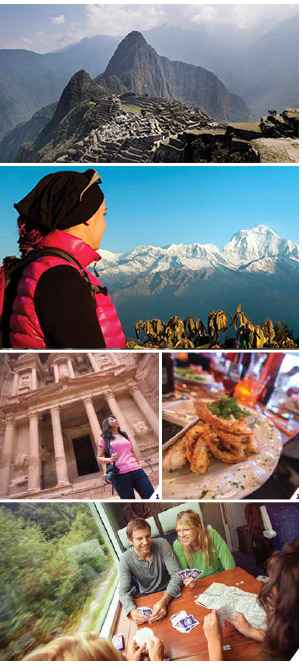 The G Difference
Changing The Travel Business, One Great Idea At A Time
As small group adventure travel pioneers, G Adventures has always done things a little bit differently. To G Adventures, there's no such thing as "outside-the- box thinking" because G Adventures doesn't believe in boxes.
100% Guaranteed Departures
The security that comes from knowing your trip is locked-in is a feeling that can't be topped. G Adventures likes that feeling - so much so that it figured everyone should have it. Every G Adventures departure is now guaranteed to run. Yup, all of them. Once you've booked and paid, that's it; you're going. Guaranteed. Your trip won't be cancelled by G Adventures for any reason (beyond harsh weather or safety issues). Promise.
Lifetime Deposits
G Adventures Lifetime Deposit Policy is designed to protect you from unexpected or unpredictable events that may cause you to cancel or delay your trip. Whether you opt to use it again for the same trip, transfer it to another one, or save it up for a not-so- rainy day, G Adventures has got you covered, no matter the circumstances. You can even pass it on to a friend.
24/7 Service
When your business covers the whole world like ours does, you have to be available and account- able all the time. If you've got a question about a trip - even if it's the one you're currently on - G Adventures is here to help. Always. G Adventures never sleeps. NEVER.
No Single Supplements
Travelling by yourself doesn't mean you have to travel alone. G Adventures treats single travellers to the same benefits as the rest of the group, which is why G Adventures doesn't charge single supplements. G Adventures will partner you up with a same-sex roommate to ensure you pay the same as everyone else.
Choice
G Adventures offers the widest variety of destinations, departure dates, trip styles and service levels in the business. No matter where, when, how or why you want to travel, G Adventures has got the trip of a lifetime for you.
Value
What you saw and did should be the most memorable part of your trip, not the price you paid for it. G Adventures offers unforgettable travel experiences at the most competitive prices you'll find anywhere. How? By following a grassroots approach to travel that keeps operating costs low and savings high.
Satisfaction
G Adventures is pretty proud of its customer satisfaction record. A whopping 99% of G Adventures travellers report satisfaction with the service offered them on their trip. How does G Adventures do that? By listening. It's just one of the many ways G Adventures leads with service.
Global Network
There's a great big world out there, and with more than 20 sales and operations offices worldwide, you're never far from one. And with a fleet of exclusive boats, lodges and vehicles at its disposal, G Adventures can deliver an experience that's fresh, fun and consistently G Adventures-y from start to finish.
Asia

Bhutan

Cambodia

China

Hong Kong

India

Indonesia

Japan

Kazakhstan

Kyrgyzstan

Laos

Malaysia

Maldives

Mongolia

Myanmar

Nepal

Philippines

Russia

South Korea

Sri Lanka

Tajikistan

Thailand

Tibet

Uzbekistan

Vietnam

Pacific

Africa

Botswana

Kenya

Madagascar

Mozambique

Namibia

Rwanda

South Africa

Tanzania

Uganda

Zambia

Zimbabwe

Middle East

Morocco

Egypt

Jordan

Israel

Iran

Europe

Austria

Belgium

Bosnia & Herzegovina

Croatia

Czech Republic

Estonia

Finland

France

Germany

Greece

Hungary

Iceland

Italy

Latvia

Lithuania

Monaco

Montenegro

Norway

Poland

Portugal

Romania

Serbia

Slovenia

Spain

Sweden

Switzerland

Turkey

North America

Canada
United States of America


Central America

British Virgin Islands

Costa Rica

Cuba

Guatemala, Mexico, Belize

Haiti

Honduras

Jamaica

Nicaragua

Panama

South America

Argentina
Brazil
Bolivia
Chile
Colombia

Ecuador
Galápago
Peru

Expeditions

South America Cruises

Arctic Cruises

Antarctica Cruises
This brochure covers the regions and holiday types listed below. Click on the links to see more free travel brochures covering the regions and holiday types you are interested in.