Volunteer & Community Project |
Free Travel Brochures
View Basket

The following free holiday travel brochures feature Volunteer & Community Project holidays, tours and packages – click the GET THIS FREE button to order your Volunteer & Community Project holiday brochures.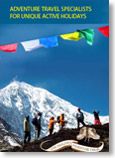 Lyn Taylor organises travel the way she approaches life - with a sense of adventure and a determination to get the most out of it. So when Lyn puts that zestful spirit to work on organising your dream adventure, the fun begins right away. Her enthusiasm for what adventure travel can achieve is why she founded Lyn Taylor's Adventure Travel and why, 20 years later, she still loves helping people who share her passion. Explore incredible destinations in any way you like – climb mountains, take a hike, relax on a beach, go volunteering, experience different cultures Whatever your personal ambition, with Lyn on board, you're on your way.
> MORE...
---
---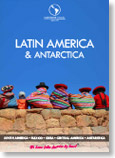 Peru | Bolivia | Ecuador | Galapagos | Chile | Argentina | Patagonia | Antarctica | Brazil | Colombia | The Guianas | Mexico | Cuba | Central America As one of the first Australian Tour Operators to work with Latin America, Contours Travel knows there is more to this extraordinary continent than the typical highlights. Every Contours consultant has travelled widely throughout the region and has extensive experience in designing unique and seamless holidays that show you the very best of this extraordinary continent: all Latin America's most iconic destinations, as well as some favourites that are often overlooked.
> MORE...
---
---