Voyage Calendar – Luxury Cruises Worldwide View Basket
To order this holiday brochure for FREE delivery to your home or computer, click the GET THIS FREE button.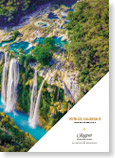 This brochure is no longer available on this website.
Explore further than you ever thought possible on these unforgettable luxury journeys
Africa & Arabia | Alaska | Asia | Australia & New Zealand | Canada, New England & Bermuda | Caribbean & Panama Canal | Mediterranean | Northern Europe | South America | South Pacific | Transoceanic Crossings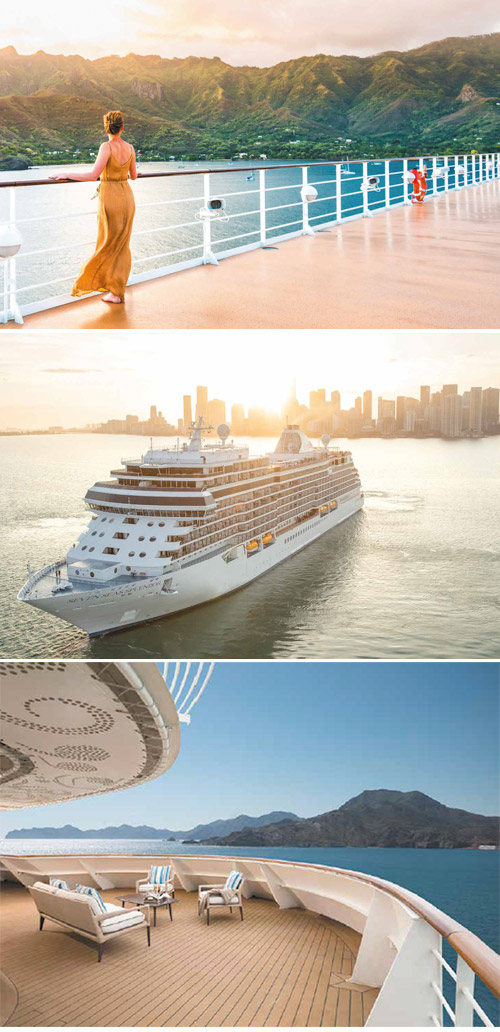 Join Regent Seven Seas Cruises in exploring the world's most beautiful destinations with this incredible range of luxury journeys to new and old destinations all over the world.
Cruise ancient ports of call for new perspectives on history. Overnight in ports like Manaus, Istanbul, Reykjavik and Kyoto to uncover a different side of these already fascinating cities. Delve deeper into the wilds in Africa, Australia and the Amazon.
Further immerse yourself with incredible FREE Land Programmes on select voyages — before or after your voyage — and delve deeper than you ever thought possible. The mysteries of our existence swirl around these stunning regions, filled with wonder and beauty, from the monuments to the great pharaohs of Egypt to the ancient wonder of the lost city of Angkor in the deep of the Cambodian jungle. These are the destinations that are worth crossing the world for.
Enjoy every moment with every luxury included
This is cruising as you want it to be – a sumptuous world where your every wish, your every whim and your every want are met with personalised service, luxurious comfort and complete fulfilment of your passion for travel. Anticipate an unforgettable journey where everything is included, without exception and without compromise.
Regent Seven Seas Cruises® offers thousands of experiences to enjoy the 450-plus ports of call across every continent on the globe, all from the security and comfort of The World's Most Luxurious Fleet.
Take the opportunity to unearth the hidden wonders that await in far-flung regions and favourite ports of calls. Wake up each morning to a new perspective from the privacy of your balcony and enlighten your day with new insights from knowledgeable speakers and local guides as you tour, taste and savour each marvellous destination.
Look forward to recalling the day's adventures with good friends and exquisite food, delighting in the rhythms of the evening entertainment before settling into your private oasis on the water.
With every luxury included, you are invited to take hold of every moment and make lasting memories to share with friends and family for years to come. An incredible crew will take care of every detail as you cruise the world and discover why Regent Seven Seas Cruises® promises you An Unrivalled Experience.
Unrivalled Space at Sea™
As the preeminent luxury cruise line on the ocean, Regent Seven Seas Cruises offers some of the largest balconies and most spacious suites at sea. A wide range of speciality restaurants, al fresco and in-suite dining options, exquisite lounges, bars and expansive spaces are perfect to rest and celebrate in, knowing there is never a queue or a crowd and that every detail is taken care of and every amenity is included.
The World's Most Luxurious Fleet™
A MAXIMUM OF 490 TO 750 GUESTS and an enviable staff-to-guest ratio average of 1:1.5, results in the pinnacle of professional and personalised service
EXPANSIVE SOCIAL AREAS AND WORLD-CLASS FACILITIES you might only expect to find on much larger ships
MULTIPLE, FREE SPECIALITY DINING VENUES so there is never a queue or a crowd
DYNAMIC EVENING ENTERTAINMENT with comfortable, spacious seating and cabaret style tables for two
A LARGE POOL DECK AREA where you can relax in a private space or recline on a sun lounger
EXTENSIVE, STATE-OF-THE-ART FITNESS CENTRES with optional one-on-one fitness instructor
PERSONALISED, ONBOARD ENRICHMENT classes and activities
Every Luxury Included
Free unlimited shore excursions

Free 2- or 3-night land programmes on select voyages*

Free 1-night pre-cruise hotel package in concierge suites and higher*

Free unlimited drinks, including fine wines and spirits*

Free open bars and lounges, plus in-suite mini-bar replenished daily

Free pre-paid gratuities

Free speciality restaurants

Free unlimited wifi*

Free valet laundry service*

Free transfer between hotel and ship*
* Terms and conditions apply.
The Suite Life
You have arrived at the ultimate destination — your suite, a serene haven of repose where you feel completely at home and every imaginable amenity is included. Your staff's flawless attention to detail means your every request is tended to promptly and without compromise, leaving you to refresh, relax and reflect on your extraordinary experiences ashore.
Each ship features all-suite accommodation that boasts elegant décor with custom-crafted furnishings and marble accents, as well as large private balconies.
And with suites ranging from a generous 28 up to 413 square metres, elegance and comfort comes as standard in every category, showcasing sophisticated design, luxurious fabrics and original artwork.
Day or night, you will enjoy the ever-changing vistas that stretch to the horizon's edge from your private oasis of luxury.>
This brochure covers the regions and holiday types listed below. Click on the links to see more free travel brochures covering the regions and holiday types you are interested in.