To order this holiday brochure for FREE delivery to your home or computer, click the GET THIS FREE button.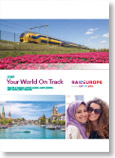 This brochure is no longer available on this website.
The Rhythms of Relaxation by Rail
Train travel, the most rewarding way to see Europe, Britain, Ireland, Asia, Russia, Canada and the USA…
From Europe's high speed day trains, the ultimate in rail travel to the comfort of overnight hotel trains, rail is the most relaxing way to travel. Avoid the stress of traffic and driving in a different country. Just sit back and enjoy the effortless ride.
Rail means freedom. Rail offers unlimited stopovers, a choice of routes and frequent departure times. With a single country pass or individual tickets to a pass covering 22 countries, there is a pass to cover every itinerary, as well as point to point tickets for a large choice of routes allowing you to go where you want in your own time.
There are multiple train services every day between most destinations and popular routes offer hourly departures. Just choose the time that's best for you.
Passes offer free or discounted bonus offers for local transport and attractions. Prices are year round and many passes have discounts for groups of two or more, youths and seniors. Tickets on some high speed trains are cheaper when booked in advance. There are no surcharges for peak or off-peak travels.
Rail Plus is your ticket to the world - look at these features and destinations
• Night trains - overnight service, connecting major cities in countries such as Spain, France, Italy, Portugal, Switzerland and Germany
• Eurail Global Pass - the freedom of access to 22 European countries
• Excellent on-board service
• High speed trains - a must for any European itinerary. Travelling at up to 300km per hour, these trains are the fastest way to travel between Europe's major cities.
• Day Train Seating - offers the traveller a choice of 1st or 2nd class seating. First class is more spacious with larger seats, more leg room and extra space for your luggage. Second class offers comfortable seats and often a trolley service or bar car to purchase a snack and chat with fellow travellers.
• Sleepers - offer complete privacy with either single or twin share compartments. All sleepers contain upper and lower beds with private washstand, fresh linen and towels.
Eurostar
Eurostar whisks you to Europe in style and comfort. This is the Number One choice for travel from the heart of London to Paris or Brussels via the Channel Tunnel.
Eurail
Want ultimate freedom to travel in 22 European countries? Don't want to be told where to visit and how long to stay? Why compromise on your dream itinerary? From the most sophisticated cities in the world to the most spectacular scenery nature can provide, with a Eurail Global Pass you can see Europe your way.
BritRail
Imagine the freedom to travel on the national rail networks of England, Scotland and Wales - the most relaxing way imaginable. See Britain and Ireland by train and enjoy the well-known convenience of a range of BritRail Passes and sector fares
Eastern Europe & the Balkans
Even seasoned European travellers can discover a different side of Europe. Rail Plus will take you on fascinating journeys into Austria, Croatia, Romania, Poland, Slovenia, Servia, Germany, Hungary, Bulgaria, Greece, Serbia and Turkey.
Swiss Scenic Trains
A journey on one of the Swiss Scenic trains is a must if you want to truly experience the majestic beauty of Switzerland. A great way to see the spectacular Swiss Alps.
Japan
Explore the ancient temples, countryside and cities of Japan with a Japan Rail Pass. Speed, efficiency and state of the art technology are synonymous with rail travel in Japan. Shinkansen bullet trains travel at 300km/h and connect Tokyo with Japan's major cities at intervals of app. 15 minutes.
Asia – Korea, Vietnam, China, Thailand
Discover Korea's natural wonders, Vietnam's beautiful coastlines, China's amazing Great Wall and Terracotta Warriors at Xian and the culture and bustle of Thailand. Rail Plus will arrange everything for you.
Russia - Trans Siberian Railway
For those who travel for the pleasure of the journey – this is the ultimate and the longest continuous rail line on earth, almost 10,000km, over 1/3 of the globe. Rail Plus offers point to point tickets or you can tailor-make your own itinerary. Destinations include St. Petersburg, Moscow and Vladivostok.
Canada - Rocky Mountaineer
Breathtaking scenery on Canada's famous luxury train. Plus other journeys on Rail Canada, from coast to coast, through mountains, prairies and forests, with stunning destinations such as Quebec, Vancouver, Whistler, Victoria, Jasper and The Rockies.
America - Amtrak
Busy, vibrant cities to mountains and sea. Most popular journeys include Chicago to New York, New York to Washington, New York to Miami, Los Angeles to San Diego and San Francisco to Seattle.
Australia
Discover Australia from the coast to the outback on these well known journeys - The Ghan, Indian Pacific and The Overland.
SO MANY WAYS TO GO

Which ticket should I buy?
How to use your Eurail Pass
Frequently Asked Questions

Travel Times and Distances

Facilities onboard

Night Trains

High Speed Trains


EUROPE AND BRITAIN

Eurail Global Pass

Eurail Select Pass
Single & Multi Country Passes

Eurostar

London City Essentials

BritRail

Paris City Essentials
France

Italy
Eastern Europe & Balkans

Swiss Passes & Packages

Swiss Scenic Trains

Russia & Trans Siberian Railway


NORTH AMERICA

Amtrak USA

Via Rail Canada

Rocky Mountaineer


AUSTRALIA

The Ghan/Indian Pacific/Overland

ASIA

Japan

Vietnam/ Thailand/ China/ Korea

This brochure covers the regions and holiday types listed below. Click on the links to see more free travel brochures covering the regions and holiday types you are interested in.