Australia Rail | Train Journeys |
Free Travel Brochures
View Basket

The following free holiday travel brochures feature Australia Rail | Train Journeys holidays, tours and packages – click the GET THIS FREE button to order your Australia Rail | Train Journeys holiday brochures.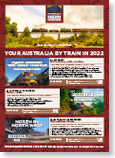 Scott McGregor's Railway Adventures
2022 QLD | NSW | SA | TAS | NT | WA | VIC Well-known TV personality and self-confessed rail fan, Scott McGregor brings you this specially curated selection of escorted train journeys in Australia. From coral-fringed islands and migrating whales to little steam trains in the misty, forested south-west of Tasmania, you'll get to explore parts of the country that you've been waiting to tick off your list. It's time to get back on the tracks in your own backyard again. Small groups, crafted itineraries, hand-picked hotels and unique modes of travel …
> MORE...
---
---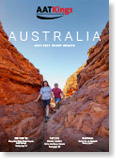 2021-2022 Red Centre, Top End, City & Regional Short Breaks Experience iconic destinations your way with AAT Kings Short Breaks. Travelling independently gives you flexibility with dates, destinations, hotels, and dining options. You choose where you'd like to go and when, and AAT Kings will book your accommodation, sightseeing and transfers. When travelling in Australia, AAT Kings can even book the flights you need to complement your Short Break.
> MORE...
---
---