South East Asia Rail |
Free Travel Brochures
View Basket

The following free holiday travel brochures feature South East Asia Rail holidays, tours and packages – click the GET THIS FREE button to order your South East Asia Rail holiday brochures.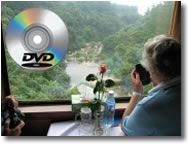 FRANKO'S Rail Tours of Vietnam
Long before Vietnam became a tourist hot spot, Frank O'Brien has been taking Australians on the very best holiday in Asia. The experience and knowledge gained over many tours have helped Frank design the most comprehensive, informative and fun itineraries based upon one of the most interesting rail routes in the world. The new Superior Rail Tours offer private and roomy two-berth sleeper cabins providing the highest standard of rail travel available. See the difference for yourself. Get this DVD today!
> MORE...
---
---