Europe, Asia, Americas, Africa, Australia, New Zealand View Basket
To order this holiday brochure for FREE delivery to your home or computer, click the GET THIS FREE button.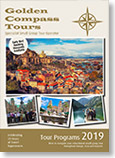 This brochure is no longer available on this website.
The Golden Compass Difference
Britain, Scotland, Wales, Ireland, France, Spain, Portugal, Italy, Sicily, Sardinia, Malta, Switzerland, Austria, Bavaria, Germany, Iceland, Greenland, Faroe Islands, Denmark, Norway, Sweden, Lithuania, Estonia, Finland, Russia, Hungary, Albania, Bulgaria, Macedonia, Romania, Serbia, Bosnia, Greece, Crete, Turkey, Slovenia, Croatia, Georgia, Armenia, Azerbaijan, Iran, Oman, Central Asia - Kazakhstan, Kyrgyzstan, Uzbekistan, Turkmenistan, Mongolia, Bhutan, India, Sri Lanka, Japan, North Korea, South Korea, Mexico, Cuba, Chile, Peru, Bolivia, Argentina, Brazil, Southern Africa, Norfolk Island, New Zealand, Australia - Western Australia, Northern Territory, South Australia
Golden Compass provides the full educational experience from quality accommodation and travel to first class tour leaders, local guides and lecturers. Golden Compass also likes to include a few exciting additional highlights which other operators may not have thought of.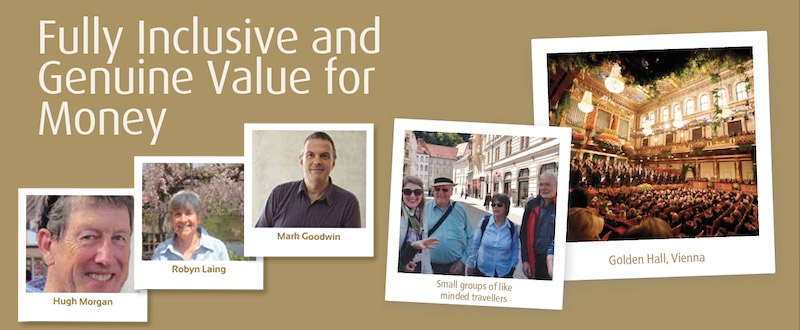 Fully inclusive
With a Golden Compass program you won't need to worry about being met at the airport, transport on the ground, organising excursions, many meals and even tips and gratuities, because Golden Compass will take care of everything for you, including:
Meet and greet at the airport
Local transport including internal flights, ferries and coaches
En-suite accommodation
Typical local breakfasts and many other meals as indicated
Field trips as indicated
Applicable entry fees and services of local guides
Services of a program leader
Gratuities and necessary tips
With so much included, Golden Compass really does offer exceptional value for money.
Unique Accommodation
Golden Compass works with a wide variety of accommodation suitable for all group needs ranging from 3- to 5-star hotels, historical religious houses in Italy and stays at selected yurt sites in Central Asia and Mongolia allowing you to experience truly local hospitality.
Small Groups of Mature Like-Minded Participants
To ensure the best value for money, Golden Compass bases its program pricing on a small minimum number of between 8 and 10 mature participants, and will guarantee programs once it reaches this number. Golden Compass groups average a size of between 12 and 18, but never more than 20.
The Golden Compass "Wow" Factor
Golden Compass looks to include that something special for our groups: access to a building which is not usually visited or attendance at a concert or event for which it is difficult to get tickets, or just something that others do not think of. Some special highlights of its recent programs have included concerts of Grieg and Chopin during our Scandinavian and Baltics Discoveries; a dedicated visit to the European Parliament in Strasbourg with an expert explanation of its workings during our Provincial France tour or a stay in traditional yurts in the shores of Song Kul Lake in Kyrgyzstan on our Journey to the 'Stans' in Central Asia. It's what we like to call the Golden Compass "wow" factor.
First Class Program Leaders, Guides & Lecturers
Golden Compass' program leaders are based in Australia, New Zealand and the UK, so have an excellent understanding of the needs of our Australian and New Zealand participants. They are all well-travelled with a passion for Britain, Europe, Asia and beyond and are experts in their fields.
Locally, Golden Compass only uses top quality guides and lecturers who add that extra dimension to any visit to another country with a deep understanding of the culture, history and people as well as of any special interest of the group.
Genuine Value for Money
Golden Compass' programs are designed to give you the best value for money possible. You can only book directly with Golden Compass, with the team on the ground who create the programs. There are no third party travel agencies involved. In addition to transport and accommodation, Golden Compass' programs include many meals and excursions, and even gratuities.
This brochure covers the regions and holiday types listed below. Click on the links to see more free travel brochures covering the regions and holiday types you are interested in.