Turkmenistan |
Free Travel Brochures
View Basket

The following free holiday travel brochures feature Turkmenistan holidays, tours and packages – click the GET THIS FREE button to order your Turkmenistan holiday brochures.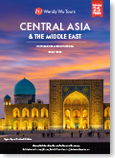 2022-2023 Egypt, Israel, Jordan, Oman | Armenia, Azerbaijan, Georgia, Kazakhstan, Kyrgyzstan, Mongolia, Tajikistan, Turkmenistan, Uzbekistan In addition to the award-winning escorted tours and tailor-made holidays to Central Asia, Wendy Wu Tours' has for the first time introduced fully-inclusive Classic Tours to the Middle East. With exceptional inclusions, an expert team and fantastic guides, you'll experience an extraordinary adventure. Book with Confidence – low deposit, extended payment terms and safety protocols.
> MORE...
---
---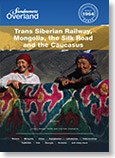 2021 | Russia, Mongolia, China, Kazakhstan, Uzbekistan, Turkmenistan, Tajikistan, Kyrgyzstan, Azerbaijan, Iran, Georgia, Armenia | For more than 50 years, Sundowners Overland has been travelling the length of Asia offering an intoxicating choice of overland journeys for anyone with a passion for discovery. As a leading Trans Siberian Railway, Trans Mongolian and Silk Road tour operator, Sundowners is a specialist, providing a unique level of service and knowledge. Travel on a small group tour (max 15) or on your own independent or tailor-made journey.
> MORE...
---
---