Norfolk Island |
Free Travel Brochures
View Basket

The following free holiday travel brochures feature Norfolk Island holidays, tours and packages – click the GET THIS FREE button to order your Norfolk Island holiday brochures.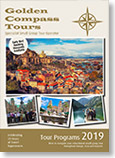 Golden Compass is a specialist small-group operator providing fully-inclusive educational and cultural tours for like-minded mature travellers to Europe, Asia and beyond. With offices in Australia and New Zealand, its own staff in France and the UK and long-term partners in most countries, Golden Compass offers a complete range of genuine value-for-money experiences that are led by First Class Program Leaders. In 2019, Golden Compass celebrates 24 years of exceptional travel experiences, delivering a unique blend of travel and education in the beauty of a small group travel environment.
> MORE...
---
---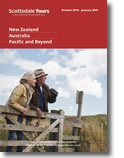 New Zealand | Australia | Pacific | Join Scottsdale Tours' founders and owners, Andrew and Lee Moore, on a fully escorted tour for Seniors in New Zealand, Australia and the South Pacific. Being owner/operators you know exactly who is going to be looking after you because Andrew and Lee try to host many of the tours themselves. With Scottsdale Tours, you'll spend more time off the beaten track than on it and Andrew and Lee's incurable curiosity means that they just have to go and 'have a look up there' sometimes.
> MORE...
---
---