Luxury Mediterranean, Northern Europe & Baltic Cruises View Basket
To order this holiday brochure for FREE delivery to your home or computer, click the GET THIS FREE button.
Experience the ultimate luxury on an unforgettable journey
Mediterranean: Italy, Spain, France, Sicily, Greece, Croatia, Malta, Turkey, Israel, Corsica, Portugal | Northern Europe & The Baltics: Britain, Ireland, Baltics, Norway, Finland, Denmark, Sweden, Holland, Germany, Russia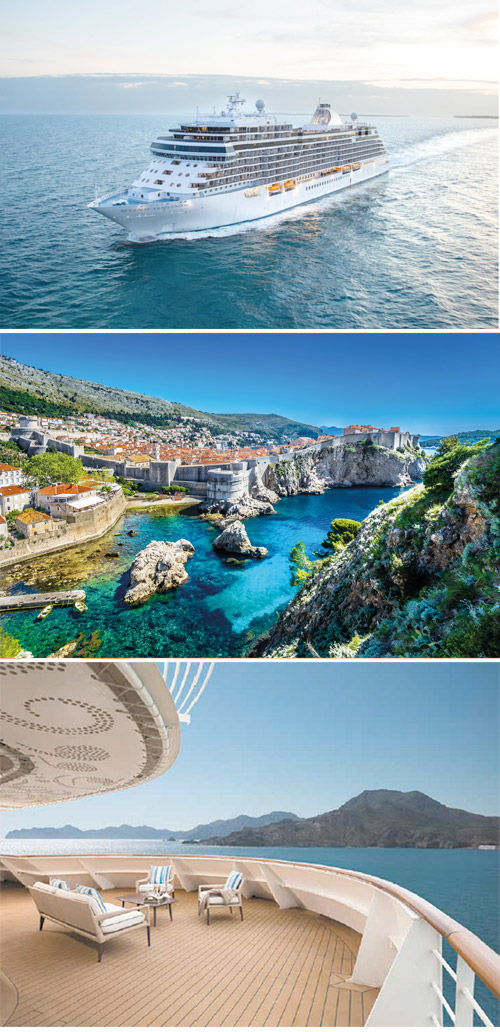 In 2022, choose from a selection of sailings in Northern Europe and the Mediterranean and discover lands that have stories to tell from centuries past.
Pair a luxurious cruise and a journey to some of the world's most beautiful destinations, and you will uncover An Unrivalled Experience™ like no other.
Enjoy FREE Unlimited Shore Excursions and discover it all – from the distinct landscapes, ancient history, grand architecture, diverse cultures, traditional music, unique foods and wines – with Regent Seven Seas' bespoke tours, allowing you to immerse in as little or as much as you wish.
Enjoy every moment with every luxury included
This is cruising as you want it to be – a sumptuous world where your every wish, your every whim and your every want are met with personalised service, luxurious comfort and complete fulfilment of your passion for travel. Anticipate an unforgettable journey where everything is included, without exception and without compromise.
Take the opportunity to unearth the hidden wonders that await in far-flung regions and favourite ports of calls. Wake up each morning to a new perspective from the privacy of your balcony and enlighten your day with new insights from knowledgeable speakers and local guides as you tour, taste and savour each marvellous destination.
Look forward to recalling the day's adventures with good friends and exquisite food, delighting in the rhythms of the evening entertainment before settling into your private oasis on the water.
With every luxury included, you are invited to take hold of every moment and make lasting memories to share with friends and family for years to come. An incredible crew will take care of every detail as you cruise the world and discover why Regent Seven Seas Cruises® promises you An Unrivalled Experience.
Mediterranean (April To November 2022)
Ancient architecture, art that will leave you mesmerised, cities perched on rocky shores and sun-kissed beaches – the Mediterranean is a visual and sensual feast. There is always something new to discover.
There's more to this breathtaking region than just white sandy beach fronts and bright blue sea. Away from the coast, the region's ancient landscape offers some truly spectacular natural sights – snow-clad Alpine peaks, bizarre rock formations, swathes of unspoiled forest, and cultural influences that date back centuries.
If you are a food lover, France and Italy are the destinations for you, but each country has its own culinary specialities – think tapas in Spain, kebabs in Turkey and souvlaki in Greece. And for wine buffs, the Mediterranean cellar is really quite something, with everything from world-famous vintages to thousands of local creations.
Northern Europe & The Baltics (May To September 2022)
A voyage with Regent Seven Seas Cruises reveals the remarkable scope of fascinating culture and scenic beauty in Northern Europe. Spend an evening at the ballet in St. Petersburg, cruise the scenic Norwegian fjords, and roam through fairy-tale castles in the Scottish Highlands.
Journey here and be exhilarated by the unexpected endless sandy beaches, plethora of lakes, expansive forests and wildlife-rich wetlands: this epic region may be flat but it is not lacking in natural appeal. Many of Europe's large mammals have found quiet corners to linger in here, although the wolves, bears, elks and lynx know better than to mug for tourist snapshots. You're more likely to see white storks in their bathtub-sized nests balanced on lampposts, or woodpeckers tap-tapping away, or the odd startled deer scampering along the side of the road.
From Tallinn's storybook turrets to the jaw-droppingly beautifully painted domed ceilings in Russia's cultural centre, the romantic in you will find plenty of intrigue in this ancient and alluring destination.
Unrivalled Space at Sea™
As the preeminent luxury cruise line on the ocean, Regent Seven Seas Cruises offers some of the largest balconies and most spacious suites at sea. A wide range of speciality restaurants, al fresco and in-suite dining options, exquisite lounges, bars and expansive spaces are perfect to rest and celebrate in, knowing there is never a queue or a crowd and that every detail is taken care of and every amenity is included.
The World's Most Luxurious Fleet™
A maximum of 490 to 750 guests and an enviable staff-to-guest ratio average of 1:1.5, results in the pinnacle of professional and personalised service
Expansive social areas and world-class facilities you might only expect to find on much larger ships
Multiple, free speciality dining venues so there is never a queue or a crowd
Dynamic evening entertainment with comfortable, spacious seating and cabaret style tables for two
A large pool deck area where you can relax in a private space or recline on a sun lounger
Extensive, state-of-the-art fitness centres with optional one-on-one fitness instructor
Personalised, onboard enrichment classes and activities
Every Luxury Included
Free unlimited shore excursions

Free 1-night pre-cruise hotel package in concierge suites and higher*

Free unlimited drinks, including fine wines and spirits*

Free open bars and lounges, plus in-suite mini-bar replenished daily

Free pre-paid gratuities

Free speciality restaurants

Free unlimited wifi*

Free valet laundry service*

Free transfer between hotel and ship*
* Terms and conditions apply.
Luxurious suites – your private European oasis
You have arrived at the ultimate destination — your suite, a serene haven of repose where you feel completely at home and every imaginable amenity is included. Your staff's flawless attention to detail means your every request is tended to promptly and without compromise, leaving you to refresh, relax and reflect on your extraordinary experiences ashore.
Each ship features all-suite accommodation that boasts elegant décor with custom-crafted furnishings and marble accents, as well as private balconies in most (98%).
And with suites at least 27 square metres, elegance and comfort comes as standard in every category, showcasing sophisticated design, luxurious fabrics and original artwork.
Day or night, you will enjoy the ever-changing vistas that stretch to the horizon's edge from your private oasis of luxury.>
This brochure covers the regions and holiday types listed below. Click on the links to see more free travel brochures covering the regions and holiday types you are interested in.