Antarctica & The Arctic View Basket
To order this holiday brochure for FREE delivery to your home or computer, click the GET THIS FREE button.
Travel with the Latin America and Polar Specialists
ANTARCTICA: Antarctic Peninsula, Weddell Sea, Falkland Islands, South Georgia, Antarctic Circle, Antarctic Mainland, East Antarctica, Sub Antarctic Islands, Ross Sea,
THE ARCTIC: Arctic Circle, Spitsbergen, Greenland, Canadian Arctic, Russian Arctic, North Pole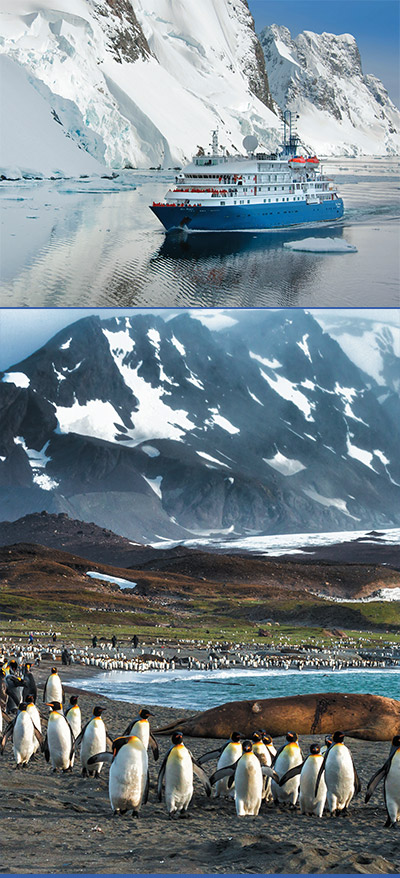 Chimu Adventures, specialists in Antarctica and Arctic travel, offer an excellent and eco-friendly range of options for Polar travel.
Chimu Adventures presents a selection of reputable expedition ships, which all have their own special qualities to help provide a unique experience. From smaller ships with fewer than 6 passengers to larger vessels with over 250 guests, Chimu can offer you the most suitable on board and off board experiences for your individual voyage. For those who are feeling a bit more adventurous, you could even choose from two magnificent sailing ships or opt for our Fly/Cruise expedition.
Chimu Exclusive Cruises are small ship cruises. The limited capacity results in an intimate experience and greater appreciation of these remote oceans and landscapes while minimising impact on the delicate environment. Chimu partners with trusted suppliers and select ships that comply with the highest environmental standards.Onboard experiences educate travellers about the fragility of the area through expert lectures and rigid passenger regulation.
You will find many unique experiences such as discovering the south pole on a ski craft, spending time at an Emperor penguin rookery with expert guides, or exploration adventures from the more remote Union Glacier Camp on the mainland.
Most expeditions to Antarctica depart from either Ushuaia in Argentina or Punta Arenas in Chile, both at the southern tip of South America. Chimu Adventures also offers several itineraries with departures from Bluff in New Zealand and Hobart in Australia. Or for those on a tight schedule, Chimu can also arrange flights to and from King George Island, where an Antarctic cruise can be boarded without the need to sail the Drake Passage.
Why Chimu Adventures?
As Arctic and Antarctica specialists, each Chimu team member has travelled to these regions themselves, some many times, building a wealth of knowledge and experience about the continent. Chimu Adventures inspects and researches each individual vessel and only chooses to work with those that have a reputation for environmental sensitivity, safety and value for money.
Chimu understands that travellers journey to these regions for different reasons. While one person may be interested in wildlife-watching and photography, another may be after a more adventurous experience. Chimu offers a variety of itineraries on numerous different vessels so that you can find an experience to match your needs as closely as possible.
Chimu clearly presents the many different Expedition cruise ships and itineraries on offer making light work for you.

Chimu Adventures is a member of the International Association of Antarctic Tour Operatorsare and is committed to helping to preserve and protect this pristine part of the world.
Why a trip to Antarctica is a highlight in any traveller's log book
Antarctica is one of the last untouched destinations in the world where you can see remarkable wildlife, such as penguins, seals, whales and orcas, up-close and in abundance amidst pristine, awe-inspiring scenery with only a minimal human footprint.

It is full of extremes being the coldest, driest, highest and windiest place on Earth. For this reason, it was, until recently, the stomping ground for nobody but the hardiest of Polar Explorers – legends such as Scott, Amundsen and Shackleton, who continue to capture the imagination with their tales of endurance and resourcefulness, in the face of appalling conditions.

Only discovered in the 19th Century, Antarctica still has no permanent residents.
About Chimu Adventures
Founded in 2004, Chimu Adventures is an Australian-owned company offering fully flexible, guaranteed itineraries to Latin America, plus cruises to Antarctica. Catering to clients of all ages, Chimu's philosophy is simple, "use specialised knowledge to work with our clients, accommodating their individual needs at reasonable prices".
Chimu Adventures has its own operations in Peru and Argentina and is a member of the International Association of Antarctic Tour Operators.
This brochure covers the regions and holiday types listed below. Click on the links to see more free travel brochures covering the regions and holiday types you are interested in.