Kenya, Tanzania, Zimbabwe, South Africa View Basket
To order this holiday brochure for FREE delivery to your home or computer, click the GET THIS FREE button.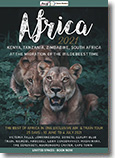 This brochure is no longer available on this website.
The best of Africa in one exclusive air & train tour
25 Days | 10 June to 4 July 2021 | Kenya, Tanzania, Zimbabwe, South Africa At The Migration Of The Wildebeest Time
Highlights include Victoria Falls, Johannesburg, Soweto, Luxury Blue Train, Nairobi, Lewa Conservancy, Masai Mara, The Serengeti, Ngorongoro Crater, Cape Town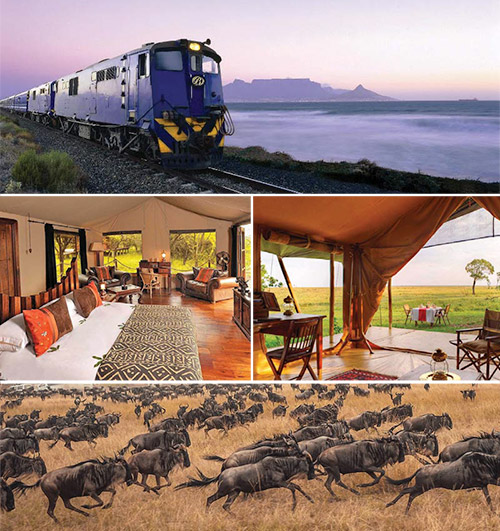 This Travel Masters Small Group Fully Escorted Tour departs from Australia via Perth and promises the finest and best located accommodation, all-inclusive sightseeing and exclusive, unique experiences – all at great value.
Visit the very best of Southern and East Africa in this carefully put together itinerary, especially timed for the world famous Great Wildebeest Migration - known as "the greatest show on earth".
Your travels take you to Victoria Falls, a World Heritage site and one of the Seven Natural Wonders of the World. Breathtaking and wonderful, the Falls are a definite on your to-do list, but so, too, is staying at the Victoria Falls Hotel, a fine example of Africa's colonial past with a spectacular view across to the Victoria Falls Bridge.
Experience the best of Tanzania and Kenya in great style. This wildlife and cultural safari offers a mix of luxurious accommodation with exciting game viewing in exclusive wildlife locations.
Ride the famous Blue Train across South Africa, travelling through magnificent scenery and ending in beautiful Cape Town.
An itinerary designed around Africa's great highlights, from south to north
Wherever you travel in Africa, you will come across the friendliest people. But you'll also be awe-struck by the vast landscapes, endless blue skies and incredible wildlife. East Africa in Kenya, offers an opportunity to visit some of the world's most famous wildlife reserves and most amazing of all, a chance to see the Great Wildebeest Migration, the most spectacular natural phenomenon, a continuing circle of life for about 3 million wildebeest and about 1.5 million zebra.
Travel Masters offers optional extensions to your journey, including a 4 day stay in Cape Town.
Why Travel Masters?
With over 25 Years' experience, Travel Masters boasts an award-winning team of highly qualified international consultants trained to assist you in all your travel needs.
Having travelled most continents of the world and experienced a number of the most diverse cultural backgrounds known to mankind, Travel Masters offers clients a personalised approach to booking holidays, with extensive personal knowledge and understanding.
Managing Director Bob Malcolm is a champion of the travel industry and personally escorts small groups to unique and culturally diverse destinations throughout the world, ensuring that each person on the tour has the experience of a lifetime. Whether it's travelling to tourism meccas or exotic islands, you will be guaranteed a well organised, well paced and memorable holiday.
Awards
Best Regional Travel Agency in Australia
Australian Travel Centre of the Year
State and National Awards for Excellence
Tour Highlights
LEWA CONSERVANCY
With the strict limits on visitor numbers, enjoy an almost private game-viewing experience.
See Rhino, Elephant, Buffalo, the rare Grevys Zebra and resident predators - all against a backdrop of beautiful, snow-capped Mt Kenya.
NGORONGORO CRATER
The largest un-flooded unbroken crater in the world.
Abundance of wildlife permanently resident on the crater floor.
Home to 30,000 animals
SERENGETI
Unequalled in its natural beauty migration of the wildebeest/zebras.
One of the most famous wildlife big game areas in the world
MASAI MARA NATIONAL RESERVE
The annual wildebeest migration and its entourage of predators
The 'Greatest Wildlife Show on Earth' and Masai culture.
VICTORIA FALLS
One of the world's largest waterfalls – witness the power of The Falls.
Zambezi sunset cruise
One of the serene Natural Wonders of the World.
PRETORIA
Capital of South Africa, the beautiful Jacaranda City
Paul Kruger House
Union Buildings - Offices of the President
Church Square - Historic city centre
CAPE TOWN
Stunning Table Mountain

Colourful Victoria and Albert Waterfront

Spectacular Cape Point and Winelands

Robben island. Mandelas Island Prison
THE BLUE TRAIN
A South African icon since 1946 - fabulous 2 day rail journey
Spectacular scenerys

This brochure covers the regions and holiday types listed below. Click on the links to see more free travel brochures covering the regions and holiday types you are interested in.