To order this holiday brochure for FREE delivery to your home or computer, click the GET THIS FREE button.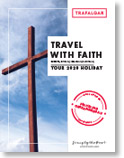 This brochure is no longer available on this website.
Trafalgar's Formula For Enlightening Travel
Europe | Britain | Israel | Jordan
Trafalgar helps reaffirm your faith, through enlightening travel with those who share your beliefs. With 72 years of experience and 80+ awards under its belt, Trafalgar will continue to connect you with simply the best spiritual trips.
The Real Thing
Trafalgar's religious trips have been specially handcrafted to connect you with spiritual sites and places of pilgrimage. From exploring the UNESCO preserved Wieliczka Salt Mine - an entire chapel carved from rock salt, to a soul-stirring production of the Passion Play in Oberammergau, these trips will have a profound impact on the way you see the world.
Free To Be
You choose the destination and your itinerary, Trafalgar does the rest. The dedicated Travel Directors who lead Trafalgar's religious trips have been carefully selected for their deep understanding and great respect for Christianity. With Local Specialists, transport, accommodation and the iconic experiences also covered, you're free to connect without a worry in the world.
Your Happy Place
It's that feeling of community, of belonging and 'pure joy'. Whether you find it strolling through Petra, one of the Seven Wonders of the World, or participating in a private mass on the sea of Galilee - Trafalgar is your champion of faith, so you can let your best self shine.
This brochure covers the regions and holiday types listed below. Click on the links to see more free travel brochures covering the regions and holiday types you are interested in.