East & Southern Africa View Basket
To order this holiday brochure for FREE delivery to your home or computer, click the GET THIS FREE button.
Group Safaris, Overland Expeditions & Tailor-Made Holidays
South Africa | Botswana | Namibia | Zimbabwe | Namibia | Mozambique | Rwanda | Tanzania | Kenya | Uganda | Madagascar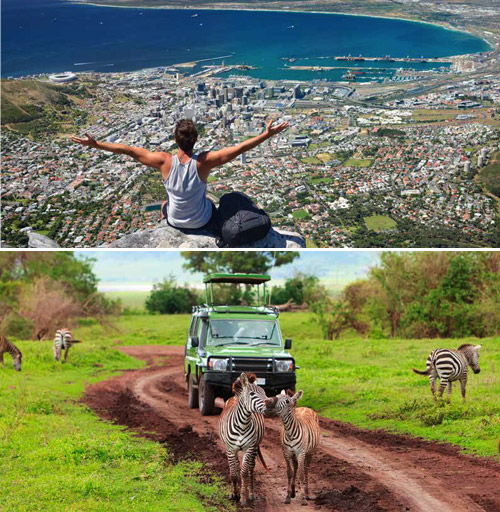 On the Go Tours is with you all the way, showing you the best parts of this amazing continent through local eyes. The best way to adventure through Africa is On the Go.
On the Go Tours will put together a short safari itinerary, in countries as diverse as Uganda or Botswana, Zanzibar or Zambia, South Africa or Kenya, seeing the highlights such as the magnificent Victoria Falls, the incredible Okavango Delta, captivating Cape Town, bustling Nairobi, the great wildebeest migration in the Masai Mara, Kilimanjaro, Africa's highest mountain....
Apart from these short tours, you can take a really adventurous route for longer. On the Go has an established and experienced African overland team. Travel with an average group size of 24 in rugged, utility vehicles, with your own driver and cook, camp along the way, meet the locals, get active and make friends with your like-minded fellow travellers. Overlanding is an extremely popular way of travelling for budget-conscious travellers who want to pack in as much as possible. A fantastically rewarding way to see Africa.
As vast as it is diverse, Africa stretches from as far north as the shores of the Mediterranean to as far south as the Cape of Good Hope. Encompassing desert, savannah, rainforest, mountain ranges, lowlands, stunning coastline, inland lakes and rivers, it is a continent rich in dramatic scenery and natural beauty.
See the world's most prolific concentration of wildlife in their natural habitat, experience the warmth of African tribal people and their diverse cultures and beliefs, travel through stunning landscapes and challenge yourself with some amazing adrenalin-fuelled adventures.
Climb Mount Kilimanjaro, trek in search of the mountain gorilla, track down the Big Five in Africa's leading game reserves or simply laze on the stunning white beaches of Zanzibar or Mozambique.
This comprehensive brochure will take you through the options, whether you are after a short break or a longer adventure, a family holiday or a private journey, an active grassroots expedition or a luxury stay. On the Go knows Africa well.
Overland Safaris Camping
Ranging from 10 to 57 days, these overland camping expeditions encompass East and Southern Africa, travelling between Nairobi, Victoria Falls and Cape Town or Johannesburg, taking in all of the highlights en route including beautiful Lake Malawi, Okavango Delta, Sossusvlei Dunes, the pristine beaches of Zanzibar and more.
Lodge Safaris
For a little extra comfort while you're on safari, these mid-range lodge safaris are just the ticket. Ranging from 4 to 24 days, with a maximum group size of 12, our exciting selection of safaris cover the best of East and Southern Africa.
Tailor-made Holidays
If you would prefer your own private adventure, On The Go's expert team of holiday planners are happy to tailor-make an itinerary bespoke to your requirements. To help inspire you, see the recommended top spots, accommodation and suggested itineraries.
This brochure covers the regions and holiday types listed below. Click on the links to see more free travel brochures covering the regions and holiday types you are interested in.