To order this holiday brochure for FREE delivery to your home or computer, click the GET THIS FREE button.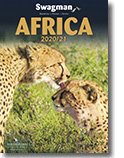 This brochure is no longer available on this website.
Experience, Discover & Explore on an African Safari
South Africa, Namibia, Botswana, Zimbabwe, Zambia, Malawi, Mozambique, Tanzania, Kenya, Uganda & Rwanda
Swagman's new Africa brochure offers a wide range of options and ideas in for travel in primarily East and Southern Africa to create the ultimate holiday. From simple bush camping under the stars to six-star luxury lodge accommodation, there is an African holiday to suit everyone.
Swagman offers individual arrangements or group tours which make the most of sightseeing opportunities, and often recommend a combination of both to ensure you get the full Africa experience. Page through the brochure to get a feel for the type of holiday you might like, then consultation with Swagman's staff will help shape your ideal itinerary.
A brochure can only hold a limited amount of information but once you get talking with Swagman, they'll be able to steer you in the right direction. Mingle with warm and friendly people throughout cosmopolitan South Africa; delight in the discovery of wild animals in their natural bush habitat; explore the vast sands and skies of dramatic Namibia; bungee jump, play golf or swim with sharks; follow the Great Migration of wildebeest and zebra across Tanzania and Kenya; travel in style on overnight luxury trains; trek to see the gorillas of Rwanda or Uganda, or up the mighty Mt Kilimanjaro; or simply relax on the idyllic shores of exotic islands, all the while meeting new friends, encountering new traditions, and sampling the local flavours unique to these countries.
With access to special airfares Swagman Tours can create the perfect African Safari from start to finish.
Because Swagman Tours loves Africa, it is always mindful and respectful of the impact tourism plays on the landscape and communities. Most of Swagman's tours are small in size, normally ranging for 2-18 people ensuring the 'footprint' is light. Swagman Tours only use reputable ground operators who adhere to their safety standards, share their philosophy and employ local people.
It's time to make that African Dream a reality. Experience, Discover & Explore with Swagman Tours!
This brochure covers the regions and holiday types listed below. Click on the links to see more free travel brochures covering the regions and holiday types you are interested in.