To order this holiday brochure for FREE delivery to your home or computer, click the GET THIS FREE button.
Embrace your Spirit of Adventure
Small Group, Tailor-Made, Private Groups & Independent Journeys | Botswana, Burkina Faso, Egypt, Ethiopia, Ghana, Iran, Israel, Kenya, Jordan, Madagascar, Morocco, Namibia, Oman, Rwanda, South Africa, Swaziland, Tanzania, Togo, Tunisia, Uganda, Zimbabwe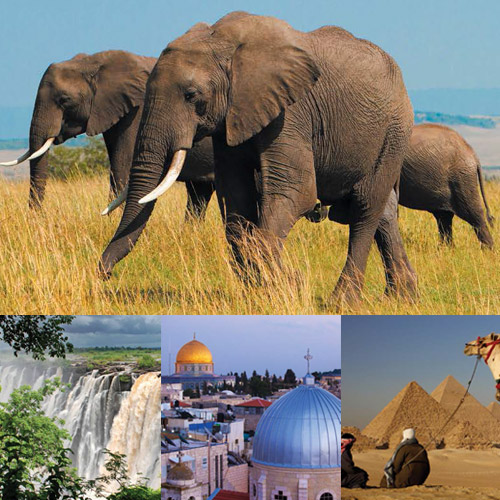 Seeing the famous sites is a must, but it's often the unexpected moments that leave a lasting impression.
Wandering through a remote village, sampling fresh fruit in a market or staying overnight with a local family are just some of the ways that Peregrine helps you get under the skin of a destination.
You'll go beyond the highlights and travel at a relaxed pace that allows you to stop and savour each experience along the way. See an abundance of wildlife on a sprawling safari ride, but afterwards retire to a comfortable lounge in a lodge and toast the day with a glass of red.
For almost 40 years, Peregrine has been creating small group tours for the well-travelled, discerning traveller. The one who chooses value over price and wants to immerse themselves in a place instead of just ticking landmarks off a bucket list.
Peregrine offers over 180 adventures in over 70 countries worldwide; vast destination expertise; locally-born and raised tour leaders; small groups; innovative itineraries that include both the iconic sights and off-the-beaten-track highlights; and responsible tourism practices.
Small Groups
Peregrine's well-paced and highly inclusive itineraries have a maximum of 16 travellers, giving you a deeper connection with the destination and more time with your local leader. You'll visit places the big groups can't and stay in more interesting accommodation. Peregrine has softened the edges of adventure travel with comfortable accommodation, more inclusions, private transport in most cases and more time in each destination.
Tailor-Made Travel
Peregrine understands that some travellers would prefer to see the world with a group of family or friends. We can help you create a tailor-made trip to suit any group, whether it's large or small. Planning a romantic getaway with your significant other, or a family reunion? Choose from one of Peregrine's existing itineraries and talk to their team about enhancing it. You can add activities, elevate your accommodation to a luxury level or tailor the itinerary to a specific interest – like food or photography. You can even select your departure date when travelling with four or more people. Use Peregrine's expertise to design a unique trip for yourself.
Private Groups
All small group tours are available as private departures, which are perfect for those who wish to travel with their friends, family, sporting clubs or others they know that have a shared interests.
Peregrine's team of highly expereienced consultants can organise flights, visas, pre- and post-tour accommodation, extensions, insurance and more.
Solo travellers
Peregrine tours are perfect for solo travellers. It's a great way to meet people with similar interests, and there's no additional cost if you're happy to bunk with someone of the same gender. Itineraries offer a good balance of group activities and free time to explore independently.
Independent Journeys and Experiences
While travelling with a small, like-minded group only adds to a holiday experience, Peregrine also recognise that some travellers may prefer to travel with just their friend or partner. To accommodate this, Peregrine has crafted a new way of travelling with Peregrine that complements our already comprehensive range of small group trips: Independent Experiences & Independent Journeys.
Independent Experiences are a range of short, regional, 'mini tours' that you can link together to create your own holiday. The Experiences depart any day and you can mix and match any combination. Peregrine can also book the transport links between each experience for you. Experiences can also be booked as an extension to a regular tour.
Independent Journeys are a selection of Peregrine's most sought after trips, re-imagined them for just two passengers. While the itinerary itself will remain the same, you will travel independently and be met by a specialist Peregrine guide in each destination. This ensures that you can enjoy the benefits of our vast travel experience and accomplished local guides, but with the freedom and intimacy of a private tour.
Inspired Accommodation
Peregrine believes the magic of a place lies in its charm and not in its star rating. Intimate, character-filled accommodation is just another benefit of Peregrine's style of small group travel.
Where possible you'll stay in smaller hotels that reflect a region's style rather than large global chains.You could find yourself staying in a beautiful tented camp in the wilds of the Serengeti, relaxing in a Moroccan riad that exudes all of the charm of the Arabia of yesteryear, or spending the night on a cruise boat that's taking you down the historic Nile River.
What's included
Peregrine's small group tours include all the major expenses, so you only need to budget for additional meals, optional activities and souvenirs along the way. The tour cost covers:
All included sightseeing and entrance costs
All transport and accommodation
Many meals (as indicated)
A highly experienced Peregrine tour leader
Additional specialist guides and porters where needed
Gratuities for services received as part of your tour package
24-hour emergency support from our local teams
Contents
Independent Journeys
Independent Experiences
East Africa
Southern Africa
Ethiopia
West Africa
Morocco & East Africa
Middle East
This brochure covers the regions and holiday types listed below. Click on the links to see more free travel brochures covering the regions and holiday types you are interested in.