To order this holiday brochure for FREE delivery to your home or computer, click the GET THIS FREE button.
Great Value Small Group & Tailor Made Tours
Small Group Tours | Tailor-Made Itineraries | Semi-Independent Tours | Combination tours | Festival Tours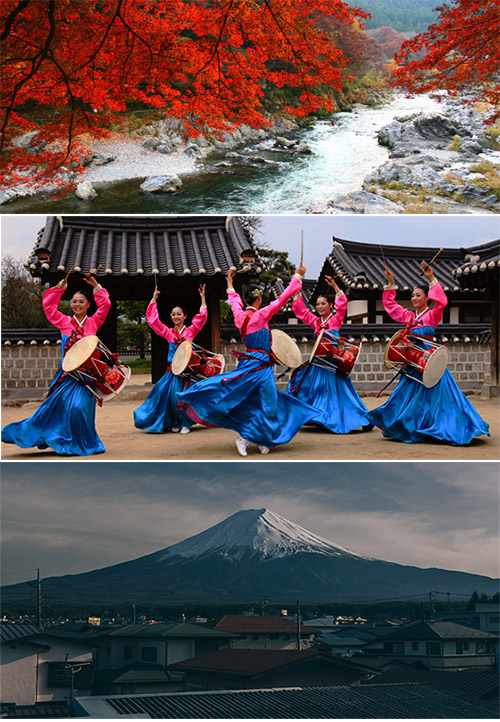 Japan, Korea & Taiwan are worlds apart – often referred to as "cultural heavens" where unique civilisations blossomed and today thrive in delicious contrasts of traditional and modern. From the vibrant green of the mountains, or romantic walks under the "snow like" cherry blossom petals during the transition of seasons, from traditional-style homes to brush-strokes of Asian characters, the colours and shapes of each region are messages that convey spirit & culture.
In this brochure, you'll find everything you need to choose your next holiday. Think of it as your complete Japan, Korea & Taiwan travel handbook, filled with amazing experiences that are sure to bring you back again and again.
Why MW Tours?
MW Tours knows your favourite destinations very well and works hard to ensure you can travel with confidence, knowing your trip has been meticulously researched and planned. MW Tours' staff travel to every destination, so you know you are speaking to professionals familiar with the local area, allowing for personalised planning of your experience. There are options to suit every traveller, so no matter which tour you choose, MW Tours' quality and prices are always very competitive, offering the best value for money.
MW Tours supports you through your whole trip, providing you with a 24-hour (local & overseas) contact numbers for all destinations, offering you peace of mind and a worry-free holiday.
Family Owned Business
MW Tours is owned and operated by the Wang family. After running successful tours in Nanjing, China, Navy Wang started MW Tours in Australia in 2008. Today, MW Tours thrives as a major competitor in the Asian, Subcontinent & African regions, having delivered exceptional holiday experiences to thousands of Australians.
Exceptional Value for Money
You will find MW Tours' entire portfolio offers exceptional value for money with more inclusions and added value than any other. Thanks to reliable local partners, you get offered the best price right from the start allowing you more time to immerse yourself in planning your trip. However, if you happen to find a cheaper price with the same quality inclusions and duration, MW Tours will match the price.
Your Touring Options & Benefits
Escorted Travel
MW Tours is known for its Escorted & Fully Inclusive Small Group Tours. Where everything is organised in its air & land packages including international and domestic economy class airfares, any cruise or train tickets, quality accommodation, delicious local meals, airconditioned transfers, professional English speaking local guides, all entrance and monument fees, tipping for your guides and drivers, and more! One of the biggest benefits of travelling on a Small Group Tour is the personal and attentive service you receive from MW Tours' guides. You will also be travelling with other guests that share similar interests with you, helping you to make new friends along the way!
Modular Travel
If you would like a little more independence or would just prefer not to have everything included, MW Tours' modular tours have been put together for you:
They will use a series of day tours, accommodation & transportation.
Coaches will generally pick up and drop off guests from selected hotels, or you may need to meet at a dedicated pick-up point or you may even be dropped in a central area to make your own way home. They allow you to see the best sights in your fantastic destinations, while giving you extra freedom to explore on your own.
They are also more budget friendly, as you can choose your own methods of transportation, make your own way to hotels, or decide where you would like to eat.
You could even pick from MW Tours' range of Excursions to make your own tour.
Although they look like a tour, they actually operate on an independent basis, which means you could be with different people & guides each day, due to their size capabilities, which offer competitive pricing with maximum flexibility. It's important to check all the inclusions and exclusions for each of these tours as they will vary a lot, depending on the location.
Seat in Coach (SIC) Travel
Many destinations often offer group tours that can be joined by travellers from all over the world. Known as SIC Tours, they allow English-speaking travellers to join an escorted tour, with a National Guide who can best show you the highlights of a destination. MW Tours sell these tours on behalf of local suppliers and only use the best SIC Tour providers to ensure its high standards are met. It's important to note that these tours are mainly for first time travellers, so it's best to keep in mind that they aim to show you as much as possible in a short period of time. Travel times each day may be as long as 12hrs to ensure you make the most of your experience.
Tailor-made (FIT) Travel
If MW Tours doesn't have exactly what you want, MW Tours can customise an itinerary that meets your needs! Whether you are a solo traveller, making arrangements for school groups or families, or have a club with special interests (looking at you, Craft enthusiasts or Foodies!), MW Tours' friendly Travel Consultants are here to help. MW Tours' FIT Tours can be organised in whichever way you want, allowing you the freedom to choose the style and budget that suits you the most.
Authenticity
Itineraries are designed to take you to areas off the beaten track to discover unique ∓ authentic cultural experiences, like staying in a temple and experiencing life as a monk, or exploring the remote areas of India and the foothills of the Himalayas, where cars are banned from the town centres.
Luxury Hotels
Small group touring allows a broader range of accommodation options. All group tours use quality 4-5 star luxury hotels, inspected by MW Tours staff and local partners to meet high standards. In remote areas, the best local hotels accommodate travellers.
Unforgettable Dining
Don't worry about having no availability at restaurants. Local guides will get you a table at the most delicious, authentic & quaint eateries. Tours include most meals as indicated in the itinerary. Breakfast can often be a combination of local and western food, usually served in a buffet style. Lunch and Dinner consist of famous traditional local cuisine, with a wide range of specialties to choose from. Included meals are designed to offer travellers an opportunity to experience various types of local cuisine and flavours.
Group Sizes
Group sizes in each destination vary, with average group sizes ranging from 6 to 15 guests. Most group tours are guaranteed to depart with a minimum 2 (excludes Festival & Seasonal tours), so you can book with confidence knowing your trip will not be cancelled due to insufficient numbers (a risk with many other operators).
Local & National Guides
Tour guides are the most important factor of your group travel. MW Tours is lucky enough to have knowledgeable, professional, responsible and delightful local guides to serve you and make sure you enjoy your tour and share their in-depth knowledge. MW Tours' professional English-speaking national guides/tour escorts will also accompany you throughout group tours with larger numbers of guests. They will be there to handle daily arrangements, coordinate with each local guide and make sure your holiday runs smoothly.
Transportation
Various means of transportation are offered, with comfort and enjoyment in mind:
By Road: All coaches, vans, cars used are modern, air-conditioned vehicles, no more than 5 years old. On some tours, 20% of seats are kept empty to allow for space & seat rotation on your trip.
By Air: Full Service Airlines such as Qantas, Singapore Airlines, and Cathay Pacific are used as standard when quoting. Domestic air travel is with reliable and full-service carriers to ensure minimal interruptions on your tours.

By Water: Cruising is available during many China, India and Indochina tours, offering 5-star service and excellent on-board experiences and entertainment. MW Tours only uses first-class cruise lines such as American Victoria, Pandaw Cruises, Century Cruises & Au Co Cruises.

By Rail: High Speed Rail or "Bullet" trains are becoming more available in destinations. Depending on your destination, some bullet train tickets require your luggage to be shipped to your next destination separately requiring you to have overnight baggage for your train journey.

By Cable Car or Ropeway: In a number of locations, like Mt Koya, The Great Wall of China, Zhangjiajie and Hong Kong Lantau, you are required to take a ropeway or cable car to the top.
Special Offers*
Early Payment Discounts: Book a fully inclusive tour (Air & Land package) and pay in full a minimum of 6 months before departure to enjoy great savings.

Travel Together and Save: If a group of 6-9 guests travel together, a discount of 5% off the land-only portion, per person, applies to your booking. If 10 or more people travel together, MW Tours offers very attractive group rates based on the number of people.

Loyalty BONUS: If you've travelled with MW Tours before, cash in on a special 5% discount off the land-only portion (exclude air) of your next MW Tour (you must travel within two years of your last trip to qualify).
*Conditions apply.
This brochure covers the regions and holiday types listed below. Click on the links to see more free travel brochures covering the regions and holiday types you are interested in.