Europe Autumn, Winter, Spring for 18-35s View Basket
To order this holiday brochure for FREE delivery to your home or computer, click the GET THIS FREE button.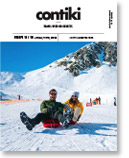 This brochure is no longer available on this website.
One life, one shot, so make it count. No regrets.
Contiki. The original adventure travel company for 18 to 35s. Sure, there was no Facebook back in 1962, but there was a world that needed exploring, a beaten up old mini-van, and a group of mates with adventure in their bones. Since that first trip, we've spent 50 years perfecting the art of living with no regrets. And to tell you the truth, we've gotten pretty damn good at it.
What makes travelling with Contiki different? Contiki offers you a Backstage Pass to Europe. It's a combination of many things, exclusive to us, that gives you unrivalled value & sets the Contiki Europe Winter experience apart from the rest.
Contiki, your backstage pass to Europe Winter
EXCLUSIVE ACCOMMODATION: You'll get to stay in some eye-popping accommodation when travelling with Contiki. Our Feature Hotels & Austrian Gasthof are truly unique & our Time Out trips are hotels all the way.
EXCLUSIVE INCLUSIONS: The iconic sights are all included in your tour, but so are some exclusives like our "Paris by Night" & "Special Access Rome" tours.
EXCLUSIVE TEAM: Our Tour Managers, Drivers & On-site Team are all passionate travellers whose sole focus is making your trip the time of your life. They live & breathe "local Europe" & have an intimate knowledge of every city & every destination.
EXCLUSIVE ACCESS: After 50 years travelling around Europe, no company can provide better access to Europe than Contiki. Like skipping the queues at the Eiffel Tower & the Vatican. We'll get you around in style, doing all the hard work & saving your precious time for exploring.
EXCLUSIVE FOOD: Foodies rejoice! Breakfast included each day & most of our included dinners feature the very best in regional cuisine from authentic local restaurants.
EXCLUSIVE OPTIONS: We provide you with loads of free time to discover & create your own adventure. We call it ME Time… We have a host of exclusive optionals too, so, whether you're an adrenaline junkie, a culture vulture or a foodie, we'll provide you with something special.

Winter Trips

TIME OUT MULTI COUNTRY

European Magic
European Vista
European Discovery
Winter Wanderer
European Encounter
European Inspiration

TIME OUT IN-DEPTH REGIONAL

England & Scotland
Italian Espresso
Simply Italy
Mediterranean Highlights
Spanish Spree
Egypt & the Nile
Berlin, Prague & Vienna
Berlin & Prague
Vienna & Budapest
Berlin to Budapest
London & Paris
London & Paris + Paris
London & Paris + Amsterdam
London & Paris + Rome

CONCEPT MULTI COUNTRY

European Trail
Eastern Rocker
Eastern Trail
Western Rocker
Trail to Rome
Trail to London

SKI/SNOWBOARDING, CITY EXPLORER & CHRISTMAS / NYE TRIPS

Ski / Board Austria (1 or 2 weeks )
London Explorer
Christmas in Paris or Amsterdam
New Year's Eve trips
St. Patrick's Day
This brochure covers the regions and holiday types listed below. Click on the links to see more free travel brochures covering the regions and holiday types you are interested in.