Lindblad-National Geographic Expedition Cruises View Basket
To order this holiday brochure for FREE delivery to your home or computer, click the GET THIS FREE button.
Genuine expedition travel – all the adventure without the adversity
Canada, Alaska, Caribbean, Central & South America, Arctic, Antarctica, South Pacific, Mediterranean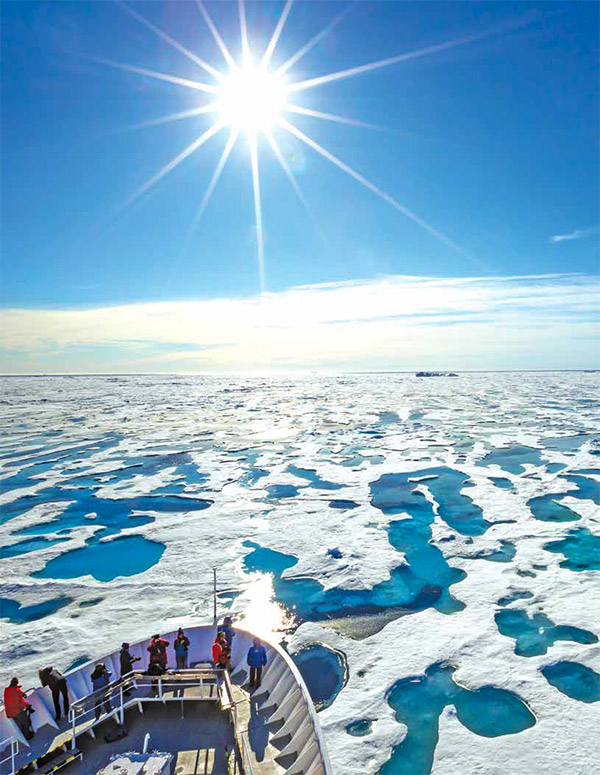 "Lindblad is genuine expedition travel: all the adventure without the adversity. It's education, illumination, imagination and inspiration. It's hiking and kayaking by day; sailing and dining by night; waking up every morning in a new place. It's travel by ship that's a floating university and a five-star hotel filled with bright-eyed naturalists, thoughtful guest speakers, and go-for-it shipmates … Go. Fall in love with adventure. Make new friends; your own Lindblad 'family.' Find a shared passion for the wild places. And come home with something to write about."
– KIM HEACOX, author
CELEBRATING 50 YEARS
Lindblad-National Geographic has been running expeditions for 50 years, dedicated to what people deserve and want, and how best to optimise your time, curiosity and interest..
AUTHENTIC EXPEDITION SHIPS
Ranging in size from 28 guests to 148 guests, Lindblad has 13 ships, scaled to go where cruise ships can't, and equipped to bring you deep inside places where no infrastructure of docks or ports exists. Unpack once, then focus all your time and attention on experiencing the privilege of being there—with the luxury of comfort, too.
ACTIVE SIGHTSEEING
An onboard fleet of Zodiacs, land on remote beaches, or enter a European town the way it was meant to be seen: from the sea. Single and tandem kayaks enable up-close, personal discoveries virtually anywhere – from a glacier face in the Arctic to an iceberg alley in Antarctica. A new fleet of paddleboards and complete snorkel gear makes exploring warmer waters a joy. And bow cams, hydrophones for listening in on whales, and video microscopes let you experience more of what you're 'out there' for.
EXPERIENCE THE UNDERSEA
Lindblad-National Geographic is the only company voyaging with an undersea specialist. Discover the virtually unknown Antarctic, Arctic or Alaskan undersea and more of the world's oceans, while staying warm, dry, and perhaps with a cocktail in hand. Specialists dive to capture vivid HD video to present on plasma screens in the ships' lounges. And, National Geographic Explorer, National Geographic Orion, and National Geographic Quest are also equipped with an ROV (Remotely Operated Vehicle) capable of exploring depths up to 305 metres, to obtain images where no diver can go.
RENOWNED EXPEDITION TEAMS
Over 50 years, Lindblad-National Geographic has gained a reputation for the most knowledgeable and engaging staff. Their specialist knowledge, experience, superb wildlife spotting skills, and storytelling abilities ensure that you see, do and understand more –and that it all adds up to a cohesive, meaningful narrative for you.
NATIONAL GEOGRAPHIC PHOTOGRAPHERS ABOARD
Top pros are at your side and at your service on every departure of National Geographic Explorer and National Geographic Orion, and on select departures of other ships in the Lindblad-National Geographic fleet, to provide inspiration, expert advice, and tips. Count on top-calibre help to improve your skills, and send you home with your best photos ever.
ENGAGING GUEST SPEAKERS & LOCAL EXPERIENCES
Hear talks by and share daily activities with individuals from the top tiers of journalism, science, and exploration. And count on local encounters to enhance your experience of the regions explored, from concerts arranged by a musicologist in Iceland and Europe, to special opportunities to meet and mingle in Arctic Inuit communities, or in local bars after an active day of biking, hiking or rafting in Haines, Alaska, or a seaside pub in Wales.
ALL THE ADVENTURE WITHOUT THE ADVERSITY
Get-out-there travel is inspired by historic expeditions, but with a difference: no suffering, no deprivation. Dining is excellent, with a special emphasis on provisioning from sustainable, local providers wherever possible, and using regional flavours and ingredients as a window on the places we explore. Wellness programs aboard make exploring a mind-body activity. And an exclusive, professional video chronicle of your expedition captures the events you experienced – so you can stay in the moment, immersed in the joy of it, and return home with proof it all really happened.
NORTH AMERICA

Alaska

Canada: British Columbia

Baja California

Sea of Cortez

CENTRAL & SOUTH AMERICA & CARIBBEAN

Galápagos

Peru

Upper Amazon

Andes

Costa Rica and the Panama Canal

Monteverde Cloud Forest

Panama

Belize to Tikal

Chilean Patagonia

Argentina's Staten Island

Torres Del Paine to Cape Horn

 

 

POLAR REGIONS & THE NORTHLANDS

Antarctica

South Georgia

Falklands

Iceland

Greenland

Canadian High Arctic

Baffin & Ellesmere Islands

SOUTH PACIFIC

Easter Island

Tahiti

Polynesia: Cook Islands to Fiji

French Polynesia

Marquesas

EUROPE & THE MEDITERRANEAN

Greek Isles

Dalmatian Coast

 
This brochure covers the regions and holiday types listed below. Click on the links to see more free travel brochures covering the regions and holiday types you are interested in.