Africa, Madagascar & Mauritius View Basket
To order this holiday brochure for FREE delivery to your home or computer, click the GET THIS FREE button.
Escorted tours, tailor-made itineraries and train journeys to match your style and budget
South Africa | Botswana | Namibia | Zimbabwe | Zambia | Kenya | Tanzania | Rwanda | Uganda | Madagascar | Mauritius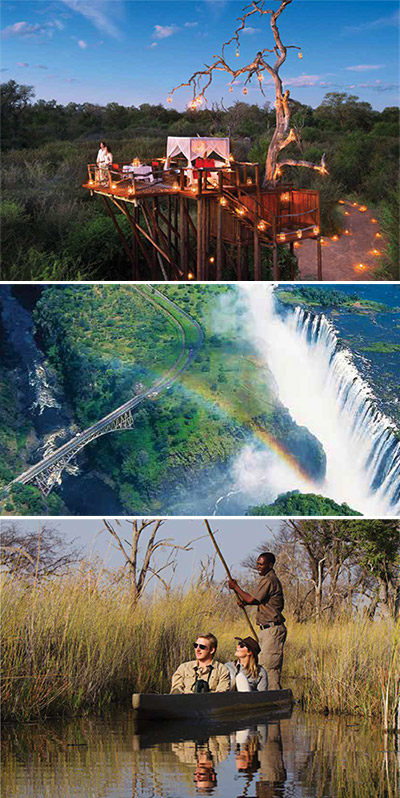 Since 1997, Adventure Destinations has been creating quality experiences for travellers to explore the vast attractions of Africa, Madagascar and Mauritius. Itineraries have been hand-selected to give you the best holiday experience at affordable prices. An experienced team has travelled extensively in each destination and can offer you the best travel advice for your holiday.
Adventure Destinations offers independent and escorted tours or can tailor a holiday especially for you, catering for your specific needs, style and budget. Apart from individual travellers, Adventure Destinations can also assist with personalised groups and special interest tours.
Africa, Madagascar & Mauritius
Africa is without a doubt one of the most spectacular and awe-inspiring continents. Each country on this amazing continent has so much to offer and has its own identity, calling you to come back and discover more. Africa provides the opportunity to experience a diverse range of habitats, wildlife, terrain, people and cultures.
Madagascar, the world's fourth largest island, broke away from Africa approximately 50 million years ago. Embrace the culture, explore and discover the many attractions. Be captivated by the curious and famous Lemurs of Madagascar and explore at a leisurely pace.
Mauritius, a jewel in the Indian Ocean, is the ideal destination to relax and unwind at one of the many resorts. Clear warm waters and white sandy beaches make tropical dreams come true. The contrast of colours, cultures and tastes makes the island so charming that the scene is set for an unforgettable holiday. Mauritius has it all, whether it is a family holiday a romantic honeymoon, special celebration or even a golf holiday.
Individual itineraries designed specially for you
If you have specific travel requirements, Adventure Destinations can tailor an individual itinerary just for you. Use the itineraries in the brochure as a starting point or design your own tour from the outset. Adventure Destinations' experienced staff would love to help you bring your perfect holiday to life. By choosing your own mix of adventure and comfort, you can explore each destination at a style and price that suits you.
Accommodation to suit your style
Depending on your budget and preferences, Adventure Destinations offers a wide range of safaris and accommodation from 3 to 6 star and everything in between.
Single Travellers
If you wish to join a tour as a solo traveller, Adventure Destinations' friendly consultants will try and match you up with a companion of the same sex with similar interests where possible.
Why choose Adventure Destinations?
Adventure Destinations is an independent, Australian owned travel wholesaler that believes it shouldn't cost the earth to see the world. For over a decade, Adventure Destinations has searched out the very best value for money travel experiences on the planet, designing a constantly expanding range of products to suit every style and budget.
Adventure Destinations' expert staff have over 70 years combined experience in international travel, and make frequent trips back to its specialised areas to stay on top of the latest trends, properties and attractions.
Wherever you want to go, whether you want to relax on a beach, see the sights or challenge your limits, Adventure Destinations has the expertise to turn any holiday into the trip of a lifetime. Adventure Destinations' travel specialist's are passionate about creating exciting journeys to some of the world's most amazing places, including Canada, Alaska, USA, Africa, Borneo, Malaysia, Turkey and South America.
Adventure Destinations prides itself on unwavering attention to detail, ensuring that your holiday is a wonderful and rewarding experience you'll never forget.
So plan your next holiday with Adventure Destinations. It won't just be a holiday – it will be an experience to remember.
This brochure covers the regions and holiday types listed below. Click on the links to see more free travel brochures covering the regions and holiday types you are interested in.