ANZAC Tour |
Free Travel Brochures
View Basket

The following free holiday travel brochures feature ANZAC Tour holidays, tours and packages – click the GET THIS FREE button to order your ANZAC Tour holiday brochures.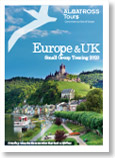 2020 Unique, leisurely escorted small-group tours of Europe in summer covering Britain, Ireland, Italy, Sicily, France, Switzerland, Germany, Belgium, Holland, Austria, Spain, Portugal and Croatia. Tours are genuinely inclusive and specially designed for Australian guests. Touring in small group sizes, averaging just 22, ensures a more personal experience. Stay 2, 3, 4 and even 5 nights in each captivating city and region. Enjoy all the sights in the popular major cities and discover charming old towns and attractive villages. EarlyBird Deals!
> MORE...
---
---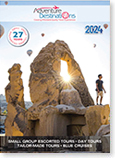 For more than 22 years, Adventure Destinations has brought exotic destinations to life. With the perfect mix of sightseeing and free time, all tours have been meticulously planned to ensure you enjoy the best holiday experience. At every step of the way, Adventure Destinations offers you great value, with small groups, handpicked hotels and expert local guides. Whether you are a history buff, prefer to get off the beaten track, or simply want to relax and enjoy the sun and sea, whether you prefer a small group tour or a more independent style of travel, Adventure Destinations has something for everyone.
> MORE...
---
---