ANZAC Tour |
Free Travel Brochures
View Basket

The following free holiday travel brochures feature ANZAC Tour holidays, tours and packages – click the GET THIS FREE button to order your ANZAC Tour holiday brochures.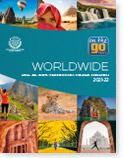 2021-2022 Baltics, Turkey, Greece, Croatia, Italy, Finland, Greenland, Iceland, Norway, Russia, Trans-Siberia Award-winning escorted group tours, sailing adventures, tailor-made holidays and family getaways to get you going. On The Go's carefully planned itineraries allow freedom and flexibility, with something to suit everyone – small group tours, budget, handpicked, independent and active walking and cycling holidays. They include all the key highlights, great hotels, expert guides and plenty of fun and relaxation – and the best value for money.
> MORE...
---
---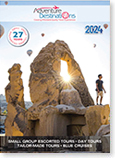 For more than 22 years, Adventure Destinations has brought exotic destinations to life. With the perfect mix of sightseeing and free time, all tours have been meticulously planned to ensure you enjoy the best holiday experience. At every step of the way, Adventure Destinations offers you great value, with small groups, handpicked hotels and expert local guides. Whether you are a history buff, prefer to get off the beaten track, or simply want to relax and enjoy the sun and sea, whether you prefer a small group tour or a more independent style of travel, Adventure Destinations has something for everyone.
> MORE...
---
---