ANZAC Tour |
Free Travel Brochures
View Basket

The following free holiday travel brochures feature ANZAC Tour holidays, tours and packages – click the GET THIS FREE button to order your ANZAC Tour holiday brochures.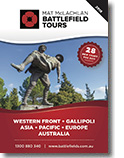 Mat McLachlan Battlefield Tours
2019 Treading the ground where Australians fought and died is a life-changing experience, an experience that reveals a lot about values that we all hold dear – courage in adversity, mateship and sacrifice. Mat McLachlan Battlefield Tours is Australia's leading dedicated battlefield touring company. See the battlefields in France, Belgium, Vietnam, Gallipoli, Germany and the Pacific the safe, friendly and easy way! Expert historians guide and accompany every group tour.
> MORE...
---
---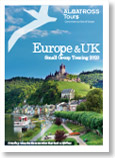 2019 Unique, leisurely escorted small-group tours of Europe in summer covering Britain, Ireland, Italy, Sicily, France, Switzerland, Germany, Austria, Spain, Portugal and Croatia. Tours are genuinely inclusive and specially designed for Australian guests. Touring in smaller group sizes, averaging just 22, ensures a more personal experience. Stay 2, 3, 4 and even 5 nights in each captivating city and region. Enjoy all the sights in the popular major cities and discover charming old towns and attractive villages.
> MORE...
---
---