Golf Tour of Portugal, Spain & Morocco View Basket
To order this holiday brochure for FREE delivery to your home or computer, click the GET THIS FREE button.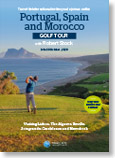 This brochure is no longer available on this website.
Join Travelrite and Robert Stock on a golf and cultural odyssey to Western Europe and North Africa
Visiting Lisbon, The Algarve, Seville, Sotogrande, Casablanca and Marrakesh | 14 to 30 October 2020 | Play 10 world-class courses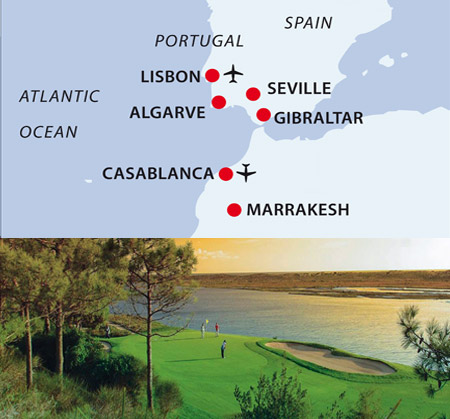 Visit some of the world's best golf courses and enchanting locations on a journey from Lisbon to Marrakesh.
You will play 10 world class golf courses including the golfing masterpieces of Oitavos Dunes in Lisbon, San Lorenzo and Monte Rei in Southern Portugal, Valderrama in Andalusia, Mazagan outside Casablanca and Assoufid in Marrakesh.
You'll experience the rich history of Lisbon, be enchanted in Sevilla and revel in the chaotic markets in Marrakesh. With relaxing interludes in coastal retreats, this is a perfect trip for a non-playing spouse too. This golf tour is not to be missed as it plays out through the changing landscapes and incredible cultures of Portugal, Spain and Morocco.
Your Tour Leader
Robert Stock was born in the UK and has been a PGA Golf Professional for nearly 20 years. Robert has lived and worked in France, Belgium, Spain, Italy and Australia, making travel a very important part of his life. Robert has played tournament golf throughout Europe, and currently resides in Melbourne, Australia. He is delighted to be Golf Travel Manager for Travelrite International, the leader in exclusive golf tours throughout the world for the past 20 years.
What's included:
Accommodation in 4 and 5 star hotels in Lisbon, Algarve, Seville, Sotogrande, Casablanca and Marrakesh including breakfast.
Flight from Malaga, Spain to Casablanca, Morocco – includes one piece of luggage and golf bag.
Golf carts at Monte Rei.
Confirmed tee times on 10 outstanding golf courses.
Prizes for winners in the daily, friendly stableford competitions.
Travel in luxury coach as per itinerary.
Dinners on tour as listed in the itinerary.
Sightseeing and general entrance fees as detailed in the tour itinerary.
Tour leadership by Robert Stock, PGA Golf Professional.
This brochure covers the regions and holiday types listed below. Click on the links to see more free travel brochures covering the regions and holiday types you are interested in.