Asia - China, Vietnam, Cambodia, Japan, Korea View Basket
To order this holiday brochure for FREE delivery to your home or computer, click the GET THIS FREE button.
Flexible group tours, tailor-made holidays
Vietnam | Borneo | Cambodia | Laos | Myanmar | China | Japan | Kyrgyzstan | Tajikistan | Turkmenistan | Uzbekistan | South Korea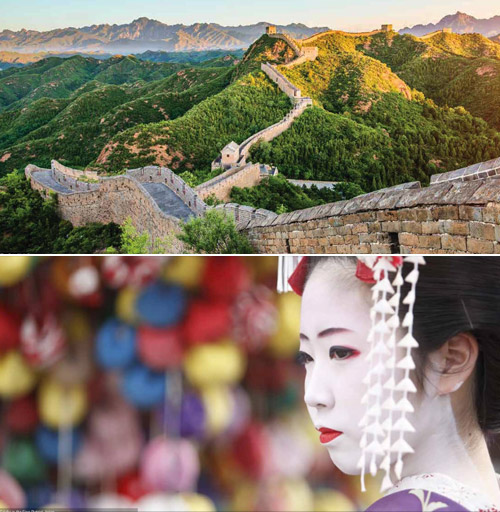 These award-winning holidays are all about discovery and new experiences. Travelling with On The Go means you get to visit the best places, whilst enjoying plenty of independence and freedom. Part of the fun is sharing your travel experiences with an international mix of travellers.
On The Go offers a select collection of escorted group tours, sailing adventures, tailor-made holidays and family getaways; there's something to suit all styles of travel.
Escorted by an expert tour guide, On The Go's group tours include carefully planned itineraries with all the key highlights, great hotels, expert guiding and plenty of fun and relaxation – all at the best value for money that each destination offers.
This brochure focuses on the diverse Asian continent. From the emerald waters of Halong Bay in Vietnam to the iconic Great Wall of China and the bustling Japanese metropolis of Tokyo, Asia is full of incredible sights just waiting to be explored.
New for 2020, On The Go Tours is offering you the chance to get off the beaten track in Central Asia on an overland adventure. From Uzbekistan's Silk Road cities to the bizarre marble city of Ashgabat in Turkmenistan and the world-beating scenery of Kyrgyzstan and Tajikistan, this region is an up and coming destination that On The Go Tours is delighted to be able to offer its travellers. On The Go Tours also has an exciting new tour in South Korea and brand-new adventures for the whole family in Vietnam.
China Group Tours – Beautiful scenery, bustling cities, delicious cuisine and more than 5,000 years of rich cultural heritage await. Climb the magnificent Great Wall, discover Xi'an's massive terracotta army, explore ancient temples and pagodas, give your taste buds a treat and immerse yourself in China's unique culture and traditions. 
Japan Group Tours – Starting in Tokyo, explore ancient Kyoto, historic Hiroshima and the beautiful Miyajima Island. Ride the bullet train, attend a Japanese tea ceremony and spend the night at a traditional ryokan. Time your visit with the famous Cherry Blossoms or the Phlox Moss Festival with our dedicated departures
SE Asia Group Tours – Vietnam, Cambodia, Laos, Myanmar and Borneo are beautiful Southeast Asian nations, each with their own unique appeal. Diverse landscapes, stunning scenery, laid-back locals and delicious cuisine are common threads throughout, and our Southeast Asia tours and tailor made holidays ensure that you'll see the very best of each one. Whether its tending to the fields in Tra Que, taking a boat ride on Tonle Sap Lake or meeting the laid-back locals in Myanmar, our tours of Southeast Asia offer countless authentic travel experiences.
Central Asia Group tours - Stretching from the Caspian Sea to the western border of China, Central Asia is a blank space on the map for many people. But travel to this lesser-visited region and you'll discover cities, scenery and sights like nowhere else on Earth. Visit the Silk Road cities of Uzbekistan and marvel at the strange capital of Ashgabat in Turkmenistan. Go trekking in Tajikistan and stay in a traditional yurt in Kyrgyzstan.
Choose your style of travel
Signature small-group tours
Local interaction and authenticity is placed at the centre of your travel experience whilst upping the comfort stakes with 3-5 Star hotels. Explore all the main sites with expert English-speaking guides and stay in comfortable hotels. These small group tours are limited to 24, with an average of 18.
Budget
Perfect for independent spirits travelling on a shoestring. Many tours include a local payment to help keep costs down so you get the best possible value. With a maximum size of 32, these tours are designed to create a social and fun travel experience.
Handpicked
Offering you the most iconic experiences in destinations where you'll join travellers from a carefully selected portfolio of local partners, these tours represent exceptional value. Typical group size is 28 and accommodation is of 3-4 Star standard, but varies by destination.
Active – trek, cycle, walk
Explore more than the standard highlights on an exciting trekking, walking and cycling holiday. Your accommodation will reflect the off-the-beaten-track nature of these trips, with simple hotels and guesthouses plus some camping. You'll need a good level of fitness and an intrepid spirit.
Independent
Set the pace on your own bespoke private itinerary with your preferred standard of accommodation and style of tour. From pre-priced packages available off the shelf to fully curated tailor-made holidays, this range also includes our selection of stopovers and short city breaks and provides maximum flexibility. On The Go's specialist team is happy to tailor the perfect holiday for you. Choose the standard and style of accommodation you desire, your preferred mode of travel and the particular sights you want to see and On The Go will construct a holiday that's just right for you.
Solo travel
On The Go's trips are an ideal way for solo travellers to experience the world with the comport and security of knowing you'll be travelling with others and have a knowledgeable guide on hand to help.
On a selection of the most popular Signature tours, solo travellers can choose to have their own rooms, supplement free. Most of the Signature, Budget and Active group tours also have a "no compulsory single supplement" policy, which means that if you're happy to share a room, On The Go will try and match you up with a solo traveller of the same sex so you don't have to pay for a single room.
This brochure covers the regions and holiday types listed below. Click on the links to see more free travel brochures covering the regions and holiday types you are interested in.