Battlefied Tours – Europe, Asia, The Pacific & Australia View Basket
To order this holiday brochure for FREE delivery to your home or computer, click the GET THIS FREE button.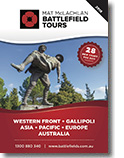 Mat McLachlan Battlefield Tours
This brochure is no longer available on this website.
The Best War Historians | First-Class Escorted Touring | No Hidden Costs
Visit the world's iconic battlefields with Australia's Battlefield Specialists
Mat McLachlan Battlefield Tours is Australia's leading dedicated battlefield touring company.
Guaranteed departures on Anzac Day tours to France and Gallipoli – Anzac Day tours will operate, regardless of passenger numbers!
Dedicated War Historian, Tour Manager and Driver on every tour
The best Historians –Mat McLachlan Battlefield Tours'War Historians are all published experts on the battlefields. You'll recognise their names from books, TV, radio and newspapers
Bonus visits - Mat McLachlan Battlefield Tours knows the battlefields and uses this knowledge to visit special places on the battlefields that other tour operators don't know about!
Educational components – on many of Mat McLachlan Battlefield Tours each passenger is provided with an information pack about a specific Australian soldier. Follow the service and sacrifice of your soldier as you travel across the battlefields and, in many cases, pay your respects to him at his grave, making for a more personal experience
Tour prices guaranteed against currency fluctuations
No optional extras – all touring and admission fees and tips are included
Tour the battlefields the safe and easy way
Hassle-free travel: Mat McLachlan Battlefield Tours takes care of all the details, so you can enjoy the experience!
Great value: Mat McLachlan Battlefield Tours will save you time and money
Peace of mind: Mat McLachlan Battlefield Tours is part of a family company that has been in the Australian travel industry for more than 30 years
The best itineraries: All Mat McLachlan Battlefield Tours are designed to showcase the most important battlefield sites, with the right mix of free time to shop, explore or relax. The itineraries also include sightseeing excursions to other local attractions
Like-minded travellers: People join Mat McLachlan Battlefield Tours to pay their respects to the Anzacs and to see where they fought and died. The bonds of friendship that form during this very special journey will last a lifetime
Tours
Western Front Small Group Explorer Tour
4 Days April-October
This 4-day tour visits the key Australian battlefields in France and Belgium. Multiple departures weekly.
Anzac Day on the Western Front
9 Days - April
Visit the key Australian battlefields in France and Belgium and commemorate Anzac Day with the moving Dawn Service at Villers-Bretonneux. This is Australia's most popular Western Front tour.
Anzac Day at Gallipoli
6 Days - April
Pay your respects to the original Anzacs at Gallipoli, the place where the Anzac legend was born. Your tour includes the Anzac Day Dawn Service, plus a full tour of the key battlefield sites across the peninsula.
Anzac Day at Hellfire Pass (Thailand)
6 days - April
Learn about the tragic conditions the Australians prisoners endured as they built the Thai-Burma railway in WW2 and pay your respects at the Anzac Day Dawn Service in Kanchanaburi
Fromelles Anniversary
5 Nights – July
Walk in the footsteps of the more than 30,000 Australians who were killed or wounded in these two monumental battles, and commemorate the anniversary of both in the fields where the battles occurred.
Guadalcanal and HMAS Canberra Anniversary
4 Nights - August
Commemorate the Anniversary of the Battle of Guadalcanal, the turning point in the Pacific battles of World War Two.
Vietnam Past and Present
12 days – August and November
Discover the battlefields with an Australian Vietnam veteran who received a Military Cross, as well as discovering the remainder of this country including key destinations such as Hoi An and Hanoi.
Tailor-Made Tours
Mat McLachlan Battlefield Tours can build a tailor-made tour for you to any battlefield, anywhere in the world. Custom Group Tours and Battlefield Tours for School Groups are also a speciality.
This brochure covers the regions and holiday types listed below. Click on the links to see more free travel brochures covering the regions and holiday types you are interested in.