Expedition Cruises 2014 View Basket
To order this holiday brochure for FREE delivery to your home or computer, click the GET THIS FREE button.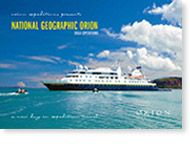 Lindblad Expeditions-National Geographic
This brochure is no longer available on this website.
Experience a new era in expedition cruising with National Geographic Orion…

Borneo | Australia's Kimberley coast | Great Barrier Reef | New Zealand | Micronesia & the Spice Islands | Melanesia & South Pacific | Papua New Guinea | Antarctic, South Georgia & the Falklands

Orion Expedition Cruises has merged with the National Geographic fleet to bring you 25 voyages in 2014 onboard the specialist ship that sets the standard for expedition cruising across the region.

National Geographic Orion boasts a full fleet of Zodiacs and kayaks, complete snorkel gear for every guest aboard, SCUBA gear for 24 divers, an ROV (Remotely Operated Vehicle) to reveal the remarkable diversity and wonder of the ocean environments through HD video. The expedition team includes a National Geographic photographer or a Lindblad-National Geographic certified photo instructor to add to the knowledge and expertise of the expedition's cohort of naturalists. A video chronicler will be there to capture your unique expedition experiences on video.

2014 Voyages: in-depth & immersive expedition experiences

In March 2014, the inaugural itineraries of the newly named National Geographic Orion feature three Melanesian and Micronesian voyages including two 'Voyages of Discovery' – new destinations not visited previously. 

In May 2014, National Geographic Orion will commence a season of Kimberley coast voyages revealing the wonders of ancient art, remarkable geology and diverse wildlife. The Kimberley with Spice voyage includes exquisite Rowley Shoals before heading to Komodo and Bali.

Two 10 night Borneo voyages include a visit to Dr Galdikas' renowned Camp Leakey orang-utan rehabilitation centre, promising unforgettable photo opportunities and wildlife experiences.

The Spice Islands beckon with a remarkable 16 night expedition through the famed yet rarely visited Molucca Islands and Asmat in West Papua, en-route to Cairns.

In November 2014, Cairns marks the departure point for National Geographic Orion to head east across the South Pacific with a series of three Voyages of Discovery taking in some of the famed and remote outlying island groups the region is so well known for. Far from mainstream cruises these voyages capture the real South Pacific, stopping at many islands and atolls never contemplated by large passenger liners.

The year concludes with three polar voyages to the Antarctic Peninsula. Departing from Ushuaia all include time ashore on South Georgia and the Falkland Islands.

These voyages, all detailed in the 2014 brochure, epitomise expedition cruising. Crafted expeditions experienced in the company of a small number of other like-minded guests, competently guided by an experienced expedition team and crew on a ship unsurpassed for style and expedition capability.

From the ghost fleet of Truk Lagoon (Chuuk) to the stone Moai statues on Easter Island, this expansive full colour brochure includes voyage summaries and typical cultural, historic and wildlife experiences likely to be encountered. Useful reference for potential expedition travellers seeking rewarding cultural interaction and intellectual stimulation unknown in mainstream cruising.

The relaxed luxury life onboard is exampled in the brochure through Orion's range of accommodation options (including floor plans for Staterooms and Suites through to Owner's Suites) and facilities that include boutique, massage, spa, elevator and lounges – along with Serge Dansereau's award winning cuisine.

Orion Expedition Cruises' vision is to create rewarding experiences that offer a connection with authenticity, revealing nature in the raw, with communities and cultures enjoying a less complex existence. Along these paths family bonds underpin the framework of society. There is no text or Twitter. Orion creates partnerships with the communities it visits. Orion meets with leaders and elders, fathom their beliefs, seek shared understandings, and then build on them.

Orion's commitment is to the legacy it will leave future generations. Priceless culture and heritage, once compromised, can never be re-created or replaced. Orion is aware that its presence could impact in ways it might not yet understand, so it moves gently. Its role is to nurture and protect - not influence. This approach has made Orion welcome. Orion is not seen as tourist intruders. It is seen as friends who respect and care. Orion's guests always feel enriched, refreshed, and spiritually lighter.

Orion Expedition Cruises is proud of its luxury in a time of feigned austerity. Its crew redefines "5-star" service in their delivery from the heart. Orion believes its guests have worked hard to deserve the environment they travel in. Orion was custom designed to leave a small ecological wake.

Orion's understanding of luxury includes safety, knowledge and a skilled crew who optimise its experiences, allowing everyone to enjoy the "path less travelled." Despite Orion's growing presence on the global stage, the recognition it is most proud of is delivered in the return of its guests, in the re-telling of their experiences to friends and family. Orion's story is nothing without theirs. The path to your story begins in this brochure. Orion looks forward to welcoming you onboard soon.

The Expedition Experience

Expedition cruising is a unique experience. Expedition cruising with Orion is even more so. Orion combines the presentation skills of recognised experts in all the disciplines of history, plant, marine and wildlife with the very real experience of being there. It is this blend of theory and practice that engages the mind and fuels the soul. Orion focuses on your access to places and events that would otherwise be close to impossible.

Many of Orion's destinations are virtually inaccessible for cultural, environmental or logistical reasons. Your safety is paramount and Orion's crew performs to the highest standards set by international maritime law. Orion's quest is to reveal authentic experiences in unique destinations. When it speaks of "a path less travelled" these are the reasons why. Now you can relax and experience places and cultures informally and participate at a level that suits you. Orion's expedition team has created adventures for adventurers of all levels.

Comfort and safety aboard the purpose-built small ship, National Geographic Orion

Orion Expedition Cruises has become the leading expedition cruise operator in Asia Pacific. While enjoying the comfort and safety of the 100-guest ship and 5-star onboard service, Orion ventures into locations that larger ships can not access or bring their guests ashore.

Orion was purpose-built in Germany in 2003 where she was designed specifically for expedition cruising. Orion is voted by the Berlitz Guide to Cruising as one of the best expedition ships in the world. Designed from the outset to deliver a vessel that could explore the world from Antarctica to the Sepik River, Orion had to meet strict specifi cations for environmental protection and management. Don't be misled by her luxurious interior, Orion is equipped with the latest in seafaring technology including large retractable stabilisers, sonar, radar, and the highest classifi cation of ice strengthened hull (before an ice breaker). Her waste management systems meet the stringent Antarctic operational standards enabling us to travel to the most pristine environment on earth. As a result Orion represents best practice for environmentally sustainable management and protection in all the regions we explore.

Wake to another dawn of adventure and exploration. Whilst days ashore can be active and grubby, the onboard ambiance is calm and inviting. There are quiet spaces and social places. Some days you might want to sit back and relax on deck or indulge in spa treatments including our signature massage and wraps. Our hair and beauty therapists will pamper and polish. Our space-to-guest ratio is the most generous in the regions we visit. The Galaxy Observation Lounge is our all weather ocean view bar. In-depth presentations are made from our multi-media lecture theatre, the last stop for our glass elevator. In tropical climates the outdoor barbeque on the stern deck becomes an exciting meeting place for the like-minded, the lapping waves and gentle sounds of our musical duo providing a soothing backdrop to lively discussion.

The Voyages

The Kimberley

Vast is such a short word to describe the Kimberley and Arnhem Land. Manchester to Morocco paints a clearer picture of distance. Imagine a view of infinity, punctuated with deafening silence. No city haze on the horizon, a clarity of atmosphere that most have forgotten. We arrive after the Kimberley wet season, to catch giant waterfalls cascading from the wetlands above. Red cliffs surround the fiord-like estuaries that flow into the sea. Flowering deserts hide 40,000 year old indigenous rock art and aqua clear waters act as a backdrop for the whale shows, heralding a new generation of calves before they head south. We swim in fresh water pools and leave the salt water to the crocodiles. The Orion experience makes the inaccessible, accessible, in safety and style.

Papua New Guinea

You try to imagine how anyone got here - a lost paradise of excitable, sincere welcomes. "Remote" is an understatement as we witness completely mysterious ceremonies blended with the hues of a thousand cultures from islands and archipelagos that stretch from Cairns to the Solomons. Rain forests fl ow down ancient volcanic peaks to the sea. Our ship morphs into this backdrop of coastal villages and lush vegetation. You are reminded of how to live with nothing more than the skill and knowledge of a sustainable culture. We swim in waters so clear they induce vertigo, watch a ballet of cuttlefi sh and sit a couple of metres below the surface in a WWII Japanese fi ghter plane ditched on a shallow sand spit. This is the beating heart and beauty of Papua New Guinea. The warmth of friendly smiles will beckon your return.

Melanesia

Tropical and exotic, the islands of Melanesia have long been the playground of explorers and authors. The South Pacific will fascinate your intellect and capture your imagination. Ink blue waters give way to slashes of iridescent green coral reef surrounding jungle clad tropical islands rising from the ocean depths. Active volcanoes will punctuate the moment with their belched rumblings. As you glide on, the peace and calm will warm you while cool fragrant breezes urge you forward. Such are the hedonistic essences of our Melanesian offering. The history of the Coral Sea is a romantic and dramatic story of cargo cults, authentic tribal rituals and epic battles of sea and land. Our journey will help the telling of history, your experiences will revive the spirit of adventures in paradise.

New Zealand & Sub-Antarctic Islands

Imagine the grand Fjordlands of Norway, bounded by the dramatic volcanic coastline of Hawaii, with plunging waterfalls fl owing from the great mountain forests of Canada - and you have begun to paint a picture of New Zealand. Breathtakingly beautiful, rich in culture, history and wildlife, the New Zealand wilderness cries out to be explored. Journeying beyond the southern tip of New Zealand's South Island will reveal a hidden secret restricted to a fortunate few. The World Heritage listed sub-Antarctic Islands offer the opportunity to be one with the sea mammals and birdlife, unique to this part of the world. From the majesty of Fjordland to the intimacy of tame naive penguins and lounging sea lions on the shoreline – your old camera will just not deliver the memory of the occasion. Our experienced and expert expedition team will help you optimise this adventure - the expedition of your lifetime.

Antarctica

"Respect" and "preserve", two words that will linger long after the blush of Antarctic breezes has faded from your cheeks. The Orion Antarctic experience is a commitment to the past and future. The paths of great explorers such as Scott, Shackleton and Mawson, bold men brave enough to cross inside the Antarctic Circle and step onto the great white continent, are revealed along with their historic base camp huts. This is a world only a privileged few will experience. Numbers will always be limited to preserve the fragility of this environment. Be washed in the aroma of a million fearless penguins, seals will stare and bark, icebergs will groan and crackle. Pre conceptions will not prepare you, there is nothing that is comparable. It is impossible not to be moved by the spirit of this harsh and uncompromising continent. For some the experience is cathartic and addictive, for all it is majestic and awesome.

Australia's East and South Coast

The natural wonders of Australia are as vast as the continent itself, with never enough time to see them all. There is a lifetime of experiences and imagery between Lizard and Kangaroo islands. Try snorkelling giant clam gardens resting in warm shallow waters from a white sandy beach. One thousand miles south we punctuate our journey with a visit to iconic Sydney, celebrating the world's most beautiful harbour. On the way our voyage will reveal Australian coastal marine and nature reserves, national parks and World Heritage listed areas. A voyage of the original explorers using all the equipment of modern expeditions, a series of diverse journeys from reefs to settlements, touching on 200 years of our unique history, our culinary diversity, our world-class wine regions and our exceptional wildlife. This is our east and south coast showcase.

Spice and Forgotten Islands

Remote, exotic and aromatic, the Spice Islands evoke visions of 17th Century Dutch explorers building a wealthy trading empire, far from their European home. The history of this region is as rich and pungent as the spices it produced. Explorers and world wars have traversed this isolated line of islands, and yet their culture remains unique and intact. Centuries of artisans' creations are expressed in colourful and unique artworks from the intricate woven fabric of Timor to the world renowned Asmat Art of Agats. Naturalists will marvel at the diversity of flora and fauna demarked by the Wallace Line. Further to the west, the pre-historic dragons of Komodo remind us how short our human history is. Wallacea is the epitome of Orion's raison d'être.
This brochure covers the regions and holiday types listed below. Click on the links to see more free travel brochures covering the regions and holiday types you are interested in.