Asia River Cruises: Vietnam, Cambodia, Myanmar, China, Tibet View Basket
To order this holiday brochure for FREE delivery to your home or computer, click the GET THIS FREE button.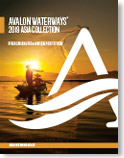 This brochure is no longer available on this website.
River Cruising from a unique point of view – yours
Vietnam | Cambodia | Myanmar | China | Tibet | Mekong River | Irrawaddy River | Yangtze River
A journey with Avalon Waterways along the legendary rivers of Asia is an unforgettable fusion of distinctive sights, colorful cultures, and ancient traditions.
Part of the Globus family of brands, Avalon Waterways is backed by more than 88 years of experience in planning itineraries and guiding holidays around the world. As experts in travel, Avalon Waterways creates truly unique, award-winning river cruise holidays through Asia's great rivers – the Mekong, Irrawaddy and Yangtze.
Discover the magic of Asia—and the Avalon advantage
Inspired by cruisers, Avalon's ships and itineraries stand out from the crowd. And because bigger isn't always better, Avalon focuses on intimate experiences with exceptional personalised service on new Suite Ships in Southeast Asia and Small-Group Discoveries in China. With a maximum of 36 and 20 guests respectively, Avalon gets you closer to the must-see sights and delivers a more enriching experience. Local Favorites are designed to immerse you in the culture and introduce you to the unique stories and people in each destination.
An expert Cruise Director and carefully selected Certified Local Guides accompany you throughout your adventure, ensuring no detail is overlooked.
"What impressed me most was the thought and innovation Avalon has put in to its suite ships. They have been designed with their travellers in mind – spacious and stylish, sleek and contemporary, friendly and relaxed. They've thought of the important things like turning the bed to face the view, while also remembering the little things like making sure there's good coffee on standby in the morning. This is really the only way to travel."

– Deborah Hutton, Avalon Ambassador
Mekong River | Vietnam & Cambodia
The all-suite Avalon Siem Reap, one of Avalon's incredible Suite Ships, was designed to provide an intimate experience for a maximum of 36 guests, so you can truly immerse yourself in the culture, people, and sights along the Mekong River. Built by local craftsmen, the ship has modern features yet retains the colonial charm fitting to Vietnam and Cambodia. Time on board delivers a refreshing outdoor experience, as all suites open to the outside and the two lounges offer great panoramic views. The design also allows her to be the only ship in the industry cruising all the way from Ho Chi Minh City to Siem Reap* (or vice versa). This eliminates over 7 hours of motorcoach travel time to and from your ship, which means you get to enjoy more cruising!
Irrawaddy River | Myanmar
Joining Avalon's family of remarkable Suite Ships, the meticulously crafted all-suite Avalon Myanmar carries a maximum of just 36 passengers so you can truly engage the locals, experience their culture, and revel in the unique sights along the majestic Irrawaddy. Built by local craftsmen, the ship reflects the character, symbols, and traditions of Myanmar while offering all the modern features today's travellers expect. Time on board centers around a refreshing outdoor experience, as all suites open to the outside and the large Panorama Lounge and open-air lounge offer a variety of expansive views. The innovative design also allows the Avalon Myanmar to cruise the spectacular Upper Irrawaddy throughout the season – a feat not possible on a larger ship.
Yangtze River | China & Tibet
Cruise in style and comfort aboard two of the newest ships on the Yangtze. Your contemporary, elegant ship has a tunning 7-story atrium lobby a friendly, English-speaking crew. The Century Paragon and Century Legend, launched in 2013, are charting a new course for Yangtze River cruising. Each ship features a state-of-the-art propulsion system that reduces vibration and decreases emissions to minimise environmental impact. Other innovations include a pillarless multi-function lounge with unobstructed views of evening entertainment, and a large indoor swimming pool – both firsts on the Yangtze – as well as two bars, a large sun deck, game room, cinema, fitness center, and spa.
This brochure covers the regions and holiday types listed below. Click on the links to see more free travel brochures covering the regions and holiday types you are interested in.