Luxury Small Ship Cruising View Basket
To order this holiday brochure for FREE delivery to your home or computer, click the GET THIS FREE button.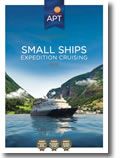 This brochure is no longer available on this website.
Set sail for an unforgettable journey beyond the tourist trail
Europe | Russia | Baltics | Scandinavia | Mediterranean | Italy | Croatia | British Isles | Southeast Asia| Japan | Antarctic | South America |Antarctica | The Kimberleys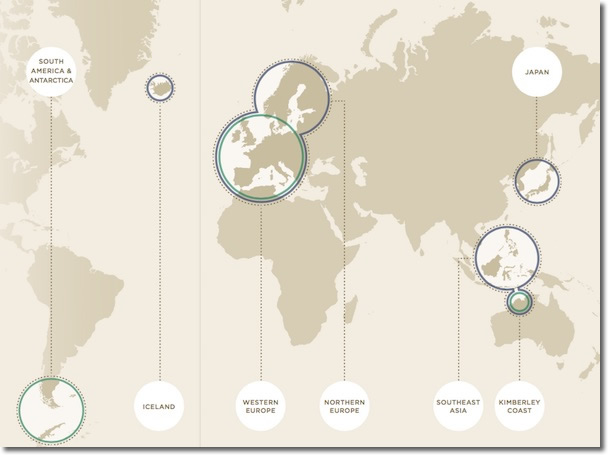 APT's Luxury Small Ship cruises offer a whole new way to explore the world's most enticing destinations. If you want something that's distinctly different, that's out of reach for the ordinary traveller, step aboard as we set sail on a stylish voyage of discovery.
The boutique size of APT's small ships means they can effortlessly navigate narrow waterways, access small local ports and explore destinations inaccessible by large vessels. A Luxury Small Ship cruise offers an intimate experience with like-minded travellers, and the high staff-to-guest ratio means you enjoy truly personalised service.
On a Luxury Small Ship cruise, you'll awake each morning to a new adventure – a remote isle to explore; or a forgotten civilisation to discover.
In the evening, soak up the tranquil onboard atmosphere - akin to the ambience of a private yacht. It's about venturing further; seeing more; and doing more – perfect for the discerning traveller seeking something truly special and rewarding.
Aboard these luxury yachts, you'll enjoy the very best in comfort and style, from spacious suites boasting ocean views, to sophisticated public areas, and first-class dining experiences.
APT's newest travel adventure offers the perfect blend of intrepid adventure and luxurious comfort, set to an ever-changing backdrop of the world's most alluring destinations.
The Private Yacht Experience
Picture yourself relaxing on the sun deck, cool drink in hand, as your luxurious vessel charts a course through vast ocean passages. With spacious suites, first-class dining and exotic destinations, an APT Luxury Small Ship cruise is every bit the private yacht experience. What's more, you need only unpack once.
Boutique Ship Size
APT's ships have been carefully selected for their boutique size. Offering all the comfort of a larger ship, these vessels can venture where others can't – whether it be accessing a remote port, exploring a narrow fjord, or landing on an otherwise inaccessible beach.
An Intimate Experience
With few other passengers, your APT Luxury Small Ship journey is a refined, intimate affair. Relax in the lounge with new friends after a morning spent exploring a pristine island, as you embark on a voyage of discovery with a small group of like-minded travellers.
At Your Service
Exceptional service comes as standard on a Luxury Small Ship cruise. With a high crew to passenger ratio, you'll enjoy the luxury of truly personalised service. From the maître d' who welcomes you by name, to the bartender who knows just how you like your aperitif, the attentive crew take care of your every need.
Flexible Cruising Route
Although you will set sail with an itinerary, it is the unscheduled events that often become the highlight of the journey. APT's ships have the freedom to wander where the adventure draws them, and at times, your Captain will decide the best places to stop and explore. Discover the world's most fascinating regions, beyond the realm of ordinary travel.
Greater Choice
APT's newest style of travel encompasses journeys into so many diverse world regions, offering discerning travellers an exceptional range of authentic travel adventures from which to choose.
This brochure covers the regions and holiday types listed below. Click on the links to see more free travel brochures covering the regions and holiday types you are interested in.