Immerse Yourself in Asia View Basket
To order this holiday brochure for FREE delivery to your home or computer, click the GET THIS FREE button.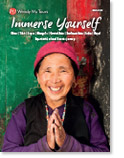 This brochure is no longer available on this website.
Wendy Wu Tours is your Asia expert
China | Tibet | Japan | Mongolia | Central Asia | Southeast Asia | India | Nepal
For over 23 years Wendy Wu Tours has been blazing trails into Asia, pushing boundaries and opening up unseen regions of this fascinating continent for thousands of travellers each year.
Asia is a place of adventure, full of diverse cultures, rich in heritage and grand nature, and Wendy Wu Tours' enthusiasm and insider knowledge brings this to life.
Immerse Yourself tours are designed to give you a deeper and more authentic understanding of the region. Visit both iconic and less-visited locations and get closer to local culture – on foot, by bicycle, over land and water. This is your invitation to see diverse, quirky and beautiful Asia differently with Wendy Wu Tours.
Experiential, cultural & active journeys
Truly discovering a destination means much more than just seeing it. It means immersing yourself in the local culture and venturing beyond the tourist trail. Tours in our Immerse Yourself range are characterised by engaging cultural experiences, active adventures and getting off the beaten track. Immerse Yourself tours include as much variety as possible so that no two days on your holiday will be alike. You'll gain a deep understanding of your destination and experience more, but you'll still see all the major sights.
Cultural Experiences
A country is defined by its culture and discovery is by participation. Join a Tai Chi class and meditate on a mountain; try Japanese drumming and stay in a Buddhist Temple; explore Saigon on the back of a Vespa and take part in an alms-giving ceremony. Don't just see it, do it.
Active Adventures
By getting on a bike or taking a hike you can see more of the scenery and local life. Trek to Vietnam's hill tribe villages, cycle through the stunning scenery of Yangshuo and hike in the Himalayan foothills. The more physical activities are optional on our flexible tours.
Off the Beaten Track
This can mean venturing to remote destinations such as the Tibetan Plateau and Gobi Desert or visiting the long-necked Paduang tribe in Myanmar. Or it can simply be seeing more common sights from a different viewpoint: trekking on a wild part of the Great Wall, working with a local farmer in Hoi An or cycling around the backstreets of Udaipur.
More Freedom
Usually travelling in groups of 18 or less, you'll have more flexibility to explore. And with evenings often free, you'll get the chance to discover the local culture and cuisine for yourself. For maximum choice look out for Flexible tours with time set aside for your own adventures or to join a range of optional activities.
Immerse Yourself tours include:
Return international economy flights, taxes and current fuel surcharges (subject to change)

All accommodation

All or most meals

All transportation and transfers

All sightseeing and entrance fees

English-speaking National

Escort and Local Guides

Visa fees for Australian passport holders

Specialist advice from our experienced travel consultants

Comprehensive tour dossiers and travel guides
Why book with Wendy Wu Tours
With 23 years' experience arranging holidays to Asia, you can rest assured that you are receiving the best value tours with the best inclusions, the finest guides, first-class personalised service and choice. Choose from Wendy Wu Tours' wide range of popular Fully Inclusive Classic Tours, their Deluxe Collection or their extensive range of Immerse Yourself Tours, which allow you to truly dig in and explore the authentic charm of Asia. Whether you wish to explore China's historical gems, visit remote areas or hike on the Great Wall, Wendy Wu Tours have something to tempt every traveller.
Over 23 years' operating tours to Asia
Unrivalled knowledge and expertise
Comprehensive range of Fully Inclusive Classic Tours, Immerse Yourself Tours, Deluxe Collection, Private Tours and Tailor-Made Holidays
Exciting epic journeys to unique, rarely visited destinations
Expert National Escorts and Local Guides
Quality hotels and comfortable transportation
Assistance with visa processing and detailed pre-departure documentation
See the highlights of the region on Fully Inclusive Classic Tours
Experience comprehensive touring on one of Wendy Wu Tours' popular established, Fully Inclusive Classic Tours. All your meals are included, so you don't need to worry about a thing.
Get under the skin of Asia on Immerse Yourself Tours.
Truly immerse yourself with unique cultural experiences on the road less travelled. Hike through rice terraces and cycle the beautiful rural scenery. Try your hand at seasonal Tibetan farming activities with a local family. Most of your meals are included and at other times your guide can recommend the best street food in town!
Experience the country in comfort and style on Deluxe Collection Tours
Relish in champagne moments and unique touring experiences, great dining options and accommodation on one of these Deluxe tours. Refer to your chosen itinerary to find out which meals are included and when you are free for your own culinary exploration.
Private Departures of Group Tours & Independent Travel
If you enjoy the comfort of having arrangements made for you, yet want to travel at your own pace, then a private tour is perfect for you.
You can enjoy the benefits of a group itinerary experience while travelling independently. Private tours are particularly suited to couples who prefer an individually-guided holiday, families with young children, those with special requirements & groups of friends wishing to travel together. These tours are available using the same accommodation as group tours or can be upgraded to a higher category of superior 4-star or deluxe 5-star properties.
To give you even greater flexibility, you can add independent packages or stopover destinations. This allows you to create your own unique itinerary.
This brochure covers the regions and holiday types listed below. Click on the links to see more free travel brochures covering the regions and holiday types you are interested in.