Vodkatrain: 18-35s Trans Siberian Railway and the Silk Road View Basket
To order this holiday brochure for FREE delivery to your home or computer, click the GET THIS FREE button.
18-35s group travel as individual as you
RUSSIA | MONGOLIA | CHINA | JAPAN | KAZAKHSTAN | UZBEKISTAN | TURKMENISTAN | IRAN | ARMENIA | GEORGIA AND BEYOND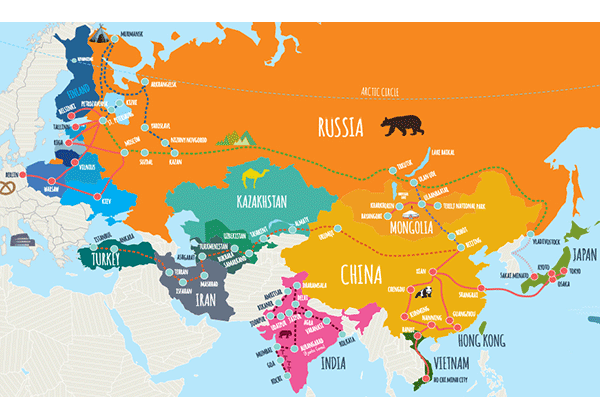 Experience Russia, Mongolia, China, Kazakhstan, Uzbekistan and beyond at ground level, travelling with the locals, experiencing the cities with a local Honcho, eating out and getting around at local prices.
Like-minded individuals, not a group
Vodkatrain takes the traditional ideas of group travel (regimented meal times, enforced sightseeing and following strange people holding umbrellas aloft) and gives them a hearty kick up the backside. We prefer to think of it as a collection of young (we run with the classic 18-35 age bracket), like-minded individuals who happen to be following the same itinerary. We hope you'll enjoy the company of your fellow travellers, but we make no guarantees!
No set activities
Vodkatrain sets itself apart from others because there is no 'Tour Leader' or 'Road crew' to lead the way, but a local Honcho at each city stop. With no set activities you can choose to do your own thing, or hang out with your Honcho and do the group thing. They don't take you to their cousin's brother's uncle's carpet shop, just the places you ask to see or the ones they'd love to show you.
Nifty combination of backpacking and small-group travel
En-route you simply travel on trains between cities as any local or foreign traveller would, and meet a new Honcho at each city stop. You have the benefit of being with a small group (max 15) but none of the restrictions that a tour, with its fixed daytime schedule, might bring, and none of the hassles of making hotel and sightseeing/activity arrangements. It's a nifty combination of backpacking and small group travel at budget do-it-yourself prices, with some priceless info from our local legends thrown in!
You decide what you want to do
Vodkatrain is your support network – providing accommodation, transport, transfers en-route and local Honchos to help you get the most out of your stay. You decide what you want to see, you decide what you want to eat, you decide what you want to experience and you pay the much cheaper local price for everything you do. Whatever your destination it's an unforgettable hassle free journey, with company (and a company) you can have fun with.
Honchos
Young, fun and energetic your local Honcho is a friend in a distant city. A regular tour operator might call them tour guides or city guides, but they're not, they 're Honchos. Think of them as a local buddy - there to share their city and life with you for a couple of days, not just give you an introduction. We ask them to be available from 9am til 9p m each day an d some choose to stay out later for a drink . We cover all their expenses to ensure they'll only take you to the places they would want to go and so there's no funny business .
Honchos have grown up in their city and love showing you around, not just the tourist sites (they are important too!) but the real heartbeat of the city, its people and those underground places you normally need weeks to find! They're not libraries of local history, but can definitely show you where to find one. They can show you how to use local transport, where to change money, their favourite cafes, bars and restaurants, can translate all the latest gossip and if there is something they don't know they have the language skills to find out.
Your Honcho probably has some ideas about what you should see in their city – but there is no pressure to do any suggested activities; if you want to do your own thing they will help you with directions, a few local sayings or maybe scrawl a basic map on a napkin – then leave you to it…
Who are they?
Honchos are usually local students who speak excellent English, and love their job because they can meet people from around the world, hang out with them, show them their city or town and have a great time in the process… it's more like a 'cultural exchange' than a job. We find them the way we find our friends – personal introductions and word-of-mouth. And while it all might sound like carefree fun, Honchos undertake a t raining program with a more experienced 'Head Honcho' who can relate those funny/lost/what the? moments and know just what to do with a drunken sailor...
This brochure covers the regions and holiday types listed below. Click on the links to see more free travel brochures covering the regions and holiday types you are interested in.