Rocky Mountaineer Train Guide | USA & Canada View Basket
To order this holiday brochure for FREE delivery to your home or computer, click the GET THIS FREE button.
Journey into Extraordinary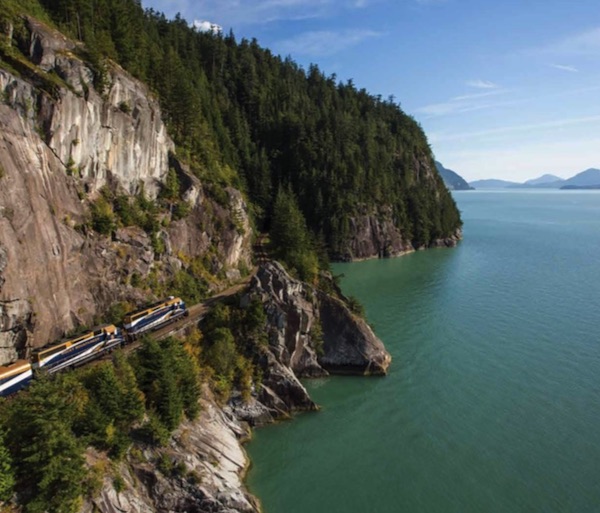 There's nothing like that feeling of being truly astonished. On a Rocky Mountaineer journey, you'll experience it over and over again. You'll see mind-expanding vistas from your comfortable seat. You'll dine on gourmet delights. You'll say to your companions "Did you just see that?" Then you'll discuss everything in animated detail. All the while, gracious Hosts will attend to your every need. If you're looking for a change of scenery, the Canadian Rockies are as big as it gets.
The road less travelled is on rails
They call Rocky Mountaineer "all aboard amazing" for good reason. The food is exquisite; the views are priceless, and people you'll meet become friends you'll have for life. You've never experienced travel quite like this.
Mother Nature will treat you to views of everything from coastal rainforests to awe-inspiring mountain peaks. Treat ytourself to fresh locally sourced food prepared by Rocky Mountaineer's onboard culinary team, fine wine, and gourmet snacks.
The journey will nourish you, mind, body, and soul. Your friendly onboard Hosts are brimming with knowledge. As you learn about the land, its history, and the animals that call it home, you'll get to know your fellow guests over a glass (or two) of local wine. Before long, you'll find yourself in the company of friends. Friends who will share your stories for life.
Build your own adventure, from the tracks up
You can stay focused on luxurious train travel, or you can be as extravagant as you want, adding helicopter tours, culinary adventures, and cruises to Alaska. It's a life changing trip, so customize to your wildest dreams.
Before you embark on your incredible journey, there's one thing you have to ask yourself. What does your heart desire? Because Rocky Mountaineer not only offers you an exclusive way to access the Canadian Rocky Mountains, it also offers you an array of activities in the world-class destinations it takes you to. There are so many different ways to personalize your own unique adventure, built around an amazing Rocky Mountaineer train experience. Add an Alaska cruise or visit a five-star wilderness getaway at the beginning or end of your journey. You can include tours to view grizzly bears, explore local cuisine, or let guides lead you on hikes or kayaking excursions. You can even enjoy the view from above with a gondola ride or a helicopter flightseeing tour. Who says you can't have it all?
This brochure covers the regions and holiday types listed below. Click on the links to see more free travel brochures covering the regions and holiday types you are interested in.