Deluxe Collection – China, South East Asia, India View Basket
To order this holiday brochure for FREE delivery to your home or computer, click the GET THIS FREE button.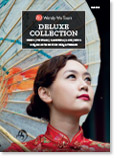 This brochure is no longer available on this website.
Wendy Wu Tours is your Asia expert
China | Vietnam | Cambodia | Laos | India
Wendy Wu Tours' Deluxe Collection is a series of meticulously designed, luxury journeys, featuring truly distinctive and immersive experiences that bring Asia to life.
Founded over 23 years ago, Wendy Wu Tours is Australia's leading tour operator to Asia. Their award-winning success has been built around a commitment to deliver truly authentic experiences, outstanding customer service and a fervent passion for the entire region.
Unique Experiences
This Deluxe Collection has been thoughtfully designed and thoroughly researched to bring you a range of once-in-a-lifetime experiences to make your holiday truly memorable.
Meet a member of the excavation team at the Terracotta Warriors, visit Angkor with a leading conservationist and take a tour with the curator of Rajasthan's most impressive fort. Dine at many exclusive establishments including Peking Duck at one of Beijing's top restaurants, a sunset dinner cruise in Saigon and a candlelit dinner in one of India's historic stepwells. And enjoy special moments sipping champagne on the Great Wall or while watching sunset atop a temple at Angkor and take in fabulous views across Shanghai or Saigon with a cocktail in hand.
Luxury Hotels
Each hotel in the Deluxe Collection has been handpicked for its facilities and its location, so you can be sure you're staying in five-star luxury throughout your trip. Wendy Wu Tours has carefully selected the best five star hotels throughout Asia, including brands such as Shangri-La, Ritz-Carlton, Hilton or Sofitel, so at the end of a captivating day's touring you can relax in the comfort of sumptuous surroundings.
Deluxe Collection tours include:
• International flights and taxes
• Deluxe hotels
• Exclusive touring and transportation
• Sumptuous dining experiences with most meals included
• Soft drinks included with all meals
• Local wine and beer included with dinner
• Expert National Escorts and Local Guides
• Sightseeing with the experts
• Unique experiences
• Small group sizes of 18 tour members or less
• Champagne moments
• Chauffeur transfers from home to airport and vice versa (within 60km)
• Enjoy more evenings at leisure
• Porterage, laundry and daily bottled water
• Visa fees for Australian passport holders
CHINA
Explore China in five-star comfort, from the metropolises of Shanghai and Beijing to the slow pace of the Yangtze, historic Xian and the rural bliss of Yangshuo.
SOUTHEAST ASIA
Embark on a deluxe journey through friendly and relaxed Southeast Asia. Meander along the Mekong and across Halong Bay in Vietnam, discover deeply-rooted tradition in Laos and ancient, compelling history in Cambodia.
INDIA
A dazzling rainbow of colourful cultures, enigmatic history and exquisite countryside, a journey through incredible India will leave you speechless. Experience all this and more on tours that feature cultural experiences and beautiful hotels.
Why book with Wendy Wu Tours
With 23 years' experience arranging holidays to Asia, you can rest assured that you are receiving the best value tours with the best inclusions, the finest guides, first-class personalised service and choice. Choose from Wendy Wu Tours' wide range of popular Fully Inclusive Classic Tours, their Deluxe Collection or their extensive range of Immerse Yourself Tours, which allow you to truly dig in and explore the authentic charm of Asia. Whether you wish to explore China's historical gems, visit remote areas or hike on the Great Wall, Wendy Wu Tours have something to tempt every traveller.
Over 23 years' operating tours to Asia
Unrivalled knowledge and expertise
Comprehensive range of Fully Inclusive Classic Tours, Immerse Yourself Tours, Deluxe Collection, Private Tours and Tailor-Made Holidays
Exciting epic journeys to unique, rarely visited destinations
Expert National Escorts and Local Guides
Quality hotels and comfortable transportation
Assistance with visa processing and detailed pre-departure documentation
See the highlights of the region on Fully Inclusive Classic Tours
Experience comprehensive touring on one of Wendy Wu Tours' popular established, Fully Inclusive Classic Tours. All your meals are included, so you don't need to worry about a thing.
Get under the skin of Asia on Immerse Yourself Tours.
Truly immerse yourself with unique cultural experiences on the road less travelled. Hike through rice terraces and cycle the beautiful rural scenery. Try your hand at seasonal Tibetan farming activities with a local family. Most of your meals are included and at other times your guide can recommend the best street food in town!
Experience the country in comfort and style on Deluxe Collection Tours
Relish in champagne moments and unique touring experiences, great dining options and accommodation on one of these Deluxe tours. Refer to your chosen itinerary to find out which meals are included and when you are free for your own culinary exploration.
Private Departures of Group Tours & Independent Travel
If you enjoy the comfort of having arrangements made for you, yet want to travel at your own pace, then a private tour is perfect for you.
You can enjoy the benefits of a group itinerary experience while travelling independently. Private tours are particularly suited to couples who prefer an individually-guided holiday, families with young children, those with special requirements & groups of friends wishing to travel together. These tours are available using the same accommodation as group tours or can be upgraded to a higher category of superior 4-star or deluxe 5-star properties.
To give you even greater flexibility, you can add independent packages or stopover destinations. This allows you to create your own unique itinerary.
This brochure covers the regions and holiday types listed below. Click on the links to see more free travel brochures covering the regions and holiday types you are interested in.