To order this holiday brochure for FREE delivery to your home or computer, click the GET THIS FREE button.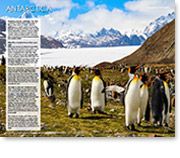 This brochure is no longer available on this website.
Small ship expedition cruises that take you to the heart of remote beauty
Antarctic Peninsula | South Shetland | Falkland Islands | South Georgia Islands
Explore one of the most remote and isolated regions on earth; the Antarctic Peninsula, South Shetland and the sub-Antarctic Islands of Falkland and South Georgia Islands, are places teeming with wildlife and stunning natural beauty.
Travel Projects offers a wide range of Antarctica Cruises to ensure that your interests, activities and preferences are catered for. Not all cruise ships and trips are the same and with the knowledge of the experts, you will be matched with the right trip and vessel.

With Travel Projects, you will cruise on smaller expedition ships, with no more than 200 other guests. Equipped with Zodiacs (inflatable landing craft) for shore transfers, these ships will get you to some of the most isolated and breathtaking wilderness areas in the world.
Travel Projects has chosen these smaller vessels rahter than the large liners that carry many thousands of guests because the size of these big ships makes it difficult (and sometimes impossible) to provide shore landings – and shore landings are the heart of expedition travel.

These small ship cruises offer you a choice of itineraries from 1-3 weeks, where you'll not only be sailing the southern seas but also making landfall to view the attractions from up close, with opportunities to kayak, trek, camp, dive, or just stand and stare in wonder.
About Travel Projects
Travel Projects was established in 1999, based on a long- time dream of Edgardo Garcia and Hanna Shilo to entice travelers to experience the magic atmosphere of Latin America in a tailor-made fashion to suit each individual's needs and itineraries.
With a team of highly professional travel industry consultants that boast many years of experience in various aspects of travel arrangements, including operating tours, Travel Projects is dedicated to service and excellence. The hotels and travel options aim to give you the best value possible and all programs operate within guidelines of responsible tourism.
The emphasis has always been on the specialised and unique needs of the experienced traveller. Extensive experience and intimate knowledge of the regions, language and the local cultures has allowed Travel Projects to create the best contacts for your kind of holiday.
Travel Projects is committed to providing quality tailor-made tours throughout Latin America that have a positive impact on the local culture and environment. A personal approach to travel uses local guides, hotels with local character, and the local transportation infrastructure. Programs are designed with the intention of providing a fun and exciting holiday, while creating a better understanding between travellers and their wonderful hosts.
This brochure covers the regions and holiday types listed below. Click on the links to see more free travel brochures covering the regions and holiday types you are interested in.