China, Hong Kong & Tibet Tailor-Made View Basket
To order this holiday brochure for FREE delivery to your home or computer, click the GET THIS FREE button.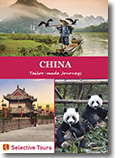 This brochure is no longer available on this website.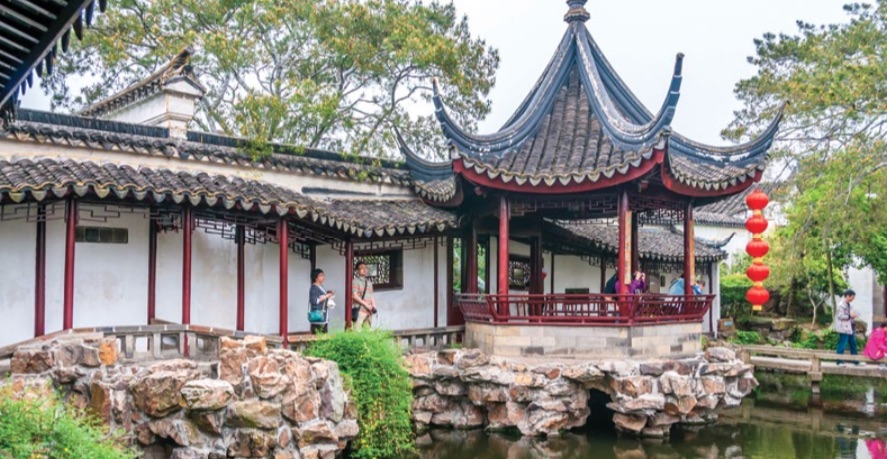 Private & Small Group Tours
With over 5000 years of history, incredible ancient architecture and exquisite relics, 56 ethnic groups rich in traditions and cultures, dramatic scenery stretching from Himalaya region of Tibet to the mighty Yangtze river, – and all that lies between – it is no wonder China holds so many discoveries, whether you are a first time visitor or returning to explore further.
It is astonishing to experience the stark contrasts between remote communities ploughing ancient rice terraces with water buffalo and the high-tech cities such as Shanghai at the forefront of globalised modernity.
China has developed one of the biggest high-speed train networks in the world. High-speed trains have become a safe, comfortable & reliable way to travel around China.
It is Selective Tours' aim to open the doors to real China for its customers - to create flexible itineraries that can be tailor-made to meet a client's expectations and individual interests. This brochure is a collection of popular cities, historical places, natural wonders, cultural experiences, off-the-beaten-tracks and trip ideas.
Selective Tours' China travel specialists have travelled extensively or lived for many years in China. Their experiences, knowledge, and passions will design a perfect trip for you to see China in your way.
How Selective Tours works
It all starts from the brochure, which you will find information about cities, places and trip ideas, which are all just for inspiration as each trip is created uniquely for you. And then have a conversation with Selective Tours' specialists about what you are looking for. They will offer suggestions and advice if you're not entirely sure what you're looking for.
Once Selective Tours understands your expectation, it creates an itinerary and refines it until you're completely happy with everything and ready to book.
A month or two before your trip is set to begin; you'll receive travel guide, packing list and a trip wallet, including a detailed itinerary, emergency numbers and luggage tags.
Once you're off, enjoying your journey, Selective Tours' service doesn't stop. At each destination, you will be greeted and transferred to your hotel. During touring, your guide will continuously offer advice, information and answer questions. Selective Tours is proud of its partners overseas and know all its guests are in knowledgeable and capable hands.
What Selective Tours' Customers say
"Wow!! What an experience. Unbelievable, hard to find words to describe our time in China. The reason we all had such a wonderful time was because of your planning, excellent itinerary and tour arrangements. All the tour guides were wonderful, nothing was any trouble and were such a great help when we had to catch the train from Beijing to Xian. We hope to one day travel again to China and see more".
Beecroft Family, NSW
"I just wanted to extend my sincerest thanks for all your assistance in coordinating the most amazing holiday in China and have been singing your company's praises ever since. I especially wanted to put in a good word for two of the guides we had in China who were extremely professional, knowledgeable and helpful. They really couldn't do enough for us. They were with us from early morning until late at night, exceeding our expectations of a tour guide. Overall, we were extremely grateful for the assistance of all our guides and drivers and appreciative of their flexibility with our needs. They were all great and well chosen by your company. Our Hotel accommodation (and Yangshuo Mountain Retreat) was excellent through-out the tour. Thank you once again for all your assistance. I would not hesitate in recommending your company."
Melinda & Joy, Melbourne
"I was a little nervous about travelling to China initially but having travelled with Selective Tours, I would now have no qualms about going back. Everywhere we visited was amazing – especially the Yungang caves and the hanging monastery in Datong, the Qiao family house in Pingyao ancient town, Terracotta Warriors in Xian and our guide was very helpful and understanding with wonderful historic information. With the pre-tour organisation, our amazing tour guides we feel very secure in everything you do."
Ann and Graham Brown,Victoria
The Selective Tours Difference
All Selective tours have a guaranteed daily or weekly departure. Group size is from a minimum of 2 travellers to a maximum of 10.
Each tour on the Selective Tours website and in its brochure can be tailor-made to meet your individual needs and interests. Selective Tours offers you the flexibility and freedom to explore Asia in your own way at your own pace.
Emergency numbers are given on all Selective tours to ensure your peace of mind.
Handpicked local English-speaking guides with an intimate knowledge of each destination on Selective tours can take you to those hidden places only known by locals, introduce you to the authentic local cuisines and help you to experience the real local culture and traditions.
Selective Tours finds and monitors a range of hotels, sights and activities to suit whichever style of travel you prefer – luxurious, comfortable, adventurous or laid-back.
Everything is pre-paid, and you don't need to carry any vouchers. You only need your passport to check in at hotels, airports and train stations.
This brochure covers the regions and holiday types listed below. Click on the links to see more free travel brochures covering the regions and holiday types you are interested in.