To order this holiday brochure for FREE delivery to your home or computer, click the GET THIS FREE button.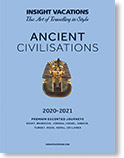 This brochure is no longer available on this website.
Capture the magic
Morocco, Egypt, Greece, Turkey, Jordan, Israel, Turkey, India, Nepal, Sri Lanka
You alight from your coach and come face to face with one of the most awesome sights on Earth - the mighty Pyramids and Sphinx - and it takes your breath away. Before you, lies the ancient world of the Pharaohs, immortalised in epic Hollywood movies. You share the excitement with your small group of fellow travelers - but for this moment it feels as though these wonders are yours alone. Then, with perfect timing, your Tour Director announces it's time to embark on the next exciting chapter of your journey of discovery. This is the art of touring at its best. This is an Insight Vacation.
Experience the Insight difference
Each Insight tour is a unique journey of discovery backed by high standards of personal service reminiscent of The Golden Age of travel.
First, Superior First and Deluxe class hotels are wonderfully complemented by a wealth of included sightseeing highlights, scenic drives, premium features and Highlight Dinners. Enjoy your smaller, more intimate group and take advantage of your Tour Directors' boundless knowledge as they bring this fascinating region's history to life. On touring itineraries, stretch out and relax in air-conditioned comfort aboard your luxury coach with its extra legroom.
The secrets of a bygone age are revealed by Insight each day in all their majesty. Marvel at the incredible wonders of Petra, the rose red city - half as old as time. See the Valley of the Kings and the mighty temples of Karnak and Luxor. Visit ornate Mosques in Istanbul and consult the mysterious Oracle in Delphi. Enjoy fabulous cruises on the blue Aegean visiting mythical Greek islands, and on the legendary Nile as you cruise past villages that have changed little in a thousand years, and around every corner, sights and experiences await you each day.
There is no better way to discover Ancient Civilisations than Insight.
Indulge the senses
Each Insight tour is a unique journey of discovery backed by high standards of personal service reminiscent of The Golden Age of travel.
Your Insight hotels
The coach glides up to the door of your hotel. You enter and your Tour Director checks you in. Porters unload your bags and in no time at all, you are relaxing in your room and appreciating your surroundings. Style and comfort, combined with a sense of tranquillity, truly a home away from home. Shops, bars, cafes, restaurants and historic areas are moments away. This is the art of hospitality at its best. This is an Insight Vacation.
Insight hotels cannot be bettered and are chosen from the premium brands of the world's leading hotel chains such as Accor and Intercontinental hotel groups, where Insight< guests stay only in Sofitel, Intercontinental or Crowne Plaza hotel brands rather than Holiday Inn, Mercure or Novotel. Similarly, you'll enjoy welcoming stays in hotels belonging to other top names like Marriott, Sheraton, Radisson SAS and Hilton.
Your Insight accommodations comprise both modern and traditional styles, mostly of First Class, Superior First Class or Deluxe standard. Room amenities are second to none, featuring private en-suite bathroom and shower, mini-bar, phone and, usually, satellite TV to keep you up to speed with the news from home. Hotel amenities will include a bar, restaurant and a comfortable lounge area.
This is the Insight Hotel Commitment.
This brochure covers the regions and holiday types listed below. Click on the links to see more free travel brochures covering the regions and holiday types you are interested in.