Marine | Polar Expeditions, Cruising & Sailing Adventures View Basket
To order this holiday brochure for FREE delivery to your home or computer, click the GET THIS FREE button.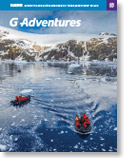 This brochure is no longer available on this website.
Instant adventure: just add water
Antarctica & Arctic Expeditions | Galápagos | Amazon | Peru | River Cruises: Amazon, Mekong, Burgundy Rivers | Sailing Adventures: Croatia, Montenegro, Greece, Cuba, British Virgin Islands, Maldives, Thailand, Indonesia
The poles of the Earth, the wonders of the Galápagos, the mysteries of the Amazon, out-of-the-way Greek islands, and other great place are best (and sometimes only) accessed by boat. Marine trips get you there aboard small ships, exclusive yachts, and catamarans.
Small ships, enormous adventures at the ends of the Earth and beyond
G Adventures Marine tours connect travellers to the world's greatest aquatic destinations aboard small, intimate ships and yachts. Each tour has been carefully designed to deliver unparalleled access to out-of-the-way ports and islands, and to foster meaningful connections with local people and culture in a way you simply won't get from a large cruise line.
Not only will the G Expedition steer you closer to some of our planet's most amazing places, their professional and highly-skilled teams of onboard experts offer keen insight, unique perspectives, and hands-on attention not found in a guidebook. You simply can't get to the Arctic and Antarctica on your own or get as much out of South America's Pacific coast as you can with G Adventures, so make your next tour a voyage you'll remember for the rest of your life. Join G Adventures on an out-and-out extraordinary journey.
Small ships
Bigger isn't necessarily better. G Adventures' vessels are on the small side to get you places big ships can't go. The attention of the expedition team, naturalist guides or skipper/CEO is split among fewer people, making the experience better for everyone (including the connections you'll build with the rest of your small group of travellers).
Global groups
The average G Adventures Marine group size varies according to the vessel and the destination. Groups are often a mix of solo travellers, friends travelling together, and couples, all of varying ages and from all over the world. You'll find just about every type of person in your group. Come prepared to make some new best friends.
In-the-know experts
Marine experts reflect the environments they cruise. Whether you're with a certified Galápagos naturalist, a polar expedition leader or a specialised local Amazon guide, or licensed skipper, you'll return home with a deeper appreciation for your destination than you could've imagined.
Skilled staff
Since your vessel will be your temporary floating home, you'll be travelling with a whole host of expert hospitality staff. Every single person – from boat captain to on-board chefs to housekeeping – is responsible for making sure you're comfortable and ensuring the time of your life goes off without a hitch.
Exclusive departures
G Adventures manages all the vessels in its fleet, which means complete control over who gets on them, how they're maintained, and where they go. You won't be pooled together with travellers from other companies, and your captains are empowered to take you where your group wants to go.
Regional cuisine
More often than not, the vessel is your floating restaurant as well as your hotel. Meals reflect the character of the region you're cruising through, be it the Arctic or down the Amazon. Chefs prepare your meals using fresh ingredients brought aboard at every port stop.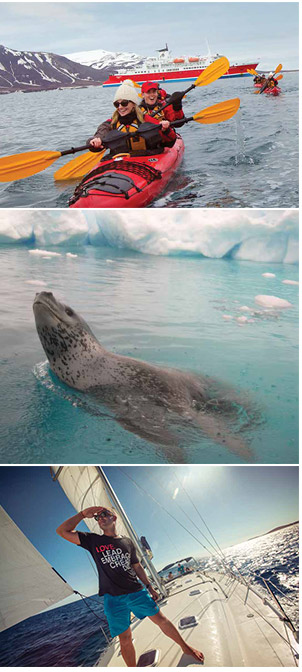 The G Difference
Changing The Travel Business, One Great Idea At A Time
As small group adventure travel pioneers, G Adventures has always done things a little bit differently. To G Adventures, there's no such thing as "outside-the- box thinking" because G Adventures doesn't believe in boxes.
100% Guaranteed Departures
The security that comes from knowing your trip is locked-in is a feeling that can't be topped. G Adventures likes that feeling - so much so that it figured everyone should have it. Every G Adventures departure is now guaranteed to run. Yup, all of them. Once you've booked and paid, that's it; you're going. Guaranteed. Your trip won't be cancelled by G Adventures for any reason (beyond harsh weather or safety issues). Promise.
Lifetime Deposits
G Adventures Lifetime Deposit Policy is designed to protect you from unexpected or unpredictable events that may cause you to cancel or delay your trip. Whether you opt to use it again for the same trip, transfer it to another one, or save it up for a not-so- rainy day, G Adventures has got you covered, no matter the circumstances. You can even pass it on to a friend.
24/7 Service
When your business covers the whole world like ours does, you have to be available and account- able all the time. If you've got a question about a trip - even if it's the one you're currently on - G Adventures is here to help. Always. G Adventures never sleeps. NEVER.
No Single Supplements
Travelling by yourself doesn't mean you have to travel alone. G Adventures treats single travellers to the same benefits as the rest of the group, which is why G Adventures doesn't charge single supplements. G Adventures will partner you up with a same-sex roommate to ensure you pay the same as everyone else.
Choice
G Adventures offers the widest variety of destinations, departure dates, trip styles and service levels in the business. No matter where, when, how or why you want to travel, G Adventures has got the trip of a lifetime for you.
Value
What you saw and did should be the most memorable part of your trip, not the price you paid for it. G Adventures offers unforgettable travel experiences at the most competitive prices you'll find anywhere. How? By following a grassroots approach to travel that keeps operating costs low and savings high.
Satisfaction
G Adventures is pretty proud of its customer satisfaction record. A whopping 99% of G Adventures travellers report satisfaction with the service offered them on their trip. How does G Adventures do that? By listening. It's just one of the many ways G Adventures leads with service.
Global Network
There's a great big world out there, and with more than 20 sales and operations offices worldwide, you're never far from one. And with a fleet of exclusive boats, lodges and vehicles at its disposal, G Adventures can deliver an experience that's fresh, fun and consistently G Adventures-y from start to finish.
Antarctica & Arctic Expeditions

Antarctica, Argentina

Antarctica , Argentina, Falkland Islands

Antarctica, Argentina, Uruguay, Falkland Islands

Arctic, Norway

Arctic, Norway, Scotland, United Kingdom

Arctic, Greenland, Iceland, Norway

South America Expeditions & Cruises

Galápagos Islands

Ecuador

Peru


River Cruising

Amazon River, Peru

Ganges River, India

Mekong River, Vietnam & Cambodia

Burgundy River, France

Sailing

Croatia

Greece

Turkey

Cuba

British Virgin Islands

Thailand

Maldives
This brochure covers the regions and holiday types listed below. Click on the links to see more free travel brochures covering the regions and holiday types you are interested in.