France River Cruising & Tours View Basket
To order this holiday brochure for FREE delivery to your home or computer, click the GET THIS FREE button.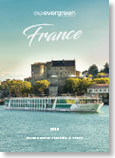 This brochure is no longer available on this website.
Perfectly planned deluxe river cruising & tours throughout spectacular France
France River Cruising | Portugal River Cruising | Mediterranean Ocean Cruising
EARLYBIRD OFFERS: For the Best 2019 Deals, book by 31 August 2018 or until sold out.
Evergreen Tours believes that how you travel and what you experience is as important as the destination itself. After all, these create the best memories and provide the most enriched experiences.

Step aboard Evergreen Tours' new ship, the Emerald Liberté and experience the romance and adventure of the amazing culinary destination of France.
With relaxed itineraries and plenty of time to explore on your own, France is the perfect destination in which to river cruise. All the luxuries you are used to – dropdown glass balconies, indulgent Owner's One-Bedroom Suites, Club Pool which converts into a cinema, extensive dining choices and included excursions – are all featured for your enjoyment whilst cruising on board Evergreen's 'Star Ships'.
Explore Lyon, France's third largest city, known as the gastronomic capital. Dock in the heart of the beautiful towns of Mâcon, Chalon-Sur-Saône and Tournon, then taste the world-renowned wines of Beaujolais and Burgundy. Marvel at the sheer size of the Palais des Papes in Avignon, one of the most historic and picture postcard towns in Europe, then step back in time at the Arles Colosseum.
This exciting itinerary also links with Evergreen's Rhine Highlights Cruise from Amsterdam to Basel, featuring the incredible castles of the Rhine Gorge with the picturesque valleys of the Black Forest. Transfer from Basel to Lyon by coach travelling through Switzerland.
Your Cruise Director will be with you every step of the way to assist in local sightseeing and to answer any queries. Evergreen Tours' team aims for you to have the perfect holiday experience and to come away from France with an intimate understanding of how the locals live.
Step aboard an Evergreen deluxe river cruise and experience the romance and adventure of Europe's waterways like never before. Escape your everyday life as Europe's most beautiful cities and landscapes slide peacefully past you. Breathe in the history of the continent's greatest rivers. This is the most relaxing and convenient way to experience Europe.
To enhance your European cruising experience, Evergreen offers a wide range of premium land tours and ocean cruises that link seamlessly, which allow you to discover Europe beyond its waterways. With Evergreen you can experience all the must-see attractions, destinations and scenery you want, as well as some breathtaking sights you never knew existed.
You will enjoy the hassle-free Evergreen Experience: from the carefully crafted itineraries, to the cheerful welcome in every destination, to the exceptional knowledge of the cruise and tour directors, to the exciting destinations, must-do excursions and premium inclusions that make these European river cruises and land tours memorable, magical and excellent value.
With over 36 years' experience in producing quality tours that deliver premium value, Evergreen delivers expert service at unbeatable prices. You just don't get better value for your travelling dollar than this.
Enjoy the luxury of Evergreen's deluxe river cruisers:
Pool by day... Soak up the sun and enjoy breathtaking views of the rolling countryside as you relax by the all-weather 6m x 4m heated swimming pool.
...Cinema by night! In the evening a glass roof and extended floor completely transforms the pool space into a comfortable cinema.
Al Fresco Terrace Dining. Enjoy the beautiful open-air terrace for a casual dining experience with panoramic views of the ever-changing landscapes.
Owner's One Bedroom Suite. These magnificent suites (315 sq ft) have a separate bedroom and lounge, full outdoor balcony which converts to a sunroom, walk-in wardrobe, luxurious ensuite amenities and complimentary room service, mini-bar, iPad, Nespresso machine and laundry.
Grand Full Balcony Suite. These stylish suites (210 sq ft) have a full private outdoor balcony which converts to a sunroom, continental breakfast and pre-dinner canapes served in-suite and complimentary Nespresso machine and laundry. Situated on the Horizon Deck, you'll enjoy unhindered views of the glorious waterways from the privacy of your balcony.
Emerald Balcony Suites. The balcony suites (180 sq ft) feature an innovative drop down balcony window providing floor to ceiling views of the spectacular passing scenery. With the click of a button your private balcony turns into a sun room.
'You're Invited'. With Evergreen's exclusive and complimentary 'You're Invited' program you'll discover local European traditions first hand and be warmly welcomed to dine with local families.
Expert Tour Guides & Premium Inclusions
Evergreen Tours offers all-inclusive tours – quality deluxe accommodation, luxury coach travel, porterage, all sightseeing, most meals and a complimentary travel pack.
All tours are fully escorted by a professional cruise director and tour director, who share their passion for the area and local knowledge, ensuring that the guests can experience the destination fully rather than simply passing through it.
Many people travel with Evergreen and, like you, they recognise that value is not only about price but also what's included in a cruise and tour. As part of the Scenic Tours Group, Evergreen uses the organisation's purchasing power to ensure they pass the best value on to you.
Evergreen has an excellent reputation for quality, value and professional service. From start to finish, Evergreen carefully plans, arranges and co-ordinates every aspect of your holiday. These itineraries are carefully designed with a perfect balance of inclusions, must-see sights and free time, all designed to unlock Europe's richness and vibrancy.
This brochure covers the regions and holiday types listed below. Click on the links to see more free travel brochures covering the regions and holiday types you are interested in.