South Caucasus – Azerbaijan, Georgia & Armenia View Basket
To order this holiday brochure for FREE delivery to your home or computer, click the GET THIS FREE button.
Discover the highlights of Azerbaijan, Georgia & Armenia
16 DAYS - Departs Baku 13 May 2019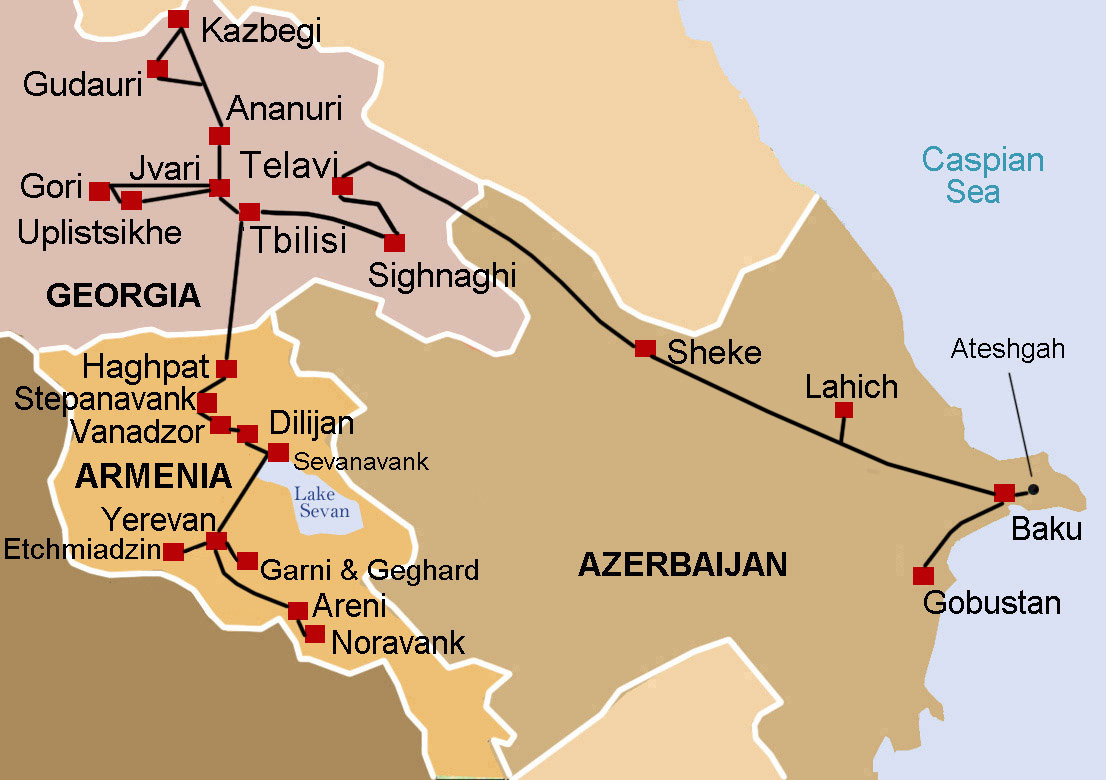 The Caucasus Mountains form the physical divide between Europe and Asia and the region of the South Caucasus, nestled between rugged mountains and the Black and Caspian Seas are home to the compact countries of Azerbaijan, Georgia and Armenia.
Explore these lesser known countries, experiencing and contrasting the local religions, cultures, peoples and cuisines while discovering the wonderful historical and natural sights that abound.
Highlights
This trip starts in Azerbaijan, the 'land of fire'. In the capital of Baku, once an important trading post on the Silk Road, explore the ancient citadel containing the Maidens Tower, historic mosques and caravanserais and the Shirvan Shah's palace.
Discover 'New' Baku with its impressive modern towers and the stunning architecture of the Heydar Aliytev Centre. View Stone Age petroglyphs and walk amongst bubbling mud volcanoes at the Gobustan N.P.
In Ateshgah, admire the ancient Zoroastrian flame temple. In the old capital of Sheki, stay in a restored caravanserai and visit the colourful palace of the Sheki Khans.
Christian Georgia is home to soaring alpine mountains and lush green valleys dotted with historic churches, fortresses and wineries. Explore historic homes of ancient Georgian royalty in Tsinandali and walk atop ancient walls at Sighnagh town.
In Tbilisi, wander through the historic centre visiting the soaring Holy Trinity cathedral and enjoy great views from the Narikala Fortress.
North of Tbilisi, journey into the Caucasus by 4WD for stunning alpine views across to the Russian border.
At Gori, contemplate a more recent history at the Joseph Stalin museum and visit the ancient capital at Mtskheta where Kings were crowned and buried.
Armenia is an ancient country whose more recent tragic history has demonstrated the resilience of its people. It is a region of old legends, Biblical stories, centuries old monasteries and cathedrals set in a stark landscape.
Historic Yerevan dates from the 8th Century BC and is watched over by imposing Mount Ararat. Explore the city, learn of the Armenian Genocide and visit stunning monasteries and forts at nearby Garni, Geghard and Noravank. Join a cooking class and have hands on experience at the pottery wheel.
Your host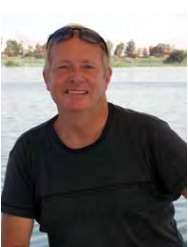 Steve Mortimer heads up Byroads Travel and will be your host on this tour. Steve has nearly 30 years in the travel industry and has travelled to well over 100 countries. He has worked with a number of well‐ known Australian adventure travel companies including 13 years as a Product Manager and Operations Director for Peregrine Adventures. Most recently he has been involved in researching and developing holidays in several different regions of the world, including Latin America and the Middle East where he has lived.
Steve likes nothing better than getting out and about with like‐minded travellers, sharing his knowledge and introducing participants to some of the world's most interesting places, peoples and cultures. He has been a regular visitor to Mexico over many years and the colour and diversity of the Yucatan peninsula in particular keeps him coming back for more.
With your itinerary you can be confident you'll visit all the 'must see' attractions – and much more, however there are some days when you'll have time to wander and make some of your own discoveries. Throughout the tour local guides are employed to provide a wealth of background information and share their extensive local knowledge.
This brochure covers the regions and holiday types listed below. Click on the links to see more free travel brochures covering the regions and holiday types you are interested in.