Colours of Rajasthan, India View Basket
To order this holiday brochure for FREE delivery to your home or computer, click the GET THIS FREE button.
Discover the highlights & hidden secrets of northern India
Colours of Rajasthan, India | 16 DAYS | Departs New Delhi 11 November 2019
India & Sri Lanka | 29 DAYS | Departs New Delhi 9 November 2020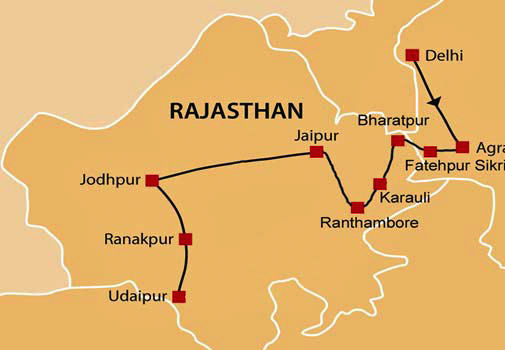 India is one of the most colourful countries in the world, with Rajasthan at its epicentre. Despite being an essentially arid region, it shimmers with almost every shade in the rainbow. Dusty towns and villages are embellished with dazzling saris and vibrant local markets offer fruit, vegetables and a bright palette of spices. In addition, the state is dotted with numerous stately palaces – some more colourful than others – along with elegant havelis (merchant homes), temples and much more.
This tour features some of India's most stunning destinations, including the Taj Mahal, Udaipur, Jodhpur and Jaipur. In addition, explore off the beaten track to less known highlights such as the ancient towns of Karauli and Narlai. And, for lovers of wildlife, discover Ranthambore, one of North India's largest national parks, with a growing Tiger population along with other animal and bird species.
Highlights
Explore Delhi's Old City before heading south to Agra and the incomparable Taj Mahal.
Akbar's wonderful deserted capital at Fatehpur Sikri, the Keoladeo Bird Sanctuary at Bharatpur and the 14th century town of Karaul, considered one of the holiest towns in Rajasthan.
The world famous Ranthambore National Park; a vast wildlife reserve known for its tigers, leopards and marsh crocodiles.
The fabled 'pink city' or Jaipur is one of the three 'pearls' of Rajasthan as well as the state capital.
Jodhpur with its spectacular Mehrangarh Fort looming above the town.
Sleepy yet spectacular, the Narlai village sits on an exhilarating back road where your stunning heritage hotel for the night was once a hunting lodge of the Royal family.
The beautiful 15th century Jain temple at Ranakpur.
Beautiful Udaipur, often described as one of the worlds most romantic places in India.
Your host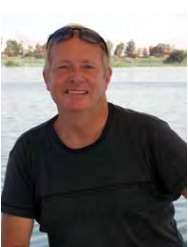 Steve Mortimer heads up Byroads Travel and will be your host on this tour. Steve has nearly 30 years in the travel industry and has travelled to well over 100 countries. He has worked with a number of well‐ known Australian adventure travel companies including 13 years as a Product Manager and Operations Director for Peregrine Adventures. Most recently he has been involved in researching and developing holidays in several different regions of the world, including Latin America and the Middle East where he has lived.
Steve likes nothing better than getting out and about with like‐minded travellers, sharing his knowledge and introducing participants to some of the world's most interesting places, peoples and cultures. He has been a regular visitor to Mexico over many years and the colour and diversity of the Yucatan peninsula in particular keeps him coming back for more.
With your itinerary you can be confident you'll visit all the 'must see' attractions – and much more, however there are some days when you'll have time to wander and make some of your own discoveries. Throughout the tour local guides are employed to provide a wealth of background information and share their extensive local knowledge.
This brochure covers the regions and holiday types listed below. Click on the links to see more free travel brochures covering the regions and holiday types you are interested in.