Lindblad-National Geographic Galápagos View Basket
To order this holiday brochure for FREE delivery to your home or computer, click the GET THIS FREE button.
Explore the most interesting islands on earth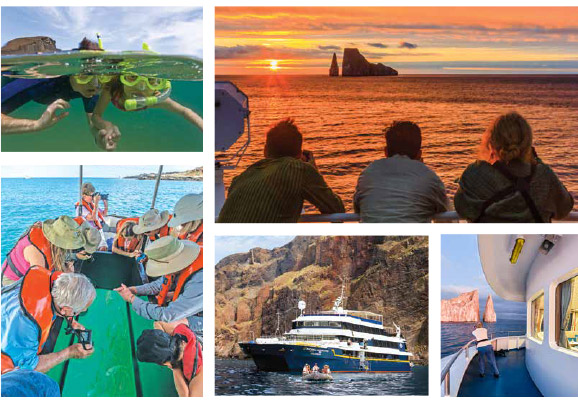 Lars-Eric Lindblad led the first citizen explorer expedition to Galápagos in July 1967, inventing the notion of international Galápagos tourism—and more. Because Lars-Eric firmly believed in the power of tourism as a force for good, and because he was deeply moved by his first visit to Galápagos, he played a key role in its conservation and sustainable tourism from the very beginning.
His son Sven Lindblad went on to significantly advance Lindblad's commitment to Galápagos.
Sailing Twice Weekly, All Year Long
Located at the Equator, Galápagos is always in season. And with two expedition ships operating year-round with weekly departures on Fridays and Saturdays, you're guaranteed to find a departure date that fits your travel schedule.
The Best Undersea Experience In The Islands
Lindblad Expeditions is deeply invested in enhancing your understanding of Galápagos' vibrant undersea, so you'll have the opportunity to snorkel almost every day, sometimes two times a day. And snorkeling in Galápagos is fun! It means encountering sea turtles, sea lions, and penguins, too. In April 2017, Lindblad Expeditions offers certified Scuba divers aboard National Geographic Endeavour II the option of diving at two locations.
Prefer to stay dry? You can peer beneath the surface from the comfort of our glass-bottom Zodiac (Endeavour II). And, we are the only company in Galápagos with an undersea specialist on staff assigned to capture and present vivid underwater video—to ensure that everyone can enjoy the facet of Galápagos that lies beneath the ship.
Your team
Lindblad Expeditions' Galápagos expedition team, hand-picked and Lindblad Expeditions-trained, is made up of engaging naturalists born and bred in the Galápagos Islands, and others who moved to the islands from the mainland or other countries decades ago. They live and breathe Galápagos, and are passionate about the nature and conservation of this remote archipelago. They each have a deep understanding of all aspects of Galápagos' natural and human history, and are experts in relevant areas: ornithology, geology, zoology, and the undersea. Many have traveled and worked with Lindblad in other parts of the world's great natural history destinations, bringing a global perspective.
Your ship
Designed to meet Lindblad Expeditions' exacting standards, National Geographic Endeavour II is the newest ship in its fleet, and the newest ship in Galápagos. Gleaming from bow to stern, she began voyaging in December 2016, and will be permanently based in Galápagos. She accommodates 96 guests in 52 outside cabins, and features 14 connecting cabins and suites for family or friends' sharing, plus 9 solo cabins. A beautiful ship, she is lavishly windowed to better frame the never-ending panorama as she voyages from island to island. Her spacious lounge is the heart of the expedition community, where daily recaps plus informative and interesting presentations take place. Her gracious dining room is designed for inclusive sit-anywhere informality. And her private spaces are the perfect ending to the active exploratory days you'll enjoy aboard.
EXPEDITION HIGHLIGHTS
Snorkel amid shimmering fish, sea turtles, penguins, and playful sea lions
Walk among colonies of wildlife and birds unfazed by your presence
Observe giant Galápagos tortoises in the wild
Explore the waters of the Galápagos by kayak, glass-bottom boat, Zodiac, or paddleboard
This brochure covers the regions and holiday types listed below. Click on the links to see more free travel brochures covering the regions and holiday types you are interested in.