Northern Europe - Scandinavia, Iceland, Russia & Northern Lights View Basket
To order this holiday brochure for FREE delivery to your home or computer, click the GET THIS FREE button.
Unique travel experiences including the Northern Lights... 50 degrees north and beyond
The Nordic & Arctic regions | Scandinavia | Finland | Iceland |Greenland | Russia | the Baltic's | Faroe Islands | Mongolia | Kamchatka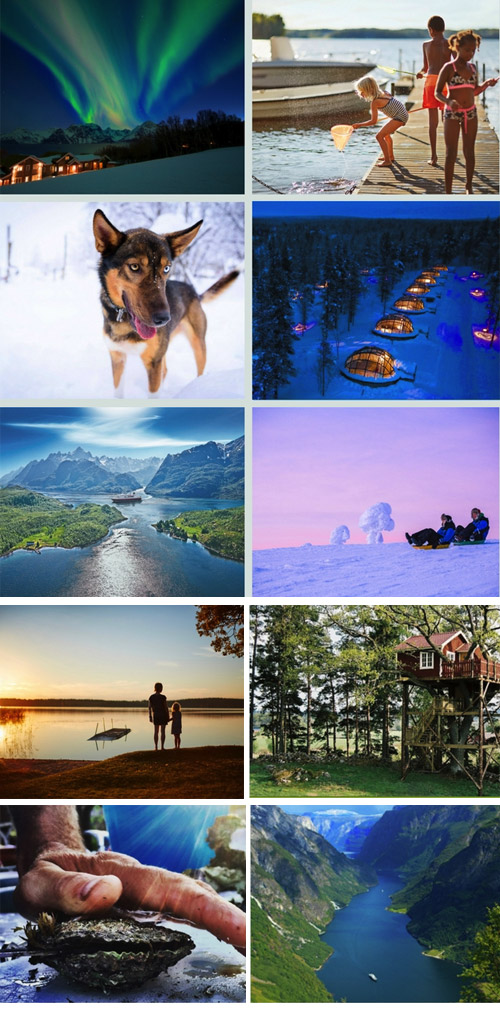 Draw a line along the 50th parallel north and look at everything above – that is 50 Degrees North's specialist region.
True Destination Specialists
50 Degrees North & NORD Journeys are a family owned, boutique destination specialist tour operator for the Nordic region and the Scandinavian Arctic. The company's entirely Nordic sales staff offers in-depth knowledge of all its destinations. Luxury for us means experiencing something extraordinary beyond your everyday life; immersing yourself into the local culture, nature and people and, when possible, venturing away from the well-trodden paths and into the 'un-known'. With offices in Norway, Canada and Australia, 50 Degrees North is able to provide our travellers with support 24/7.
Our Nordic Region
It is an area of distinct seasons where light plays a more significant part of life than anywhere else. It is a region where they have a public holiday on the day the sun re-emerges back over the horizon after a long winter; it is where the northern light will throw waves of purple and green light across the sky in an incredible spectacle; and it is where you can enjoy 24 hour sunlight.
From Longyearbyen to Å, and Helsinki to Ulaanbaatar & Nuuk, 50 Degrees North is about inspiration, unparalleled experiences and personal achievements undertaken beyond the 50th parallel north.

Tours and expeditions are high on quality, not for luxury standards, but for the unique and groundbreaking focus.
Winter in the Nordic Region
From exhilarating safaris on snowmobiles, to sled rides by teams of reindeer or huskies, to skiing, ice-skating and tobogganing... active adventures await intrepid travellers.
Throughout winter you will enjoy festivities such as Helsinki's LUX, Reyjkjavik's Winter Light Festival and Kiruna's Snow Festival, Jokkmokk Winter Market in Sweden, Finland's Finlandia Ski Marathon and the Lahti Ski Games to name a few.
Winter in Scandinavia is full of lights, warming drinks and hearty food. Christmas is celebrated on the 24th of December so the mad rush of Christmas tends to finish on 23 December. Scandinavians also celebrate Advent and you will see candles in every window leading up to Christmas.
Northern Lights
The hero of this season for many is the chance to see the Northern Lights. The zone with the most intense sightings of Aurora Borealis extends over Lapland in northern Scandinavia, Iceland, Greenland and Finland. Between October to March each year, 50 Degrees North offers independent tours staying in unique accommodation designed to maximize the chances of seeing the Northern Lights such as private lodges, Glass Igloos cabins, Glass roofed log cabins and snow hotels.
Christmas and New Years
50 Degrees North specializes in fully inclusive, escorted Christmas tours to Finland, Norway and Sweden for families. For independent travellers, we go out of our way to offer you unparalleled experiences at Christmas and New Years; from exclusive adult-only Lyngen Lodge stays in Northern Norway, sleeping in glass igloos under the skies of Finland or a Laavu in Sweden. We also specialize in multi-generation family travel programs.
Summer in the Nordic Region
Scandinavia and Finland is home to bustling cities, stunning mountains, beautiful fjords, and the quiet solitude of Finland's Lake District and Sami Lapland. 
In terms of wildlife and nature, you will find unique wildlife and flora. The king of the forests, the awe-inspiring moose, lives here, and so does the myth-like Polar bear, whose fascinating habitat is threatened due to the melting ice. You may also encounter lynx, lemmings, brown bears, muskox, reindeer, wolves and wolverines in the expanses of pine and birch forests. Stay on your own island retreat in Sweden, head to the mountains for comfortable hut-to-hut hiking tours or stay in designer coastal cabins with epic views of the coast.
In Iceland, you can choose a comfortable touring option or you can go trekking, ice climbing, super-jeep riding, fly fishing or jump on the back of an Icelandic horse. Our independent tours of Iceland bring you the glory of the Icelandic summer.
Why travel with 50 Degrees North
True specialist destination knowledge
Only the best partner suppliers
24/7 Support with 'on the ground' office in Norway, Vancouver and Australia
High quality travel experiences
Value for money
Expert local leaders
Great & unique overnight stays
Sustainable tourism
Unique Experiences offered by 50 Degrees North
• A comprehensive range of Norwegian Coastal voyages; Extended stays in the Lofoten Islands with jump on/jump off Hurtigruten itineraries and very small ship voyages in Svalbard
• Independent Journeys and Self-Drive itineraries across the region, including the Baltic States.
• Norwegian Fjords and Scandinavian Capitals by rail and ferry allow you to travel independently using unique accommodation and local transport. 
• A Trans-Mongolian Railway option is designed for those wanting to complete this epic journey independently.
• Nordic manor houses, beautiful historic hotels and Danish castles feature in our range of independent self-drive itineraries. These well-crafted tours offer the discerning traveller a modern alternative to well-trodden European destinations.
• A selection of group tours and voyages include small-group adventures in Iceland & Kamchatka, coach tours through Scandinavia & Russia, a canal cruise along the Göta Kanal and an expedition voyage to the North Pole.
• Added to the range of active adventures are n cycling and hiking trips in Sweden, Norway and Denmark, as well as treks in Iceland and Greenland.
INDEPENDENT JOURNEYS & SELF DRIVE

Treasures of the Norwegian Fjords
Scandinavian Capitals by rail and ferry
Norway by Design & History - self drive
Norway in a Nutshell - independent by rail, bus and ferry
Sognefjord & Hardangerfjord in a Nutshell
Pulpit Rock & Trolltunga Hiking tours
Tromsø & the Lyngen Alps
Basecamp Nordenskiöld - Arctic adventure
Castles & Gourmet in Denmark - self drive
Gothenburg to Stockholm - self drive
Journey through Lapland - self drive
Log Cabins & Bears of Finland - self drive
Iceland Circle - self drive farm stay
Treasures of the Faroe Islands - self drive
South Greenland Explorer
St Petersburg & Moscow in style
Jalman Meadows Ger Camp
Trans Mongolian Railway - independent

GROUP TOURS

Nordic Capitals
Scandinavia, Finland & Russia
Treasures of Scandinavia & Finland
Fjords of Norway & Coastal Cruise
Baltic Highlights
The Baltic States & Poland
Iceland Complete
Kingdoms of Volcanoes & Glaciers
Bears & Volcanoes of Kamchatka
Mongolian Odyssey

ACTIVE TOURS

Across Jotunheimen
Landmannalaugar to Skógar
Hiking at the End of the World
Mongolian Horse Trek
Mongolian Yak Trek - yak supported trek

VOYAGES & CRUISES

Norwegian Coastal Voyage & Nordic Capitals
Classic Norwegian Hurtigruten Coastal Voyage
Lofoten Summer Voyages
Göta Kanal
Volga River Cruises
Spitsbergen Voyages
Polar Bears Voyages
Northwest Passage
West Greenland Coastal Voyage
Arctic Wilderness Voyage
North East Greenland
Chukotka - Across the Top of the World
Greenland Coastal Voyages
Arctic Expedition Ships

HURTIGRUTEN VOYAGES

Depart on almost any day all year round
Your choice of cabin category
Themed voyages available

INDEPENDENT WINTER JOURNEYS

Depart on any day
For one or more people
Pre-booked accommodation and tickets structure the tour
Enjoy the luxury of setting your pace
All itineraries can be tailored to suit your needs
Your choice of hotel – directors choice, design or historic

INDEPENDENT WINTER ADVENTURES & SKIING

Unique locations such as Russia, Iceland, Svalbard and Greenland
Special activities: dogsledding in Greenland, bathing in a hot spring in Iceland and skiing in the Far North
Independent and group departures available
Ask about more adventures and special interest

CHRISTMAS & NEW YEAR

Independent Christmas Holidays
Options for singles, couples and families
Emphasis on celebrating an authentic White Christmas
All-inclusive packages
This brochure covers the regions and holiday types listed below. Click on the links to see more free travel brochures covering the regions and holiday types you are interested in.