WW2 Military History Cruise of the Pacific View Basket
To order this holiday brochure for FREE delivery to your home or computer, click the GET THIS FREE button.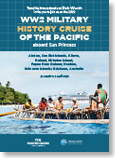 This brochure is no longer available on this website.
Join Bob Wurth aboard Sun Princess for a fascinating historical journey
Departs Sydney 21 March-5 April 2020 | Alotau, Conflict Islands, Kitava, Rabaul, Kiriwina Island, Papua New Guinea; Honiara, Solomon Islands; Brisbane, Australia
The Japanese attack on Pearl Harbor on December 7, 1941, was the impetus for the United States' entrance into World War II. The United States declared war on Japan the following day, December 8. On December 11, Nazi Germany, Japan's Axis ally, declared war on the United States. This forced the United States to enter a two-front war. In the first months after the attack on Pearl Harbor, Japan had great military success. A turning point came in June 1942 at the Battle of Midway. It was the first time that Allied forces were able to make headway in the Pacific. This cruise and tour provides the opportunity to visit some of the iconic military sights in the Pacific theatre of war that ultimately led to the surrender of Japan and to the conclusion of the war in the Pacific.
Your host – Bob Wurth
Queensland writer Bob Wurth's interest in the Asia-Pacific region goes back to 1970-72 when he lived in Port Moresby, travelling on assignment as a journalist throughout Papua New Guinea. He returned to Sydney in 1972, but travelled to Papua New Guinea frequently thereafter. Bob Wurth was a foreign correspondent for the Australian Broadcasting Corporation basedin Singapore between 1981 and 1985. He reported for ABC radio and television on major events in Japan, Singapore, Malaysia, Indonesia, the Philippines, Thailand, Pakistan and India. His assignments included the assassination of Benigno Aquino at Manila Airport in 1983 and Indira Gandhi in New Delhi in 1984. He was ABC Manager for Asia in 1984 and 1985 and acted in that position in 1988. He later became Manager for Queensland for ABC radio and television, before taking up writing on a full-time basis in 1999. He had also worked as an ABC broadcast news consultant to the South African Broadcasting Corporation, in the lead up to that country's first democratic election, undertaking a major review of the SABC public information services. He also worked as a trainer-consultant to the National Broadcasting Corporation in Papua New Guinea. Bob Wurth is the author of five books to date, the most recent The Battle for Australia, published by Pan Macmillan in 2013.
Spectacular cruising on board the Sun Princess
Never miss a moment of scenery while on board the Sun Princess, with 410 balcony staterooms, a winding promenade deck and an atrium with four storeys of beautiful ocean views. There are several dining options such as the Swirls ice cream bar, Verdi's Pizzeria and Terrace BBQ Grill. Food is available on board for all passengers 24 hours a day by room service or in the Horizon Court. Specialty dining is also available at Sterling Steakhouse or Kai Sushi, while Ultimate Balcony Dining is a romantic dining experience with breathtaking views. After dinner try your luck at the Grand Casino or take in a theatre show or movie at the Princess theatre or the Vista Show Lounge. A cruise on board the Sun Princess promises to leave you fully entertained.
What's Included
Travel on Sun Princess in the selected cabin category
All meals, entertainment and service charges on Sun Princess
Sightseeing tours as listed in the itinerary
Entry to museums and attractions as detailed in itinerary
Tour management by Travelrite International Pty Ltd
A Travelrite travel bag
This brochure covers the regions and holiday types listed below. Click on the links to see more free travel brochures covering the regions and holiday types you are interested in.