Central & South America View Basket
To order this holiday brochure for FREE delivery to your home or computer, click the GET THIS FREE button.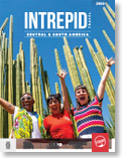 This brochure is no longer available on this website.
Small-group adventures with lots of freedom & flexibility
Peru | Bolivia | Amazon | Brazil | Argentina | Chile | Patagonia | Easter Island | Colombia | Ecuador | Galapagos | Antarctica | Cuba | Belize | Falklands | South Georgia | Mexico | Guatemala | Costa Rica | Panama
Intrepid travellers are enthusiastic, curious, with an insatiable thirst for unchartered territory. Utilising the freedom and flexibility that accompanies small group adventure tours, and tapping into the unparalleled local knowledge of their guide, they get up-close to some of the world's more unfamiliar quirks and customs. It's time to get ready for some grassroots adventuring…
Real value
Intrepid is committed to providing fantastic value for travellers. As an Intrepid traveller, you'll get far more than just a great-priced adventure, you'll be benefitting from 25 years' experience running small group tours, a team of destination experts who craft each itinerary in meticulous detail, giving travellers unparalleled local knowledge on the ground. Ditch the dog-eared guidebook and join Intrepid to dine at hole-in-the-wall eateries, break bread with local families, wander through community markets and visit sites that don't appear on any tourist map. It's this cost-effective, authentic way to experience new horizons that sets Intrepid apart.
Small groups, real experiences
Intrepid believes great things come in small packages, especially when it comes to group travel. Groups are small enough to remain flexible as we thread our way through each place, without intimidating the locals. Pile into rickshaws, jump on a local bus or join a game of street football. It's simply the way Intrepid loves to travel.
Freedom & flexibility
For some, the notion of group travel conjures up images of being herded from one tourist mecca to the next, with no opportunity to discover things for yourself. One of the best things is that Intrepid trips strike the balance between group activities and free time. You might spend the morning exploring ancient sites with a guide, before heading off under your own steam after lunch. Grab a bicycle, lose yourself in the marbled halls of a museum or pull up some grass in a shady park - whatever floats your boat. After all, it's your holiday!
Innovative & interactive itineraries
Each trip has been carefully constructed so you'll enjoy stacks of new experiences. From weird and wonderful local delicacies to a range of unusual modes of transport; from sleeping in mountain monasteries to camping under the stars, Intrepid aims to give travellers genuine insights into the places you visit, with plenty of opportunities for fun and adventure along the way.
It's all in the journey
Half the fun of travel is the travelling itself. That's why Intrepid adventures come with all manner of transport modes - from the slightly unusual to the downright bizarre! You could find yourself on a longtail boat, a rickshaw or striding across the desert atop a camel, depending on your location and trip style.

Responsible travel
Intrepid is an industry leader in sustainable travel and is dedicated to a style of travel that is culturally, environmentally and socially responsible. Intrepid believes this commitment allows travellers to really interact with other cultures, while directly contributing to local economies and protecting the environment.
Intrepid Trip Styles
Intrepid's travel styles share a common philosophy of 'getting out there' and experiencing the real world. Each trip comes with a physical and cultural rating, pick one that's right for you.
BASIX
The best value journeys on the planet! On a Basix trip you can expect amazing experiences, minus inclusions you may not be interested in. It means budget (1-2 star) accommodation, lots of free time, optional activities and the freedom to choose meals to suit your budget. If camping, you may have to pitch your own tent. You'll also have a group leader to offer advice and help you discover hidden gems. On a Basix trip, the journey is part of the adventure. Depending on the destination and itinerary you could end up travelling on a bus, a safari vehicle or even a donkey. These trips are ideal for first-time travellers seeking fun and independence with the support of a group leader. They're also ideal for independent travellers wanting to make the most of their time with minimum hassle and maximum fun.
ORIGINAL
Original trips are classic Intrepid adventures. With a mix of included activities and free time, they offer plenty of opportunity to explore at your own pace and join in activities that really get beneath the skin of a destination. While the occasional meal may be included, you'll have the freedom to seek out your own culinary adventures. Accommodation is generally budget or tourist class (2-3 star), but you might also find yourself camping or as a guest of a local family. Transport will vary as well. Depending on the destination and the itinerary, you could find yourself travelling on anything from a camel to a train or a private safari vehicle. It's all part of the adventure! Original travellers have a desire to make the most of their travel time and really get to know a place, its people and cultures.
COMFORT
Comfort is your style of travel if you want the whole grassroots experience with more inclusions, meals and creature comforts. While accommodation is predominantly tourist class (3-4 star), on some itineraries there is the opportunity to stay with a local family, spend the night on a train or camp out under the stars in exotic places (without putting up your own tent of course). Along the way you'll really get up close and personal to the places you visit. You'll mingle with locals, dine on traditional local cuisine and gain special insights from your group leader. Intrepid Comfort trips are not luxury travel but real world experiences - just with a softer landing. So if you're ready to see the world in a little more style, then a Comfort adventure might be exactly what you're looking for.
Short Breaks
These short treats are the ideal add-on to a longer trip or are mini adventures in their own right. With a duration of 2-5 days, these 'short but sweet' trips range from relaxing beach breaks to excursions with a local guide. You can choose from either an independent adventure or a group adventure.
Walking Adventures
Get ready to take in beautiful vistas, breathe fresh air and walk through some incredible terrain. Intrepid offers an extensive range of both small group and self-guided walking itineraries all over the world that cover everything from one-day hikes through to itineraries where you'll walk every day. Armed with route notes and maps, self-guided walks allow you to explore at your own pace and are perfect for those wanting more independence. Or, if you want to concentrate more on the scenery, join a small group and explore with new friends. All your accommodation will be pre-booked, and your main luggage will be transferred between properties.
Cycling Adventures
Intrepid's cycling adventures span the gamut of two-wheeled challenges; from a leisurely ride in France to cycling across the roof of the world in Tibet. Cycling trips cover one-day group rides, self-guided trips and itineraries where you'll be riding every day. Small group adventures are led by experienced cycling leaders and are usually accompanied by a support vehicle.
Intrepid Overland (13-24 travellers, safari vehicles or minivans)
Big adventures through big landscapes; whether it's a road trip along world famous highways or an off the beaten track adventure along rugged roads, on an Overland adventure you'll experience the sights, sounds and smells of the world up close. Travelling in purpose-built vehicles you'll explore bustling cities or isolated communities, search for wildlife, visit vast national parks, see changing landscapes and camp in tents. On an Overland journey you're more than just a passenger, you're part of the crew, pitching in to set up camp, shop for food and even cook. And, like all great adventures, the more you put in the more you'll get out!
Intrepid Urban Adventures (min 1-2 travellers, mix of private and public transport)
Urban Adventures are city tours that unlock the hidden secrets in and around our favourite cities. They range from 3 hour to 1 day adventures and uncover back streets, hidden gems and fascinating sights. While these adventures may be short, they're big on real life experiences. Step into the lives of the locals, find out what makes the city tick and get acquainted with the food and culture, all in the company of an expert local guide. See more than just the usual sights on an Urban Adventure.
This brochure covers the regions and holiday types listed below. Click on the links to see more free travel brochures covering the regions and holiday types you are interested in.