To order this holiday brochure for FREE delivery to your home or computer, click the GET THIS FREE button.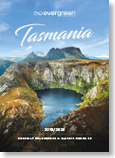 This brochure is no longer available on this website.
Delve deep into Tasmania… discover unspoilt wilderness & classic heritage
Excellence, Quality, Value, Service… and memories that will last forever
Evergreen Tours believes that how you travel and what you experience is as important as the destination itself. After all, these create the best memories and provide the most enriched experiences.
Tasmania is a land of contrasts and surprises, from rugged mountains to beautiful beaches, from wineries, rivers and rolling hills to the convict heritage and coastal cliffs. Evergreen gives it all a special touch to make it memorable.
Special inclusions like a cruise on the Gordon River viewing beautiful Macquarie Harbour, a ranger guided walk in Freycinet National Park, exploring Woolmers Estate and National Rose Garden, indulging in gourmet Tasmanian produce and a tour of the infamous Port Arthur Site... just some examples of what makes Evergreen Tours' unbeatable value.
You will enjoy the hassle-free Evergreen Experience: from the carefully crafted itineraries, to the cheerful welcome to the exciting tours, must-do excursions and premium inclusions that make these itineraries memorable, magical and excellent value.
With over 33 years experience in producing quality tours that deliver premium value, Evergreen delivers expert service at unbeatable prices. You just don't get better value for your travelling dollar than this...
Expert Tour Guides & Premium Inclusions
Evergreen Tours offers all-inclusive tours – quality 3-4 star accommodation, luxury coach travel, porterage, all sightseeing, most meals and a complimentary travel pack.
All tours are fully escorted by a professional coach captain and tour director, who share their passion for the area and local knowledge, ensuring that the guests can experience the destination fully rather than simply passing through it.
Many different people travel with Evergreen and, like you, they recognise that value is not only about price but also what's included in a tour. As part of the Scenic Tours Group, Evergreen uses the organisation's purchasing power to ensure they pass the best value on to you.
Evergreen Tours has an excellent reputation for quality, value and professional service. From start to finish, Evergreen carefully plans, arranges and co-ordinates every aspect of your holiday. These itineraries are carefully designed with a perfect balance of inclusions, must-see sights and free time, all designed to unlock Tasmania's richness and diversity.
Contents
The Evergreen Experience
The Tasmania Travel Experience
Tasmania's Culinary Delights
Earlybird Savings
Choose Your Holiday
10 Day Tasmanian Spectacular
12 Day Tasmanian Explorer
7 Day Best of the West

6 Day Eastern Highlights
Pre & Post Tour Accommodation
Discover More Sightseeing
This brochure covers the regions and holiday types listed below. Click on the links to see more free travel brochures covering the regions and holiday types you are interested in.