Aranui 3 Adventure Cruises – Tahiti to Tuamotu & Marquesas Archipelagos View Basket
To order this holiday brochure for FREE delivery to your home or computer, click the GET THIS FREE button.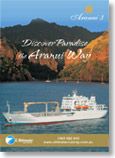 This brochure is no longer available on this website.
Adventure to some of the world's most remote and beautiful islands
13-night cruises from Tahiti to the Tuamotu and Marquesas Archipelagos in French Polynesia
Ultimate Cruising, part of the Ultimate Travel Group, specialises in the best of small-ship cruising to bring you a unique and enriching holiday experience.
Aranui Cruises operates 13-night cruises from Tahiti to the Marquesas Archipelago, some 1500 kilometres north-east of Tahiti. There are 17 departures to choose from in 2011.
This specially-built hybrid passenger/cargo ship was launched in 2003 to carry 200 passengers and 3000 tonne of cargo to some of the most remote and beautiful islands in the world.
The ship offers four standards of accommodation, ranging from top end Suites and Deluxe cabins down to multiple share accommodation. All of the main cabin types are spacious, fully air conditioned and have en-suites. The ship has a library, gym, swimming pool, two lounges, a bar and a 150 seat dining room.
All meals are buffet style, complimentary wine is served with lunch and dinner onboard and there is no pre-set seating plan.
All shore excursions are included in the cost of the passage.
The Marquesas Archipelago is a visual paradise of lush jagged volcanic islands that is breathtaking in natural beauty. Many of the islands are sparsely populated and often the Aranui's guests are the only visitors.
This brochure covers the regions and holiday types listed below. Click on the links to see more free travel brochures covering the regions and holiday types you are interested in.