Ecuador & Galapagos - Premium Tailor-Made Tours View Basket
To order this holiday brochure for FREE delivery to your home or computer, click the GET THIS FREE button.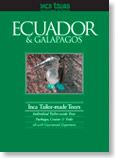 This brochure is no longer available on this website.
Individual Tailor-made Tour Packages, Cruises & Treks
Antarctica, Galapagos, Chile, Peru, Ecuador, Argentina, Brazil, Easter Island & French Polynesia
Inca Tours has over 30 years experience organising small group tours and tailor-made holidays for discerning travellers.
Value for money without compromising on service and quality
Inca Tours brings its vast knowledge and experience together to offer you the best value for money. Everything detailed in the itineraries is included in the cost unless it clearly states that an element is "optional". These holidays are not the cheapest, but offer great value and the most reliable services. Inca Tours does not cut corners to save money.
Accommodation
Inca Tours chooses hotels and lodges that retain the charm and character of South America as much as possible. You have a choice of standard, superior or deluxe, with all hotels individually inspected and selected.
Local Representation
Inca Tours has representative offices throughout South America to support you and give you peace of mind.
Private Tailor-Made Tours
All itineraries can be customised to design a private tour for your own small group, bringing together exactly what you want. Anything you see in these itineraries can be modified and altered to suit what you would like to do. This means you can pick and choose components from the different itineraries and make up your own unique tour. Almost anything is possible with Inca Tours – a custom itinerary can be designed to match your exact requirements. Antarctic & Galapagos Island Cruises are not flexible and need to be done as stated in the itineraries.
About Inca Tours
Inca Tours is an expert guide and planner for all your travel needs with in-depth "on the ground" experience that has made it a world leader in destination-specific travel for Africa tours, South American tours, Central America tours and Antarctic Cruises.
The unparalleled knowledge and local contacts of Inca Tours is reflected in the comfort, service, professionalism, attention to detail and, above all, safety and security that you will experience.
Inca Tours caters very much to the "discerning traveller", but still has a large portfolio of programs suitable to moderate and budget-conscious travellers including fully-escorted luxury tours, self-designed package holidays, city stopovers and accommodation, adventure programs, cruising, trekking, horse riding and bird-watching.
Popular Tour Packages

Lima to La Paz

Tiahuanacu (ex-La Paz)

Buenos Aires to Rio

Carnival in Rio

Popular Cruise Packages

Antarctic Cruise

Galapagos Islands Cruise

Chilean Fjords Cruise

Amazon Nature Cruise

Amazon Experiences

The Amazon Basin & River

Ceiba Tops Lodge, Peru

Sacha Lodge, Ecuador

Reserva Amazonica, Peru

Sandoval Lake Lodge, Peru

Manu National Park, Peru

Ecuador Experiences

Ecuador Great Escape

Chiva Express & Otavalo

Peru Experiences

Nazca Lines & Arequipa

Lord of Sipan / Chan Chan

Inca Trail &Machu Picchu

Lares Trek&Machu Picchuio

Argentina & Chile Experiences

Southern Lakes Crossing

Grand Patagonia Trek

Perito Moreno Glacier

Train to The Clouds

Atacama Desert

Brazil Experiences

Beautiful Buzios

Caiman Pantanal Lodge

Araras Pantanal Lodge

The Best of Brazil

Amazon Explorer

Popular Pacific Stopovers

Easter Island

Tahiti & French Polynesia
This brochure covers the regions and holiday types listed below. Click on the links to see more free travel brochures covering the regions and holiday types you are interested in.