Central America - Luxury Gold Escorted Tours View Basket
To order this holiday brochure for FREE delivery to your home or computer, click the GET THIS FREE button.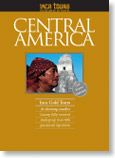 This brochure is no longer available on this website.
Luxurious, leisurely, fully-escorted - enjoy an all-round Inca Gold Tour
The Central America Gold Tour has been especially designed to take in all the best and most beautiful sights and experiences in Mexico, Cuba, Panama, Costa Rica and Guatemala.
The best part is you get to do it all in 29 days, so there's no rush, just ample time to enjoy the luxury and pampering that Inca Tours is famous for. As a discerning traveller, you want to enjoy everything a destination has to offer, but you want to do it in style, without having to worry about a thing. Inca's small group, fully escorted tours offer just that, perfect for enjoying your holiday to the full.
With a maximum of 18 guests, you are guaranteed the most personalised attention available on any tour.
These tours are perfectly planned and operated by people who know and love Central America. Inca Tours has designed and operated tours to this region for 30 years, so you will see the very best. You will meet the locals, eat fine food in establishments of excellent value, enjoy exciting live shows, such as a fabulous Cabaret and Cuban Salsa Show, to liven up your evenings and much more...
Most Gold Tour guests have travelled extensively and do not want to be part of a noisy "tourist group". These tours are conducted in a discreet and low-key style with high regard for local customs.
Accommodation
All Gold Tour accommodation retains the charm and character of Central America and has been visited and approved by Inca Tours. You'll stay in a great variety of styles - from a luxury resort-style hotel near Costa Rica's Arenal Volcano, to a jungle lodge in the pristine Monteverde Cloud Forest Reserve. You'll see one of the most beautiful lakes in the world, Lake Atitlan, where you'll stay for two nights in the lakeside village of Panajachel.
Why Choose Inca Tours
• While there are no age restrictions, you will travel with others who are usually over 50, young at heart, active, moderately fit and enjoy life.
• You will have an English-speaking Senior Tour Conductor throughout your tour.
• Tours run when the weather is at its best.
• Only the best available ground services are used.
• Single travellers can elect to share with another solo traveller of the same sex.
• Guaranteed departures.
The Inclusions on Gold Tours
Gold Tours are designed to include everything that you could want to see and do. The shows, dinners, city and sightseeing tours and excursions described in the itineraries are all included in the price and are always the very best available.

Guaranteed Departures
To take the uncertainty out of booking a tour, regardless of minimum number, all departures are guaranteed. This way you can be assured that the tour will not be cancelled at the last minute.
Senior Gold Tour Conductor
Your Inca Gold Tour Conductor will be a senior executive of the company. They will tirelessly work behind the scenes to ensure all aspects of your tour run like clockwork and any unexpected problems are anticipated and dealt with before they happen. Your highly experienced Tour Conductor will ensure that you are treated as a VIP throughout the tour, with the best seating on transport, in restaurants and at shows, ensuring that this really is the holiday of a lifetime.
Destinations are selected to deliver a balanced tour which covers the highlights. One-night stops are avoided, with the average being between two and three nights. This means you will not be rushing but will have ample time to see everything at a relaxed and sensible pace.
About Inca Tours
Inca Tours has over 30 years' experience organising small group tours and tailor-made holidays for discerning travellers.
Inca Tours is an expert guide and planner for all your travel needs with in-depth "on the ground" experience that has made it a world leader in destination-specific travel for Africa tours, South American tours, Central America tours and Antarctic Cruises.
The unparalleled knowledge and local contacts of Inca Tours is reflected in the comfort, service, professionalism, attention to detail and, above all, safety and security that you will experience.
The full Central America Gold Tour is 29 days in duration, but you can opt, if your time is more limited, to join the first or second half of this tour, which are 17 and 14 days respectively.
Luxury Gold Tours
Central America Gold Tour - 29 days
First Half Central America Gold Tour - 17 days
Second Half Central America Gold Tour - 14 days
This brochure covers the regions and holiday types listed below. Click on the links to see more free travel brochures covering the regions and holiday types you are interested in.