Eyre Peninsula |
Free Travel Brochures
View Basket

The following free holiday travel brochures feature Eyre Peninsula holidays, tours and packages – click the GET THIS FREE button to order your Eyre Peninsula holiday brochures.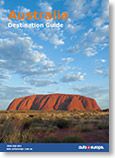 With so much to explore in Australia, the ideal way you can see all the best is by car. Australia has a fantastic roads and highway network that allow you to enjoy all the famous sites, plus have the freedom to uncover some undiscovered treasures as well. This guide is aimed at the independent traveller that enjoys the independence and comfort of their own vehicle. It has all the information you'll need for a self drive holiday in Australia, from hiring a car, rules of the road to some great ideas for touring the different regions and states.
> MORE...
---
---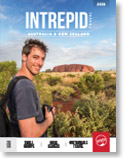 2018 With big red deserts, sun-bronzed beaches, soaring peaks and lush rainforests, Australia and New Zealand offer a kaleidoscope of brilliant colours and startling natural beauty… Intrepid is for travellers with a yearning to get off the beaten track, discovering real people, real cultures and having incredible experiences along the way.Experience the real world in the safety of a small group, with freedom and flexibility. Includes independent short breaks. Up to 20% OFF Top End trips*
> MORE...
---
---