Small Group Hosted Journeys View Basket
To order this holiday brochure for FREE delivery to your home or computer, click the GET THIS FREE button.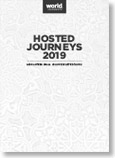 This brochure is no longer available on this website.
Unique, inspiring small-group journeys in comfort and style
Japan, South America, Cuba, Southern Africa, The Mediterranean, Ethiopia, the Middle East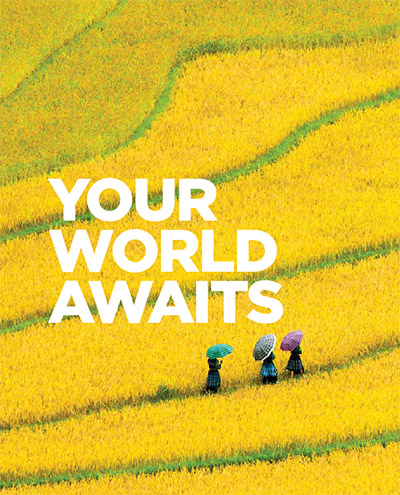 It takes years and many personal moments to know a place; its nooks and crannies, its people, how it all works. World Journeys' travel designers have first-hand knowledge of these destinations, built over many years. This expertise has been used to create this collection of small group hosted itineraries that ensure unique and inspiring journeys, all in comfort and style. All itineraries have guaranteed departures, with a host to smooth the way and look after tipping, and a group size of no more than 18.
WORLD JOURNEYS HOSTS
Passionate, experienced hosts add to the "personality" of World Journeys' small group journeys. They are selected because they are real 'people people', often with a particular passion for the history, cuisine, arts and culture of the destination. Your host will make sure everything runs smoothly, working with local guides who delight in sharing their in-depth knowledge with visitors. Your host will also take care of tipping on the group's behalf to ensure a hassle-free journey.
YOUR FELLOW TRAVELLERS
One of the best things about travel is meeting and sharing incredible experiences with other like-minded people. To ensure a more personal experience, groups are limited to no more than 18 people. Lasting friendships develop on tour, with new friends choosing to travel together again in subsequent years.
TRAVELLING SOLO?
World Journeys welcomes solo travellers on these journeys, as one of the highlights is the company of your fellow travellers. You are able to book your own private room or cabin, but if you would like to share with another traveller of the same gender and pay the share twin price, there is a Travelling Solo program. This is available on some journeys and on select categories of accommodation – just look for the symbol. You must book and pay your deposit at least six months before the tour departure to qualify.
WORLD JOURNEYS SPECIAL EXPERIENCES
Special experiences are included in each itinerary to immerse you in the local culture, whether it be dining with a local family, an exclusive sightseeing tour or a cooking class. They are all personally designed to create lasting memories.
FREE TIME TO EXPLORE
Itineraries are full of 'bucket list' sights and activities but you are assured of some time at leisure to explore on your own, simply relax in your hotel or dine in restaurants of your choice.
HOW WE GET AROUND
Journeys will often take you to exotic locations, or somewhat off the beaten track. Vehicles are specially selected to suit each environment, allowing the highest standard of comfort, whether on luxury ocean liners or charming river cruisers, in air-conditioned coaches, or even the occasional helicopter or seaplane.
FIRST CLASS ACCOMMODATION WITH LOCAL FLAVOUR
Where possible, World Journeys uses smaller boutique hotels with a minimum of 4 stars in the best locations. Cruises usually offer three choices of cabin – Inside (no window), Outside (window or porthole), and Balcony (doors opening on to a private balcony).
PLENTY OF INCLUSIONS
World Journeys includes all accommodation with private facilities (except on some rail journeys and in very remote areas where only shared facilities are available). Most meals are included, which are often at favourite restaurants. Sightseeing with local English speaking guides and entrance fees are included while touring. However, cruise shore excursions and occasional optional activities are not included to give you a choice on what, and how much, you wish to do.
Small Group Journeys
Cherry Blossom Japan
Castro's Cuba
Safari Southern Africa
Best of The Mediterranean
Grand Tour Of South America
Unforgettable Ethiopia
Petra to the Pyramids
This brochure covers the regions and holiday types listed below. Click on the links to see more free travel brochures covering the regions and holiday types you are interested in.