South & Central America Group Tours & Tailor-Made Holidays View Basket
To order this holiday brochure for FREE delivery to your home or computer, click the GET THIS FREE button.
South & Central America Your Way –  Group Tours & Tailor-Made Holidays
Peru | Colombia | Chile | Argentina | Brazil | Bolivia | Costa Rica | Belize | Panama | Ecuador | Uruguay | Guatemala | Honduras | El Salvador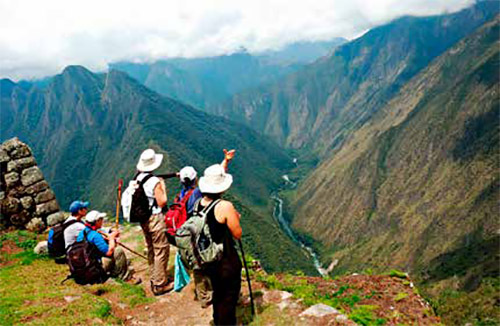 2019 marks Wendy Wu Tours' 25th anniversary of providing extraordinary tour experiences to holidaymakers all over the globe. Since 1994, Wendy Wu Tours has been pioneering travel to new destinations across Asia and South & Central America and is now recognised as one of the Australia's leading tour operators.
The range of South & Central America tours in this brochure will show you the very best this vibrant continent has to offer, with a solid collection of favourites as well as some exciting new offerings. With Wendy Wu Tours, you can experience the spectacular total eclipse in Chile, explore the incredible landscapes of the Uyuni Salt Flats in Bolivia, meet the indigenous people who live in the rainforest around Iguacu Falls, and so much more!
CHILE TOTAL SOLAR ECLIPSE TOURS
Join the eclipse experts in witnessing the once-in-a-lifetime solar eclipses in South America in 2019. Full details of the 2019 Chile Eclipse Tours, led by renowned journalist and astronomer Stuart Clark, can be found inside this brochure. Tour highlights include an exclusive charter flight and private viewing area.
IMMERSE YOURSELF TOURS
Immerse Yourself tours are designed to give you the best of both worlds: the comfort that comes from expertise and support, with accommodation, tickets, transport and your local guides all included, yet a little flexibility to seek out your own adventures too.
Go Beyond Immerse Yourself tours venture off the beaten track to explore fascinating destinations away from the tourist trail. You're able to discover the local culture in depth and see sights rarely witnessed by other travellers. These tours take you away from the comforts of home but will reward you with the experiences of a lifetime.
Active Immerse Yourself tours are perfect for travellers who can't wait to jump on a bike, pull on the hiking boots and tour on a slightly more physical level – with all equipment organised for you, of course.
TAILOR-MADE HOLIDAYS
For the ultimate in bespoke touring, an expert consultant will design a tour to meet your exact requirements. Select your choice of destinations, accommodation, touring and experiences to create the perfect holiday for you. A Private Tour follows a pre-defined itinerary but with the benefit of your own local guide. Most group tours can operate on a private basis; ask Wendy Wu Tours' travel consultants to get started.
EXTEND YOUR TOUR
Make the most of Wendy Wu Tours' expertise by extending your trip, from the magical Galapagos Islands to the stunning Iguaçu falls, either stopping over on the way to your holiday, or as you're heading home.
RENOWNED EXPERTISE
We are proud to be recognised as Australia's leading specialist tour operator. A reputation we've been building since 1994. All of our team have travelled extensively throughout the region and are fonts of knowledge.
SO MANY INCLUSIONS, EXCEPTIONAL VALUE
As much as possible is included so you can relax: your accommodation, touring, transport, most meals, expert local guides and inspiring experiences.
COMPREHENSIVE RANGE OF TOURS
Whether you're looking for an Immerse Yourself tour experience, a Private Tour or something more off the beaten track, you'll find a group tour or Tailor-Made Holiday to suit your style – as inclusive or bespoke as you like.
EXTRAORDINARY EXPERIENCES
From the ultimate bucket-list sights to rarely visited places and authentic cultural experiences, Wendy Wu Tours will help you make memories you'll treasure forever
HIGHLY EXPERIENCED GUIDES
Through their local expertise, dedication and passion, expert guides will make sure you don't miss a thing – and have lots of fun doing it.
SAFE AND RELIABLE
Wendy Wu Tours is an ATAS-accredited member of the Australian Federation of Travel Agents and has a wide network of local agents, so you benefit from local knowledge combined with Australian understanding and support.
This brochure covers the regions and holiday types listed below. Click on the links to see more free travel brochures covering the regions and holiday types you are interested in.