Boutique River Cruises – Europe, Russia, Asia, Egypt 2020 View Basket
To order this holiday brochure for FREE delivery to your home or computer, click the GET THIS FREE button.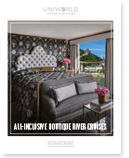 This brochure is no longer available on this website.
A world of luxury aboard the most all-inclusive river cruise awaits
Central Europe | Italy | France | Portugal | Spain | Russia | China | Vietnam | Cambodia | India | Egypt | Christmas Cruises
The world is a big, vibrant, beautiful place, complete with authentic culture, some of the best wine you've ever tasted, and masterfully designed architecture. No two destinations are exactly alike, and no two Uniworld voyages are either. You deserve the best, and your voyage is completely up to you. Choose your meticulously appointed stateroom by your favourite colour if you'd like.
Savour a premium cocktail made exactly to your taste. Converse with your in-suite butler as he serves you breakfast in bed and shares how the Picasso in the foyer found its way onboard. The only thing more stunning than stepping onboard our ships is stepping off. Included excursions are curated exclusively for Uniworld guests, and are your gateway to immersing yourself in the authentic culture, sights and cuisine of the places you'll visit.
Cruising through picturesque countryside, past charming riverside towns and docking in the heart of cosmopolitan cities makes river cruising the most relaxing way to explore new destinations. You'll unpack just once in your luxury cabin with its picture-window on an astonishing array of history and landscapes.
You'll travel in comfort and style on-board intimate, boutique hotel-style cruise ships elegantly furnished with deluxe amenities. You'll dine on classical European cuisine with a touch of contemporary elegance, and enjoy gracious and attentive service from an all English-speaking crew along the way.
Essential to daily life, important to trade, and notable as routes taken by invading conquerors, the great rivers and waterways of Europe and Russia have shaped the continent's history, culture, and economy for thousands of years, and now they will shape your exciting river cruise adventure. From the enchanting Danube and the legendary Rhine to the vineyard-lined rivers of Portugal and Southern France, the very best of Europe and Russia is on display on your expertly planned Uniworld River Cruise.
With fascinating itineraries, ranging from 8 to 27 days, you'll have a wide selection of programs from which to choose.
Cruise through one country, delving deeply into its culture and history, or journey instead to ten countries on one grand odyssey.
Travel in spring and delight in the rebirth of nature with "Tulips & Windmills" or "Springtime along the Rhine."
Sail through Provence and Burgundy in the summer to see the landscapes that inspired Van Gogh's and Cézanne's paintings.
Cruise through Northern France discovering the countryside that inspired Monet's paintings, or perhaps combine both the North and South of France into one "Grand France" adventure.
Marvel at golden-hued vineyards while cruising Portugal and Spain's UNESCO World Heritage-designated Douro River Valley during the fall, or walk through the classic Christmas markets of Germany while cruising from Nuremberg to Frankfurt during the holidays.
This brochure covers the regions and holiday types listed below. Click on the links to see more free travel brochures covering the regions and holiday types you are interested in.